Back to News
B$Z: Body Glove signs distributor in Peru
April 25, 2013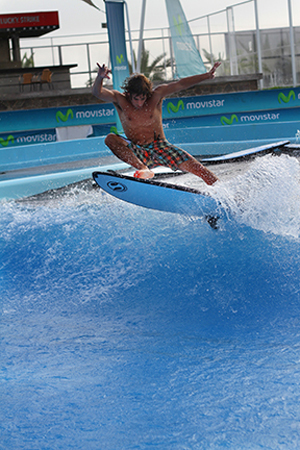 Body Glove signs distributor in Peru
Redondo Beach, CA [April 24, 2013] – Body Glove International is excited to announce they have signed a contract with Wave Pool SAC, to be an authorized distributor of Body Glove products.
Wave Pool SAC began operations in October of 2010 as the operator of "La Ola Movistar" surf arena in the Boulevard de Asia Outdoor Mall. Under the direction of Guillermo Gonzales it features the largest standing wave machine in the world designed and built by American Wave Machines, Inc. (AWM). The venue puts Peru at the forefront offering a perfect place for athletes, fans and the general public to practice the sport of surfing in a family setting with restaurant, bar, and entertainment facilities.
Body Glove CEO and Chairman of the Board of AWM, Robbie Meistrell, first met Guillermo along with professional surfers Cheyne Magnusson and Anthony Walsh on a trip to the surf arena. "I was so impressed with Guillermo as a businessman and as a professional surfer, I wanted to find a way to bring him into the Body Glove family," states Meistrell, "I think this arrangement will be beneficial to both companies and can really increase our brand presence in South America."
For more information on Body Glove athletes and products go to www.bodyglove.com and for daily updates visit www.facebook.com/bodyglove
About Body Glove:
Founded in 1953, Body Glove is a leading, worldwide water sports brand specializing in wetsuits, swimwear, clothing, footwear, accessories, and technology accessories. The company sponsors one of the most respected surf and wakeboard teams in the industry with such powerhouse names as pro surfers Jamie O'Brien, Cheyne Magnusson, Anthony Walsh, Alex Gray and Holly Beck and wake boarders Rusty Malinoski, Harley Clifford, Bob Soven and Jeff McKee. Body Glove and Jean-Michel Cousteau and his Ocean Futures Society have formed a legendary alliance to help preserve and protect the ocean while providing ocean and diving geared equipment to water enthusiasts around the globe. Some of the proceeds from the sale of those products go directly to Ocean Futures Society. Through Reef Check, SIMA's environmental fund, and the Surfrider Foundation, Body Glove also works to preserve the purity of the waters it loves. Body Glove products are sold in the U.S. by a network of independent retailers. Body Glove is also sold in approximately 50 countries internationally.
---