BACK TO NEWS
EVENT: NoRep Boardshorts presents The Crown of Town - May 4 @ Kewalos
NoRep Boardshorts presents The Crown of Town - May 4 @ Kewalos
NoRep Boardshorts is proud to announce the 1st annual Crown of Town contest, to be held at Kewalos on May 4th. Contest will consist of a Pro-Am Invitational Division and an Open Team division!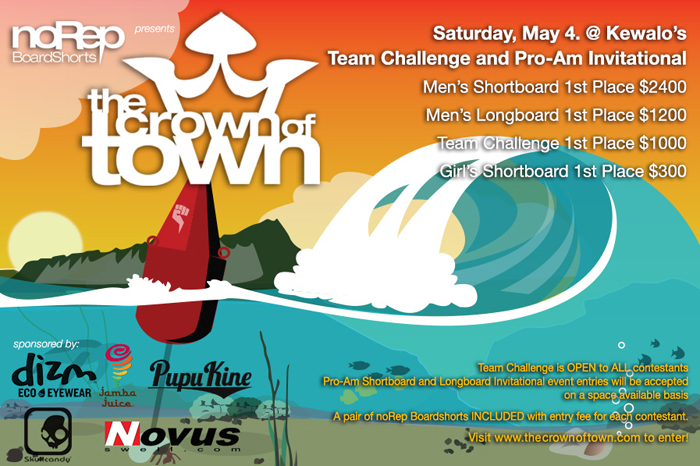 "The contest will be Winner takes, so super aggressive, and all of the collected money is going back into the event," explains NoRep co-founder Tomas Kloosterbooer. We are getting top ranked Longboard and shortboard (Men and women) surfers in HI like Zeke Lau, Gregg Nakamura, Isaiah Moniz, Jason Shibata, Randall Paulson in the Shortboard Division. As well as Kai Sallas and Nelson Ahina, among others, in the longboard division."
Go to www.thecrownoftown.com for more info and make sure to put it on your calendar!
---