Back to News
BIKE: Kranked Showcases Solar Powered Electric Assist Mountain Bike Tours
May 1, 2013

Kranked Showcases Solar Powered Electric Assist Mountain Bike Tours
Press Release from Kranked
Kranked Launches High Performance Solar Powered Electric Assist Mountain Bike Tours
Palo Alto and Monterey, CA – Kranked RIDES Adventure Tours launched it's solar powered electric assist mountain bike tour model at the Google, Palo Alto Campus and the SEA OTTER festival this past weekend.
Participating in the Google Earth Day event, Kranked RIDES showcased its solar powered electric mountain bikes to over 100 Google employees. The next day we set up at the amazing Sea Otter Bike Festival at Laguna Seca with the Barracuda Networks VIP lounge, known as the CUDA lounge.
Kranked RIDES brought 12 high performance electric assist mountain bikes and a mandate to showcase the eco adrenaline thrill of high performance, solar powered mountain bikes to both events. By doing so Kranked RIDES is ushering in an exciting future of high performance mountain bike transportation.
With great weather and the buzz of Sea Otter all around Kranked RIDES had all 12 bikes fully active doing demos and tours around the Festival. In the course of the 3 day festival the Kranked Rides tour bikes logged over 200 miles of solar powered riding.
The Kranked Rides electric mountain bikes are the most advanced electric assist off road bikes in the world. In partnership with Santa Cruz Bicycles the Kranked electrics take advantage of the superior performance of the Santa Cruz Nomad, Bronson and V10's.
Bjørn Enga, founder of Kranked, "We have created what I consider to be the pinnacle of high performance, off road electric assist mountain biking. It's exciting to be creating a brand new category, one that has such potential. To be powering these bikes with solar really puts it over the top and makes me feel great about the future!"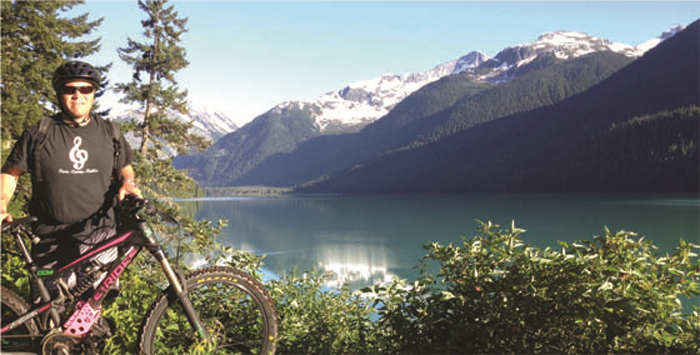 An exciting brand new eco-adventure experience. Ride state-of-the-art electric assist mountain bikes through the pristine wilderness. Our guided tours allow you to experience the magnificent backcountry, safely, with ease and best of all on an eco friendly bicycle.
Since 1997, Kranked's mission has been to encourage people to get out and play in nature with a healthy dose of adrenaline. With this in mind we have produced 8 award-winning Kranked mountain bike movies that helped launch the adrenaline-based free ride movement. Since 2008 Kranked has been developing itself as a licensing brand. To achieve this goal they developed a line of entry-level mountain bikes, helmets, and other gear that are sold in one of Canada's biggest retail chains.
Now Kranked has been captivated by the emerging electrics and the fusion with the mountain bike. Kranked is creating a brand-new category, high performance off road, electric assist mountain biking and is set to lead the charge! (pun intended).
Kranked RIDES Adventure Tours Can be booked at http://www.krankedbikes.com/erides
---