Back to News
TEAM: DC Welcomes Chris Cole to Apparel Team
May 1, 2013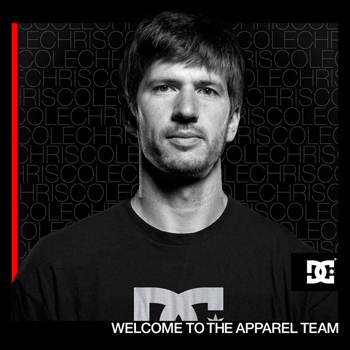 DC Welcomes Chris Cole to Apparel Team
Press Release from DC Shoes
As of April 30th 2013, pro skater Chris Cole will be sponsored head to toe by DC apparel and footwear. On the DC team since 2011, Chris Cole's skateboarding speaks for itself. The two-time Thrasher Skater of the Year is one of the most recognizable and respected skaters today and has cemented himself as an icon within the skate industry and as a top marquee athlete on the DC Skate Team.
"To have a head to toe sponsor with a signature line of shoes and also now apparel is really what every skater hopes for. I've always been very specific about what I skate in, so the fact that DC makes great products is why I am here. I work closely with the DC designers and they have a gift for creating the best shoes and apparel for my style of skating. Thanks to DC for making this happen and for all the support," said Chris Cole.
Chris Cole's latest signature DC shoe, the Cole Lite S, was released last year as part of the skate footwear collection. The Cole Lite S features innovative design packaged together with the most progressive technology in skate footwear, and has become a staple style in skateboarding.
As part of his new sponsorship, Chris Cole and DC are also working together to develop a signature apparel line that is set to launch in mid Spring 2014. Designed to cater specifically to Cole's skateboarding needs, the collection will feature staple pieces including tops, bottoms, jackets, and accessories, all inspired by Cole's unique style and personality.
"Chris Cole is one of the most talented and inspiring skaters in the world. He's been a great representative of the DC brand. We are proud to have Chris head to toe on DC and excited be able to extend his signature skate style into an apparel line," said Jeff Taylor, DC SVP of Global Marketing.
---