Back to News
BIKE: The Bike Cooperative Welcomes More New Members
May 3, 2013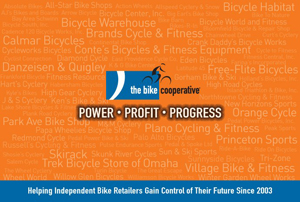 The Bike Cooperative Welcomes More New Members
Press Release from the Bike Cooperative
Manchester, NH – The Bike Cooperative saw an influx of new members in the offseason, with stores from across the country joining the only retailer-owned co-op in the US during winter and early spring.
"We're excited by the level of quality retailers that we're adding with this most recent group of new members," said Scott Barrett, president of the Bike Co-op. "Continuing to bring on established, thriving retailers helps the membership as a whole become that much more successful, which in turn helps us build even more momentum. That's the power of the co-op model."
The new co-op member locations are:
Benbrook Bicycle - Benbrook, TX
Berkshire Bike & Board - Pittsfield, MA
Bicycle World of Katy - Katy, TX
BikeStreet USA - Greenville, SC, Anderson, SC, Clemson, SC
Contender Bicycles - Salt Lake City, UT
Golden Bear Bikes - Broomfield, CO
Jack's Bicycle & Fitness - Dearborn, MI
Pulse Endurance Sports - Chula Vista, CA
Pumpkinvine Cyclery - Middlebury, IN
Souhegan Cycleworks - Milford, NH
Super Cool Bike Shop - Gainesville, FL
The Bicycle Planet - Syosset, NY
Tri-Zone - Los Alamitos, CA
Tryon Bike - Rochester, NY
Wooden Wheels Racing - Newark, DE, Wilmington, DE
Zane's Cycles Fairfield - Fairfield, CT
The Bike Cooperative is a member-owned cooperative with a mission of improving the profitability of independent bike retailers. The Bike Cooperative provides members with exclusive product specials and rebates, consumer financing and credit card processing programs, comprehensive advertising services, and training in management and sales. For information on becoming a Co-op member, call TBC Member Services at 1-800-450-7595 or visit www.thebikecooperative.com.
---