Back to News
XGAMES: Olympic stage set for X Games Barcelona
May 13, 2013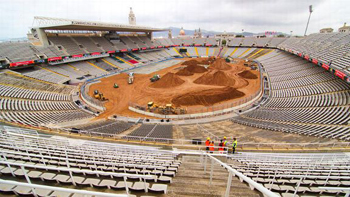 Olympic stage set for X Games Barcelona
News Article written by Jim Caple for ESPN
Welcome to Barcelona, X-Gamers. But before you hop on your skateboards and bikes to defy physics, gravity and orthopedic warnings, it's time for a quick history lesson about where you'll be competing this week.
See that stadium up there on Montjuic, the magnificent hill rising above the city? That's where the 1992 Summer Olympics opened spectacularly with an archer lighting the Olympic cauldron Katniss Everdeen-style via a flaming arrow. Less than a year after the collapse of the Soviet Union, the former Soviet Olympians marched into that stadium for the opening ceremonies under the banner of the United Team. Carl Lewis sprinted and long-jumped to two of his nine career Olympic gold medals inside those walls. Jackie Joyner-Kersee won the heptathlon there.
And in one of the most inspiring moments in Olympic history, Britain's Derek Redmond popped his hamstring in the 400 meter run but kept hopping around that stadium's track until his father rushed out of the stands, fought his way past security guards and helped his son to the finish line.
Yeah, there was some pretty great stuff here 21 summers ago, with the sort of historic sporting moments that would even render Bob Costas speechless.
And now this same stadium will be the X Games venue for the dust-choking, vision-obscuring, eardrum-popping, gasoline nostrils-filling RallyCross course, where drivers shift gears, floor the gas pedal and (occasionally) hit the brakes while racing their cars through impossibly tight bends, over jumps and into joker turns.
"Oh, my God. They're going to be doing that in that facility?" says Kevin Young, the 1992 gold medalist in the 400 meter hurdles. "Those rally car drivers -- they can really run into a few things. But that's cool. I think that's pretty cool that will be going on in Barcelona."
RallyCross where Young ran, Lewis leaped and the original 1992 Dream Team marched. Can you imagine it?
"With the X Games I can imagine anything," says Dream Team member Chris Mullin. "Anything is possible."
Yes, but rally cars racing inside the Olympic stadium? What would the late IOC president Juan Antonio Samaranch say? Three-time Olympic swimmer Janet Evans, who won gold at Barcelona in 1992, initially laughed at the thought. But then she considered the idea some more and suggested Samaranch might not be so alarmed after all.
"He's kind of the one who wanted to copy the X Games and get all those sports into the Olympics like snowboarding and half pipe and all that," she said. "On a more serious note, the talk has been the X Games has its finger on the pulse of what different generations like, while the Olympics stand for maybe more traditional sports.
"I think that old Juan might be OK with it, I really do."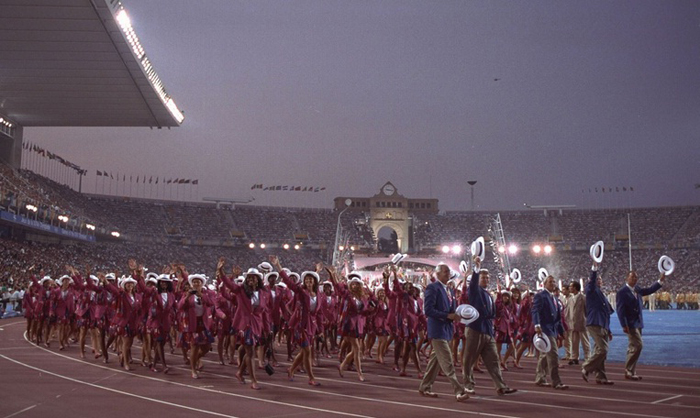 Some Olympic advice for those of you competing at X Games Barcelona.
"First of all, be careful with whatever crazy event they're doing,'' Mullin says. "But if they do have some downtime, they should get around and do some things in the city. See some of the landmarks, get out and walk around. Get some paella.''
Every other Olympian said the same thing. Savor the location.
Set on the Mediterranean Sea, Barcelona is one of the world's great cities, and there is good reason Mullin says he and his wife would explore the streets until 2 or 3 in the morning during the Olympics. The city is simply filled with more culture, history, food (the Serrano ham is heavenly) and beautiful architecture than you could possibly fit in a day. Gaudi's famed Sagrada Familia cathedral, still unfinished after more than a century of work, is one of the most beautiful, welcoming and inspiring structures ever built without a four-and-a-half-meter halfpipe.
No wonder Columbus sailed to Barcelona after discovering America. Having sailed across the ocean blue, the explorer either wanted to pay his respects to Spain's King Ferdinand and Queen Isabella, or he just wanted a truly great city to really test his body with some extreme sports.
"Barcelona is just a great action sport city," X Games Barcelona event director Anthony Dittmann says. "Just going from our hotel to the venues you see skateboarders all over the place -- bikers, too. It's a youthful city that is vibrant with the action sports and youth culture. So that was certainly one of the deciding factors."
Another factor in choosing Barcelona was the Montjuic Olympic Ring, which unlike so many old Olympic sites, looks so fresh and grand you might think the Games are still actually going on. Even the old baseball stadium remains in use.
The BMX and skateboard Vert will be held at the former Olympic diving venue where, 1992 bronze medalist diver Mary Ellen Clark says, you feel on top of the world. With the city as a backdrop, the view from this venue is so spectacular that Clark and others struggle to adequately describe it, though the words "awesome" and "incredible" are frequent adjectives.
"There is a picture of me where it looks like I'm getting stabbed by the Sagrada Familia (steeples) in the background during a simple back dive," Clark says. "I know the (X Gamers) get some serious air time and serious height. It will be extraordinary for them.
"The backdrop matters. It will just enhance the height they get in the air and the power and the aesthetics. We looked like we were diving into the city. They will be up and over. They will get so much air time. It will look like they are flying."
Dittmann says the Vert shots will be so mesmerizing it will be difficult for viewers to turn away from the screen.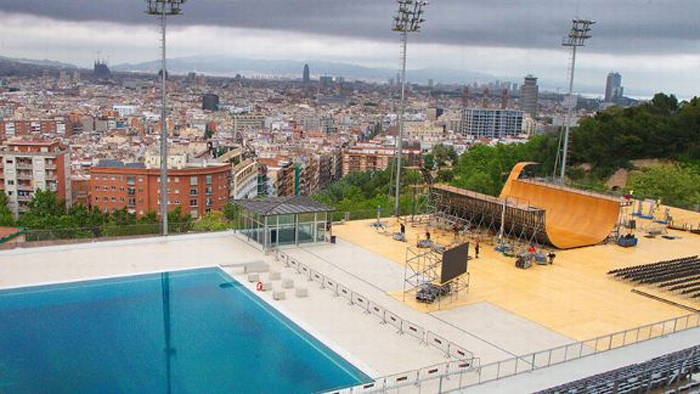 "We'll have some amazing television coming out of that facility," he says. "But I personally like the creativity we're putting into the street course and the park course. We're taking some of the elements of Barcelona and inserting them into those courses that we're building from scratch. So there are a lot of mosaic tiles and things you would find around the city of Barcelona included in those courses."
There won't be the enormous Iguazu waterfalls like at last month's X Games in Brazil, but there will be some water elements on the course for Nyjah Huston and others to navigate.
Those park and street courses will be held on the grand esplanade that spreads down from the main stadium. The Big Air competition will be right next to it inside Palau Sant Jordi arena, where gymnastics and volleyball were held during the Olympics (and where everyone from Frank Sinatra to Justin Bieber has performed).
And, of course, there is the RallyCross course, which is entirely inside the main Olympic stadium.
"That course has evolved more than any other venue,'' Dittmann says. "We're not your standard soccer field or tennis court or basketball court that has standard dimensions. We're always changing and evolving. That's one of the great things about the X Games -- its progression. Our athletes are progressing and we are progressing with them. You look at some of our courses from 10 years ago and they look nothing like today's.
"It's great to be able to evolve and have that constant change. That's what keeps it exciting, that's what keeps our athletes excited. And that was the case with the rally course. It was constantly changing. Actually, we just changed it again the other day.''
Dittmann says there will even be some Gaudi heads on the venues to honor Barcelona's famed architect. Gaudi's buildings are so sublime that you might need an additional Flickr account to send all the photos, but they are just one aspect of the city's beauty. In fact, Young says that one of his regrets from 1992 is that he didn't get out and see the city enough.
"Don't do what I didn't do,'' he advises. "Go to all those great sites they have. Eat plenty of fish, drink sangria, eat the paella. And just have fun. But don't be out too late at night because you can get consumed. You still have to treat it like a competition. Because somebody is going to be getting a good night's sleep and getting their rest.''
That's the thing. The X Games are known for being extreme and wild, but the bottom line is they are an athletic competition, just like the Olympics -- only with better music and no self-important autocratic IOC executives.
"They're doing the same stunts we do,'' Clark says of the Vert competitions. "It's risky and it's incredible athletic ability. A lot of people watch and go, 'How do they do that? How DO they do that?' Well, it's a lot of practice.
"They work so hard for body control and balance and spotting where they are in the air. All the things divers do. All the same stuff. And we use just our bodies. We just jump off something. They have other things to deal with. The skateboard. The bike. They're dealing with an external 'toy' and they're having to control it. And then they're going to land on concrete.''
Very true. So when you think about it, it's actually fitting to have the X Games at a former Olympics site. Especially Barcelona.
"The Spaniards do have great spotting traditions and that was kind of cemented with their great hosting of the Olympics in Barcelona,'' Evans says. "I'm not surprised that they're using (the Olympics site) and that they bid on the X Games. It makes a lot of sense to me. You go to other cities and you forget the Olympics were ever there, right? So it's nice to hear that Barcelona has kept up the legacy.
"I guess it's a sign of the times. The X Games have taken on their own feel and own tradition. I think it's kind of cool -- and I say that in all honesty. It doesn't seem as traditional as the Olympics, maybe, but it's nice to see the venues being used again.''
"I don't think we're the anti-Olympics,'' Dittmann says. "We're certainly embracing that format and doing it with non-traditional sports. Certainly, there have been a lot of historical moments at this Olympic (site) and all Olympic Games. And we have our own historic moments and we're proud to be in the facility that held the Olympic Games, and we're embracing it."
And so these venues made famous by Michael Jordan, Carl Lewis, Gail Devers and others will now also be remembered for the performances of Huston, Nani Roma, Pedro Barros, P-Rod, Jamie Bestwick, Nate Adams and Travis Pastrana. All preceded by an exhibition by Tony Hawk.
"It's amazing how they've built up the X Games over the years,'' Young says. "I remember when they started and I was like, 'Well, OK.' And now they're spoken of in the same breath -- if not more so -- than the Olympic Games.''
Not that Young wants to race against the rally cars in the stadium, even if his winning time in Barcelona – 46.78 – still is the world record. "No way. Those guys would make me into lunch meat.''
But, he adds, "Can you convince one of the drivers to put an image of me winning in Barcelona on his car for good luck?''
---