BACK TO NEWS
EVENT: TransWorld Business and Surf Expo Present Showroom Feature and Fashion Show Series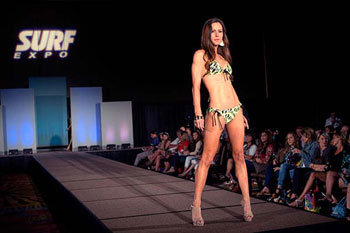 Transworld Business Partners With Surf Expo to Produce Swim Showroom Feature and Fashion Show Series
Press Release from Surf Expo
TransWorld Business and Surf Expo are joining forces to offer swimwear companies a can't-miss opportunity to reach new customers and promote their latest looks.
Participation in the Swim Showroom offers swim brands full-page inclusion in the TransWorld Business summer issue (mailed out to 12,000 retailers and industry leaders) as well as the Surf Expo Pre-show magazine. The Swim Showroom will also be brought to life in Orlando Florida at a special VIP swim-industry fashion show at the Peabody Hotel on the night of September 6th and on the main stage of the Surf Expo trade show floor on September 7th.
"The TransWorld Business fashion show is the culmination of our Summer Issue's Swim Showroom, and the grand finale that brings the story and theme from the pages to life, sharing the excitement of our partners' new swim lines with hundreds of buyers at the show," says TransWorld Business Editor In Chief Mike Lewis. "Now in its sixth year, this year's Swim Showroom is going to be our best yet."
With a photo shoot on the Royal Pelagic, a 128-foot luxury cruiser, this year's theme will focus on "faraway places and everyday dreams" and will be produced and styled by Bikini Bird.
"We're excited to be a part of the Swim Showroom," says Bikini Bird Co-Founder Tiana Gamble. "It is amazing to have the opportunity to collaborate with the hottest swim collections of this coming year and we look forward to sharing the styling aesthetic of our Bikini Bird editorials with Transworld Business' readers and Surf Expo attendees."
Last year the Peabody Hotel swim fashion show was one of the can't-miss events of Surf Expo. "The mix of lines represented all factions of the Swim Industry, and there was so much excitement and anticipation in the air as buyers, distributors, manufacturers and invited press waited for the show to begin," says Surf Expo Buyer Relations Manager Kathy Wilkie. "Our partnership with TransWorld Business is bound to make the Peabody Fashion show one of Surf Expo's hottest events."
According to Lewis: "This will be our third year of bringing the Swim Showroom to the Surf Expo show floor and we're looking forward to building on last year's buzz -- and even more excited to host it at the Peabody Hotel on the show's opening night. In year's past, the fashion show has virtually stopped the trade show as throngs of buyers made their way to the main stage to check out the new looks."
"The Showroom's feature articles and related fashion shows gives brands the most bang for their buck –- all in an easy turnkey package," says TransWorld Media Sales Manager Allen Malone. "For $2,495 swim brands receive two full feature articles of coverage, two full fashion shows in front of the most important buyers, and maximum exposure throughout the entire summer tradeshow circuit, making this Showroom a must for both emerging and established swimwear brands."
For more information contact Josh Hunter, Surf Expo Swim and Lifestyle category manager at: (910) 200-0454; jhunter@surfexpo.com or Allen Malone, TransWorld Business Sales Manager at: (760) 707-1912; allen.malone@transworld.net.
About Surf Expo
Encompassing more than 215,000 net square feet of the Orange County Convention Center in Orlando, Florida, Surf Expo's September 2012 tradeshow was roundly praised as the most successful in years, with more than 11,400 buyers attending the show during its three-day run. Surf Expo is produced in January and September and draws buyers from specialty stores across the U.S., the Caribbean, Central and South America and around the world. Surf Expo features approximately 2,000 booths of apparel and hardgoods and a full line-up of special events, including fashion shows, annual awards ceremonies, and demos.
About TransWorld Business
TransWorld Business is a B2B trade publication in the action sports world and for over fifteen years continues to remain the number-one source for action-sports business news and information. It provides key resources and tools to thousands of retailers and manufacturers within the industry through its print, digital and event assets. TransWorld Business is a part of TransWorld Media, the worlds leading action-sports media company and is based in Carlsbad, California.
---