Back to News
B$Z: Fred Water Presents Solution to Plastic Bottle Problem: Refill It!
May 13, 2013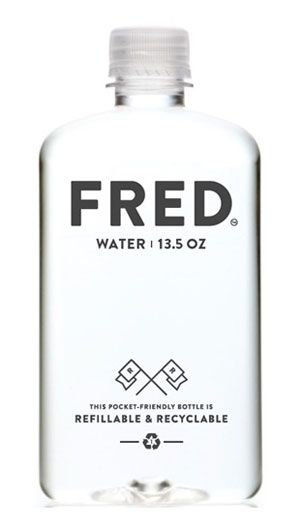 Fred Water Presents Solution to Plastic Bottle Problem: Refill It!
Press Release from Master Plan Communications, Inc.
Brooklyn, NY – As a bold statement in the bottled water industry, today Fred Water recommended refilling the brand's water bottles again and again! Fred's flask-shaped bottles are BPA and phthalate-free, making them safe to use and refill. As the only bottled beverage choice on the convenience store shelf that is made for refilling, Fred Water is built to last and constructed of recyclable PET #1 plastic. In the wake of Earth Day 2013, Fred's message is clear: use the Fred bottle over and over, unapologetically!
"People have become so accustomed to the drink-and-toss concept, which we think is sad. Fred bottles can be reused many times and retain their original integrity and safety for drinking water," said Adam Gayner, co-founder and CEO of Fred. "The truth is, the world needs a solution to the copious amounts of bottles being tossed, and this is one solution that consumers can stand behind."
Pocket, purse and backpack friendly, Fred is the brand you want to take with you when you're on the go. Unlike the increasingly popular aluminum SIGG bottles, PET #1 plastic bottles are flexible, lightweight and are safe to keep in a pocket. While falling with an aluminum SIGG bottle in your pocket could cause injury, Fred Water bottles are flexible enough to not present the same health issue.
Connect with Fred on Facebook, Twitter and Instagram:
Meet Fred Water:
Two guys in Brooklyn created a brand that advocates the indisputable greatness of water, and they offered it in a bottle that makes staying hydrated easy. Today Fred's pocket-friendly, refillable bottlesareBPA-free and Phthalate-free, and come carrying velvety smooth, exceptionally pure natural spring water from the USA. Since Fred Water believes in reincarnation, the bottles can be upcycled into super soft t-shirts when they are end-of-life. Refill and respect: Learn more at FredWater.com.
---