Back to News
B$Z: The Bike Cooperative Enters Exclusive Partnership
May 15, 2013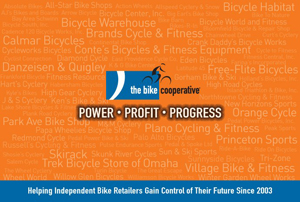 The Bike Cooperative Enters Exclusive Partnership With Channel IQ Brand Protection & Price Monitoring
Press Release from the Bike Cooperative
Manchester, NH — The Bike Cooperative has partnered with Channel IQ, a leader in online channel management. Through this partnership, the Bike Co-op's brand partners will receive an exclusive 20% discount on Channel IQ's annual services. Channel IQ's portfolio of services include: MAP price monitoring and enforcement, dealer verification, marketplace monitoring, as well as gray market, counterfeit and unauthorized dealer detection.
In addition, Channel IQ is offering Co-op brand partners a solution to help them manage their online retailers at a level never before available. Through the use of Channel IQ's retailer verification products, brands now have the ability to lend their retailers a hand in the consumer sales cycle, by providing them with the tools to re-educate consumers around the value and importance of the authorized retailer relationship. Channel IQ is offering this retailer verification system free of charge to Co-op brands exclusively, an annual savings of $3,600. This intuitive, time-saving solution allows brands to create an easily recognizable system for consumers to quickly identify authorized online retailers of their products.
"We found Channel IQ to be the best solution provider in helping our brand partners support their valued IBD's," said Nat McAllister, the Bike Co-op's Director of Supplier Relations. "Through their assistance in MAP development, implementation, and constant monitoring, Chanel IQ will also help our retailers maintain healthy margins."
Vice President of Sales for Channel IQ Kevin Potrzeba added, "We are pleased to partner with an organization like The Bike Cooperative. We already have recognized connections with a number of The Bike Cooperative's manufacturers. As the cycling industry continues its rapid growth in the online retail space, we are excited to provide our suite of online price monitoring and brand protection services that will benefit their entire community."
About The Bike Cooperative
The Bike Cooperative is a member-owned cooperative with a mission of improving the profitability of independent bike retailers. The Bike Cooperative provides members with exclusive product specials and rebates, consumer financing and credit card processing programs, comprehensive marketing services, and training in management and sales. For information on becoming a Co-op member, call TBC Member Services at 1-800-450-7595 or visit www.thebikecooperative.com.
About Channel IQ
Channel IQ is the leading provider of online price monitoring, authorized retailer management, and brand protection solutions to manufacturers, distributors and retailers. Channel IQ provides real-time, online promotion and pricing information, empowering major manufacturers and retailers like SRAM, Panasonic, Dyson, Park Tool, and Razor to quickly and profitably handle channel issues and competitive situations. Only Channel IQ combines integrated reporting, interactive applications and services to enable manufacturers and retailers to automatically act on real-time data. Channel IQ solutions are the result of cutting edge technology combined with decades of industry experience in channel management, distribution, online retail and manufacturing. For more information, visit www.channeliq.com.
---