Back to News
MOBILE: Weride and Art of Board Announce Launch of Location-Based Discovery App for Skateboarding
May 17, 2013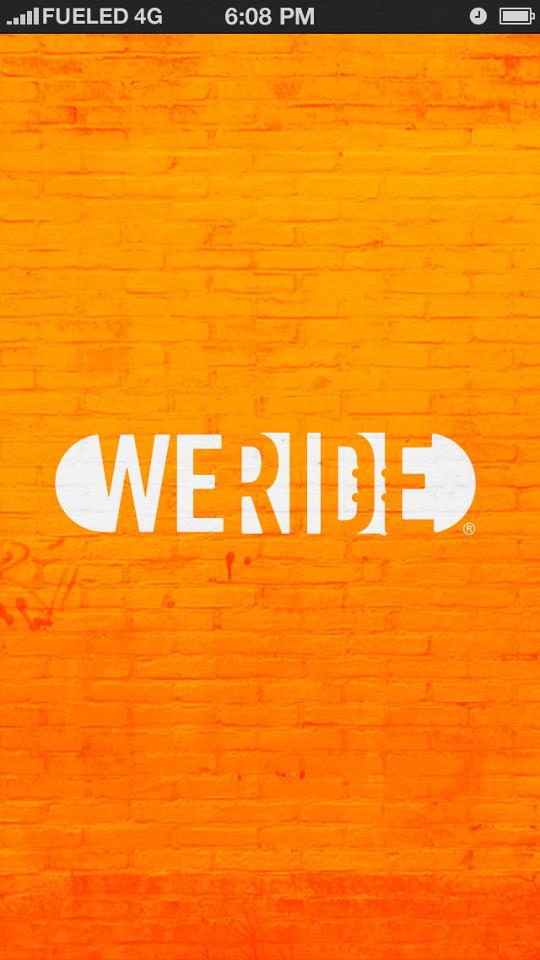 Weride and Art of Board Announce Launch of Location-Based Discovery App for Skateboarding; Bringing the World's First-Ever Skateboard Recycling Movement to Users' Fingertips
Press Release from Art of Board
New York City – The launch of WeRide was announced today at the sixth annual International Association of Skateboard Companies (IASC) Summit in Anaheim, California. WeRide is a location-based discovery app that helps users find skateboarding spots, shops and parks, while also creating a platform for the skateboarding community to create new spots, share photos and offer feedback on locations.
WeRide's mission is to support skateboarders, shops and parks by bridging the gap between the sport and mobile technology. After creating a profile that houses the user's favorite spots, users have the opportunity to add their own spots into the GPS mapping system. Each spot one finds or creates will have a series of attributes such as gap, ledge, stairs or rail. The spot page lets you share what each spot has to offer while letting you add pictures, reviews and comments. Users can also rate already existing spots with the "hate it or skate it" option. All WeRide activity and preferences are shared with the WeRide community and users have the social media integration option to connect with friends through Facebook and Twitter.
In addition to helping users find and create skate spots, the innovative new mobile app also helps to support local shops and parks by providing users with a platform to share these locations with the skateboarding community. WeRide partnered with lifestyle and design brand, Art of Board to incorporate into the app Art of Board's national grassroots skateboard recycling movement – I Ride I Recycle.
"We're part of a movement that promotes skateboarders connecting and helping out their local communities," says Mike Becker, CEO and Cofounder of WeRide. "We are very proud of our partnership with I Ride I Recycle and Art of Board, we all wanttosupportthecommunityandmostimportantlythesportwelove." ThemovementincludeshundredsofparticipatingI Ride I Recycle shops and parks in North America who collect broken and used skateboards, which are recycled by Art of Board and incorporated in one form or another into the brand's designs. By incorporating I Ride I Recycle into the app's mapping system, WeRide helps skaters to easily locate participating shops and parks so users anywhere in the U.S. will know where they can recycle broken and used equipment, creating a positive change instead of sending it to landfills.
"We're thrilled to partner with WeRide to create another first for skateboarding," says Art of Board VP and Cofounder of I Ride I Recycle Bruce Boul. "With this technology, we're not only a big part of something unique and fun, but we can also grow our movement, create more positive change and continue to support skateboarding at the grassroots level."
The demographic for WeRide includes anyone with a passion for skateboarding. As the sport continues to grow, WeRide will become a space for the skateboarding community to share and interact with one another. WeRide is about supporting the individual to ultimately better the collective by helping skaters find new skate locations and providing a platform to offer feedback on spots and tips. WeRide promotes the all-inclusive ethos of the skating community.
ABOUT WERIDE
WeRide was created by two entrepreneurs and childhood best friends Josh Poole and Mike Becker. With experience in tech and the startup world, they have one overarching theme in their business - a palpable love for skateboarding. The app was designed by Fueled in New York City and will be available for purchase at no cost in the app store on June 1st, 2013. There are plans to expand with a companion site to further help the community connect with one another as well as brands and companies by endorsing each other and offering more visibility. More information at WeRideSkate.com

ABOUT ART OF BOARD
Art of Board is a lifestyle and design brand that embodies the creative spirit, freedom and individuality of skateboarding. Art of Board-brand hard and soft goods pay homage to a used skateboard deck's scratches, gouges and worn graphics – capturing the true soul of skateboarding. Creators of the first-ever skateboard recycling movement, I Ride I Recycle allows skateshops, parks, board manufacturers and individual riders to be part of the brand's designs by recycling their skateboards instead of tossing them in the trash. The brand's goal is to keep wood waste out of landfills, support skateshops and parks, and empower youth. By purchasing Art of Board products, customers become part of the movement and help the brand to support various action sports charities. More information at artofboard.com.
---