Back to News
B$Z: E.Land and K-Swiss Inc. Announce Strategic Acquisition of OTZ Shoes, Inc.
May 20, 2013
E.Land and K•Swiss Inc. Announce Strategic Acquisition of OTZ Shoes, Inc.
Press Release from Turner PR
(WESTLAKE VILLAGE, CA) May 20, 2013 – E.Land World Limited (E.Land) and K•Swiss Inc., owner of the K•Swiss and Palladium brands, announced today the strategic acquisition of Malibu, California-based contemporary comfort footwear brand OTZ Shoes Inc. (OTZ Shoes) Under the agreement, OTZ Shoes will continue to operate as an independent subsidiary of K•Swiss Inc., with key executives remaining in place. The acquisition marks the first addition to the K•Swiss Inc. company portfolio since the completion of its April 30 merger with E.Land.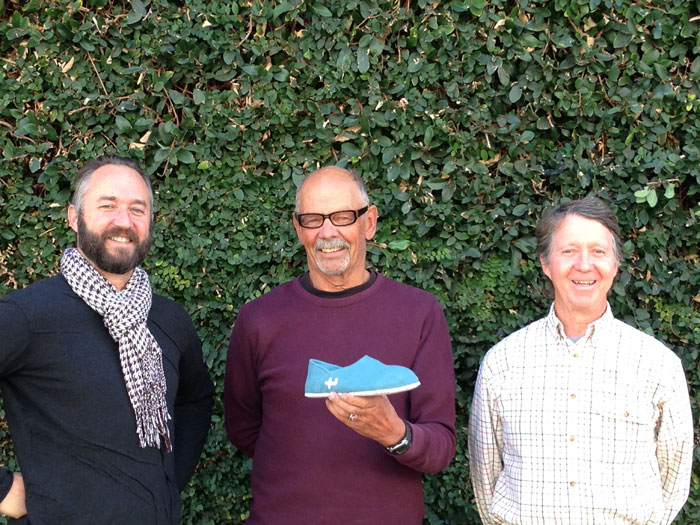 l-r: Ludo Malmoux, Bob Rief, Skip Murgatroyd
Founded in 2009 by sneaker industry veteran Ludo Malmoux and partner Skip Murgatroyd, OTZ Shoes promotes health and sustainability and is bringing modern style and creativity to the comfort category. The brand is modeled on the oldest shoe ever found on Oetzi, the prehistoric iceman found frozen in the Otzal Alps in 1991. Since its inception, OTZ Shoes has grown 300% year-over-year and is currently distributed in 23 countries worldwide.
"OTZ Shoes has done a tremendous job establishing distinction and elevating the bar in the comfort market," said Larry Remington, president and CEO of K•Swiss Inc. "We believe that with our resources and infrastructure, we can help the brand dominate the contemporary comfort category and realize its global potential. The brand will be a key addition for us, helping us build a portfolio of globally-relevant brands across a number of categories."
OTZ Shoes will continue to be led by CEO Bob Rief, President and Creative Director Ludo Malmoux and Co-Founder Skip Murgatroyd, who will support legal counsel. Malmoux will remain a minority stakeholder in the brand. The OTZ Shoes executive team will report to Remington and K•Swiss Inc. CMO Barney Waters in support of the brand's growth initiatives.
"This alliance will prove to bring great value to our operations and help shore up some of the rapid growth challenges we've had as a business," commented Rief. "E. Land and K•Swiss Inc. have a very progressive plan for the future and we look forward to working with them as they continue to build momentum for the brand."
About K•Swiss Inc.
The K•Swiss Inc., and its affiliate Palladium and OTZ Shoes brands, are registered trademarks of E. Land World Limited. Founded more than forty years ago in Van Nuys, California, K•Swiss introduced the first all leather tennis shoe, the K•Swiss "Classic" in 1966. Since its inception, K•Swiss aims to be the most inspiring and innovative sports brand in the market offering performance product for tennis, running, training and triathlon categories. Palladium was originally founded in 1920 as a manufacturer of aircraft tires for the aviation industry. In 1947, after the end of WWII saw demand for tires dry up, Palladium put their canvas and rubber expertise to use by making boots that were as hard wearing as their tires. Palladium soon became outfitters of the legendary French Foreign Legion with their classic canvas Pampa boot. OTZ SHOES is the premium maker of modern comfort inspired from the past. Cork footbeds are integral to every shoe engineered to gradually mold to your individual footscape. For further information please visit www.kswiss.com and www.palladiumboots.com or OTZShoes.com.
About E.Land Group
Established in 1980 in Korea, E.Land has grown to become one of the largest South Korean conglomerates, primarily specializing in fashion and retail distribution. E.Land is Korea's first and largest integrated fashion and retail company, with operations spanning nine different countries across three continents, including Korea, China, India, the United States, Italy and the United Kingdom. Comprised of over 60 affiliated entities, the Company offers close to 200 brands and operates more than 10,000 stores worldwide, recording approximately US$ 8 billion of revenues in 2012. In addition to K•Swiss, E.Land's newer businesses include restaurants, construction and leisure. The Company is actively involved in community service both locally and worldwide through its own E.Land Foundation, being one of the most civically active corporations in Korea, India, Vietnam and China.
---