Back to News
B$Z: Introducing AGENDA WMNS
May 21, 2013
Soak up what AGENDA WMNS has to offer this Summer and check out the new WMNS highlights showcasing at AGENDA Long Beach
Press Release from Agenda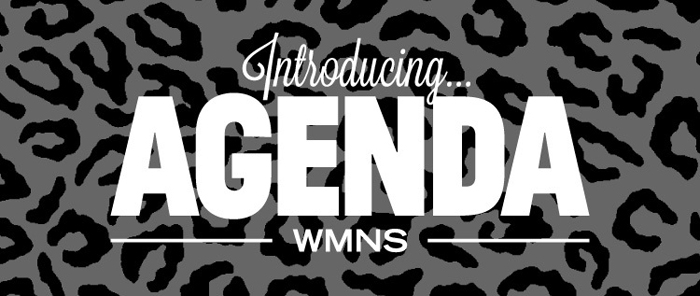 Beach Riot at AGENDA
Beach Riot is a California beach babe swim brand, a mix between contemporary chic and surfer girl. Beach Riot splashes into the tradeshow season at Agenda this July, launching Resort 2013 & Spring/Summer 2014 Collections. After the success of our first year, Beach Riot is proud to debut our newest Collections, along with a new hush hush accessories line. The highly sought after Stone Cold Fox// Beach Riot Collaboration will be making an appearance again this Season, with a brand new Collection. Make sure to stop by our booth to see what the RIOT is all about!
For more info: beachriot.com

Motel at AGENDA
Leading British fashion label Motel is back at Agenda this season and will be showcasing a brand new collection of striking print-led styles with a signature unique flair. The London based design team take inspirations from vintage one-offs, global street style and retro fashion to create trend-setting must-haves with added attitude! From laid-back daywear and printed denim to form-fitting party dresses and body-con basics, Motel's fast fashion ethos brings brings regular collections of wearable, affordable and covetable pieces to the style hungry and carves a distinct and colourful path across the fashion landscape.
For more info: motelrocks.com

TAVIK returns to AGENDA
Southern California lifestyle brand, TAVIK Swimwear, returns to AGENDA with an expanded line of 2014 swimwear sillouettes. Fostering originality, the modern beach culture brand delivers a tropical palate of prints on a variety of next generation designs. Preview the line and meet the girls. We can't wait to see ya!
For more info: tavik.com

Insight returns to AGENDA
Welcome to the dark side of the rainbow, where the only way to experience the natural world is in bright and hyper real color; as seen through the distorted lens of technology. Visions of the jungled earth of old are filtered by green light and disrupted with static noise.
Insight's Spring 2014 Collection pays homage to 90's street and sports wear through the styling and juxtaposing of silhouettes.
For more info: insight51.com

STANCE Gals at AGENDA
STANCE unravels the spool of convention to create an original canvas worthy of the art it is paired with. A commune of creativity, STANCE is dedicated to the spirit of individuality. Celebrate bold experience expression with this free-thinking fabric as it becomes thread poetry in motion. Introducing our collective of silently loud and quietly bold STANCE beautiful punk & poets: Bambi Northwood Blythe, Kassia Meador, Margaux Arramon-Tucoo, and Imogene Barron.
For more info: stance.com; Instagram: @stance_gal #howwekickit

Vitaly Design at AGENDA
Sleek lines, chiseled edges, and subtle highlights—Vitaly Design produces jewelry & accessories inspired by the towering bluffs of Bali and the urban cityscapes of the world's metropolises. Exotic woods, metals, and ceramic are blended into beautiful, eye-catching pieces that look as good on the runway as they do at the bar. With three well-balanced collections, Vitaly Design has established itself by paying fine attention to detail and finer attention to its fans and friends.
A progressive lifestyle brand at the core, Vitaly Design caters to musicians, artists, athletes and executives alike, constantly seeking to embrace and contribute to the many faces of fashion.
For more info: vitalydesign.com
Pre-Registration is NOW OPEN for all Agenda summer shows:
Agenda:NYC, Agenda Long Beach & Agenda Vegas
Pre-Registration is required to attend Agenda.
Agenda:NYC
Wednesday, July 10th & Thursday, July 11th, 2013
9am - 6pm
82 Mercer Street
New York, NY 10012
In the heart of Manhattan, AGENDA New York provides an intimate two-day forum comprised of the top men's brands representing the street, skate, sneakers and California lifestyle.
Agenda Long Beach
Thursday, July 25th & Friday, July 26th, 2013
9am - 6pm
Long Beach Convention Center
300 E. Ocean Blvd.
Long Beach, Ca 90802
AGENDA Long Beach presents our paramount two-day youth-culture forum. Encompassing each facet of California lifestyle. We bring you streetwear, fashion, action sports, sneakers, surf and hardgoods, the BERRICS AGENDA curated skate section, and now expanding the Women's voice. With over 600 brands represented, this makes for a cohesive experience showcasing brands grouped by styled merchandising story.
Agenda Vegas
Monday, August 19th & Tuesday, August 20th, 2013
9am - 6pm
Sands Expo at Venetian | Palazzo
201 Sands Avenue
Las Vegas, NV 89169
AGENDA Vegas is the meeting ground where lifestyle and streetwear collections converge during the Vegas fashion market week to represent the subcultures of California lifestyle. AGENDA Vegas is proud to be part of the strategic alliance, known as the Modern Assembly, along with AccessoriesTheShow, Capsule, Liberty, MRket, and Stitch. Dispelling the myth of the competitive nature between the fashion tradeshows of yesteryear, the Modern Assembly provides an ideal mix of resources in the right environments, with the utmost of convenience by co-locating and cross-marketing. More than 2500 of the world's most exciting men's, women's clothing and accessory brands to meet with North America's largest audience of fashion retailers.
For more info: themodernassembly.com
Contact Us:
Agenda Headquarters
110 E 9th Street Suite B413
Los Angeles, CA 90079
p. 213-223-5111
f. 213-223-5115
[email protected]
---