Back to News
TEAM: Stopnik Brothers Sign on to be Electric Ambassadors
May 22, 2013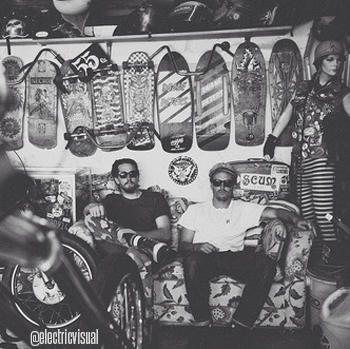 Stopnik Brothers Sign on to be Electric Ambassadors
Press Release from Electric
SAN CLEMENTE, CA – Scotty and Christopher 'Turkey' Stopnik join the Electric ambassador program.
"We are stoked to join the Electric family, especially knowing that we can be different, and do what we want. We surf, skate, play music, build and ride old motorcycles, we live a diverse life, and Electric has a lot of these loves as well." – Scotty Stopnik
"Scott and Turk totally embody everything that is influential about California culture. Aside from shredding in and out of the water, their free wheeling creativity in finding and building things from heritage pieces in to something new is exactly what the Electric brand is all about." - Eric Crane, CEO
About Scotty and Christopher 'Turkey' Stopnik
Born and raised in Huntington Beach, California, the Stopnik brothers spend their days surfing, skating, playing music and building and riding bikes. Along with several other Stopniks, Scotty and Turkey run Cycle Zombies, a local garage where they rebuild and sell classic motorcycles. The Stopnik brothers have gained a global following and continue to open minds to the sub culture of the Southern California lifestyle.
About Electric
Electric is a global, premium, sport and lifestyle accessory brand rooted in Southern California's rich action sports, music, art and customization culture. Electric's unrelenting approach to the elevation of style, quality and function in its products has earned the brand a renowned position. Today, Electric designs and markets an extensive line of sunglasses, snow goggles, backpacks, luggage and accessories through a primarily action sport and sporting good global retail network including the Americas, Europe, Japan, China and Australia. Since 2011, Electric has been a part of the Kering group*, a world leader in apparel and accessories which develops an ensemble of powerful Luxury and Sport & Lifestyle brands (* PPR will become Kering, subject to approval at the Annual General Meeting on 18 June 2013).
For more information go to: www.electricvisual.com
---