Back to News
SURF: Nicaragua to Host the 2013 Dakine ISA World Junior Surfing Championship Presented by Billabong
May 24, 2013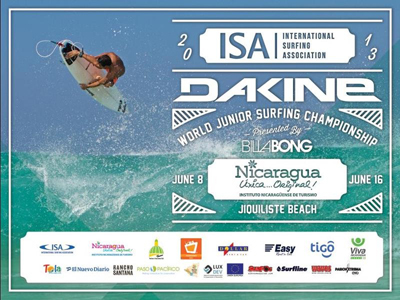 Over 300 of the World's Best Junior Surfers from 34 Countries will Gather in Playa Jiquiliste to Compete for Gold Medals and the ISA World Junior Team Champion Trophy
Press Release from ISA Surf
DAKINE ISA World Junior Surfing Championship Presented by Billabong, from June 8-16, at Playa Jiquiliste, Nicaragua
La Jolla, California, May 24, 2013- The International Surfing Association (ISA) is excited to announce the ISA will be returning to Nicaragua for the second year in a row for the 2013 DAKINE ISA World Junior Surfing Championship (WJSC) Presented by Billabong from June 8-16.
Nicaragua last hosted the ISA World Masters Surfing Championship in Playa Colorado in 2012.
The most important Junior event in the world has the full support of Nicaragua's President, Daniel Ortega, and the country's Minister of Tourism, Mayra Salinas Uriarte.
34 Nations and over 300 of the World's best Junior surfers (under 18 and under 16 boys and girls) will gather at the world-class beach break in Playa Jiquiliste, Nicaragua, to compete for the ISA World Junior Team Champion Trophy and individual Gold Medals.
"Nicaragua hosted one of the best and most exciting ISA World Championships ever last year and I can't be happier to return to this beautiful country and its excellent waves," remarked ISA President Fernando Aguerre. "Thanks to the support of Nicaragua's President Ortega, the Institute of Tourism, DAKINE, Billabong, and the country's welcoming and warm-hearted people, this will be an incredible event. The world's best junior surfers are guaranteed to put on a great show."
The ISA WJSC brings together the top Junior surfers in the world. The defending champions from the 2012 ISA World Juniors are Brazil's Matheus Navarro, (Gold Medalist, Boys under-18), Hawaii's Dax McGill, (Gold Medalist, Girls under-18), Hawaii's Kalani David, (Gold Medalist, Boys under-16), and Team Hawaii, the overall ISA World Junior Team Champion.
The 2013 ISA WJSC will include the Boys under-18, Girls under-18, Boys under-16, and for the first time ever, Girls under-16, which the ISA has added as the number of participants in this age group continues to explode globally. Each division will produce individual Gold, Silver, Bronze and Copper Medalists that will play a crucial role in the overall team standings.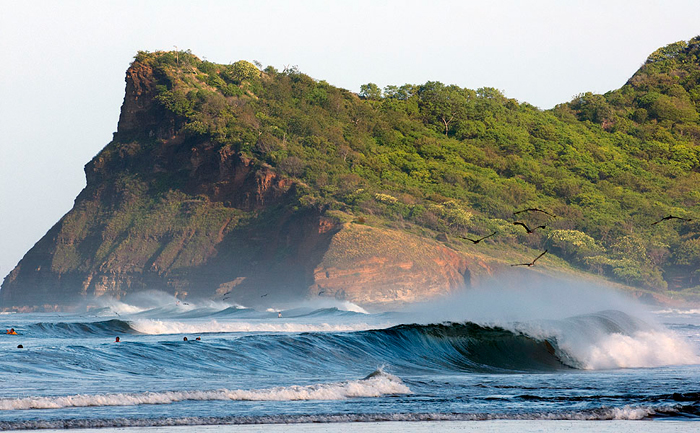 Nicaragua is a beautiful country with hundreds of miles of coastline filled with perfect warm-water waves and favorable offshore wind conditions year round. Photo: ISA/ Rommel Gonzales
To watch the official event promo, visit the official event website www.isawjsc.com, where you will soon find photos, videos and the live webcast beginning on Saturday, June 8 with the Opening Ceremony. Competition begins on Sunday, June 9, and the Finals and Closing Ceremony will be Sunday, June 16.
You can also watch the live webcast on the following media outlets:
www.surfline.com
www.surfersvillage.com
www.waves.com.br
www.surf.transworld.net
www.theinertia.com
www.zigzag.co.za
www.surfosmagazine.com
---