BACK TO NEWS
EVENT: Florida Surf Film Festival Announces Featured Artists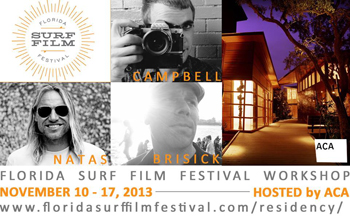 Florida Surf Film Festival Announces Featured Artists
Press Release from FSSF
New Smyrna Beach, FL – The Florida Surf Film Festival and Workshop is thrilled to announce the selection of our three featured artists for the film, multi-media, and photojournalism workshops in partnership with the Atlantic Center for the Arts held from November 10 – 17, 2013.
Jamie Brisick, Photojournalist and Filmmaker, will bring his wide range of talent and industry knowledge to the workshop, while also serving as a panelist for submitted works at the film festival. Currently, Jamie is in post-production on a documentary he co-directed and wrote entitled, Westerly, A Man, A Woman, An Enigma, a biographical look at the life of Peter Drouyn and Westerly Windina. The film is expected to be completed is early fall of 2013. Jamie surfed on the ASP world tour and has since documented surf culture extensively through books and publications like The Surfer's Journal, The New York Times, and The Guardian, as well as serving as the editor for Surfing Magazine.
Thomas Campbell is a self-taught painter, sculpture, photographer, and filmmaker. He splits his time between his painting/sculpture/stuff making studio in Bonny Doon, California and traversing the globe making films. His rich, original style is on display in films such as The Present, Sprout, and The Seedling. Thomas's voice in the world of surf culture is singular, rich with style, and crafted with the elegance.
Natas Kaupas, Innovator, Multi-media Visual Artist and Designer, changed street-skating with innovative tricks and ideas, pioneering a movement that led to a popular resurgence in the world of skateboarding before becoming a visionary creative force within the surf and skate culture. He is a veteran commercial artist in the world of surf and board sports industry, incorporating clothing, graphic, and many other outlets for design and creativity. His work with Quiksilver, Element Skateboards, and Etnies represents only a fraction of the influence he has had on the industry.
The workshop will begin November 10, 2013, and continue through the film festival to November 17, 2013. Early to mid-career artists will have an opportunity to collaborate, create, refine, and receive mentorship from the three featured artists. Further information about each featured artist will be forthcoming. During the workshop, artists will interact with other artists in their discipline and if desired, collaborate with others outside of their discipline; work with the featured artists on a one-on-one basis; eat, drink, and sleep at Atlantic Center for the Art's world-renowned studio and residence facility; and may have an opportunity to display their work during the workshop period with open hours to patrons of the festival and limited public hours.
The Florida Surf Film Festival will be held November 15 – 16, 2013, at Atlantic Center for the Arts. Information on the festival and submissions can be found here.
Atlantic Center for the Arts is a nonprofit 501 (c)(3), interdisciplinary artists-in-residence community and arts education facility dedicated to promoting artistic excellence by providing talented artists an opportunity to work and collaborate with some of the world's most distinguished contemporary artists in the fields of music composition and the visual, literary and performing arts. Community interaction is coordinated through on-site and outreach presentations, workshops and exhibitions.
---