BACK TO NEWS
TEAM: Two-time World CrossFit Champion Annie Thorisdottir signs with Zamst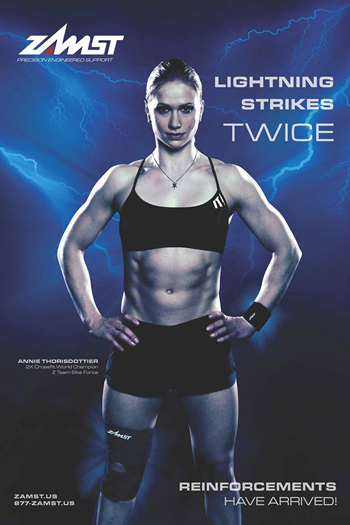 Two-time world CrossFit champion signs with Zamst, an elite level sports bracing/support equipment manufacturer
Press Release from Zamst
Newport Beach, CA - Zamst, a leader in high-performance sports protective equipment, announced today an endorsement deal with Annie Thorisdottir, a two time world champion in CrossFit and the only woman to win back to back titles in 2011 and 2012.
"Annie is a world class, all around athlete and we are proud to have her join our Z team," said Bryan Smeltzer, GM, Zamst US. "Zamst sports bracing and supports products provide a superior level of protection and prevention, and aligning with world class, elite athletes like Annie who have dominated their sport allows us to demonstrate the superiority of our products before, during and after competition."
Annie was born in Iceland, nicknamed "Iceland Annie," has dominated the Reebok Crossfit Games the last two years (2011/2012), becoming the only female two time "World Champion," designating her as the "Fittest Woman on Earth." Based out of CrossFit Reykjavik in Iceland, Annie participates in European Crossfit Regionals, where she placed first the past three years.
"CrossFit participation has exploded over the past several years, and we are proud to have Annie leading our Zamst brand in the CrossFit and Strength/Conditioning markets," said Bryan Smeltzer, GM Zamst, "Zamst is committed to providing specific solutions to athletes bracing/support needs."
"I am so proud to be part of the Zamst team, the products are far superior to anything I have used previously, and I was also impressed that they ID'd the specific needs within our sport," said Thorisdottir. "Zamst's develops products that allow me to move freely, while providing the support I need during my workouts and competition."
About Zamst:
Zamst is a leading brand of sports support and protective equipment, used by professionals worldwide for over 20 years. Zamst offers a full line of premium injury prevention and protection sports bracing and supports products. Zamst is a division of the NIPPON SIGMAX Co., Ltd (Tokyo, Japan) with privately-held, wholly owned subsidiary corporations, SIGMAX AMERICA (Newport Beach, California), SIGMAX EUROPE (Annecy, France), and SIGMAX CHINA (Shanghai, PRC). For more information, call toll free 877-ZAMST-US (877-926-7887) or visit http://www.zamst.us.
---