Back to News
GEAR: ThirtyTwo Launches Its First Ever Summer Hood Rats Pack
June 3, 2013
ThirtyTwo Launches Its First Ever Summer Hood Rats Pack
Press Release from ThirtyTwo
Lake Forest, CA – ThirtyTwo has released its first Hood Rats pack just in time for all the hood rats to head to Govy camp. Inspired by the summer scene at Mt. Hood, the ThirtyTwo Hood Rats pack features original artwork from, team rider and true rat lover, Danny Larsen.
The ThirtyTwo Hood Rats run deep with Jon Castro and Jordan Small digging on the Palmer Glacier all summer long. ThirtyTwo Team Riders Scotty Stevens, Chris Grenier, JP Walker, Joe Sexton, Brandon Hobush, Spencer Schubert, Chris Beresford and Chris Brewster have all put in time up at Mt. Hood. Some were diggers, others guest coached and all of these guys ride the glacier every summer. Check out the ThirtyTwo Hood Rats promo video here: thirtytwo.com.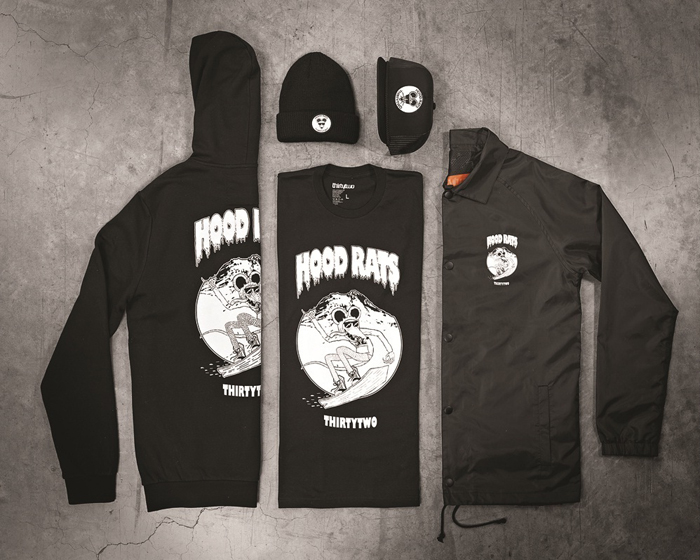 The Hood Rats pack includes: Hood Rat Jacket, Hood Rat Tee, Hood Rat Fleece, Hood Rat Beanie and Hood Rat Trucker hat. All merchandise is sold through finer snowboard shops and on the ThirtyTwo site. Below is a list of retailers carrying the pack around the world.

For the latest on ThirtyTwo, connect with the brand here:
• Twitter/Instagram: @ThirtyTwo
• Facebook: facebook.com/ThirtyTwo
• Youtube: http://www.youtube.com/user/ThirtyTwovideo
About ThirtyTwo:
Established in 1995, ThirtyTwo was created by snowboarders for snowboarders. Rider-owned and privately held since day one, ThirtyTwo has led the snowboard market with new and never before seen innovations in technology, performance, comfort and eco-friendly initiatives. All ThirtyTwo products have been tested and approved by the best snowboarders in the world. For additional information, visit thirtytwo.com.
---