BACK TO NEWS
EVENT: NSSL to Award Top Skateboarders & Scholars at Volcom HQ on June 15th
National Scholastic Skateboarding League Finishes 2013 Season by Recognizing Top Skateboarders & Scholars at Volcom HQ
Press Release from NSSL
NEWPORT BEACH, CA (May 24, 2013) – The National Scholastic Skateboarding League (NSSL) is concluding its 4th season at Volcom's private skatepark in their corporate headquarters in Costa Mesa on June 15th for their annual awards banquet and fundraiser. Students and school teams from 26 schools in Orange County and San Diego will take home custom trophies donated by Paul Schmitt from Create A Skate for individual and overall standings accumulated over the past five months.
More than 200 skaters, family members, coaches, pros, industry executives, and various school and city officials are invited to attend this anticipated awards ceremony and fundraiser. A silent auction and raffle will help the league raise money to continue to expand next season. And to top off the night, the top skater scholars will be rewarded for their academic successes, including the inaugural $1,000 Skater Scholarship for a student for college or career technical school.
Please contact the league office at nsskateboardingleague@gmail.com if you would like to donate items for the skater goodie bags or silent auction.
The evening will conclude with a student skate session in the Volcom private skatepark.
The NSSL has been invited to participate in the City of Costa Mesa 60th Anniversary Festival on June 30 which will include team skate demos, T-shirt making, and other fun skate related activities. The NSSL will start its 2014 season next March. Until then, summer skate camps, several skate park tour field trips, career day field trips, and league fundraisers will take place throughout the remainder of the year.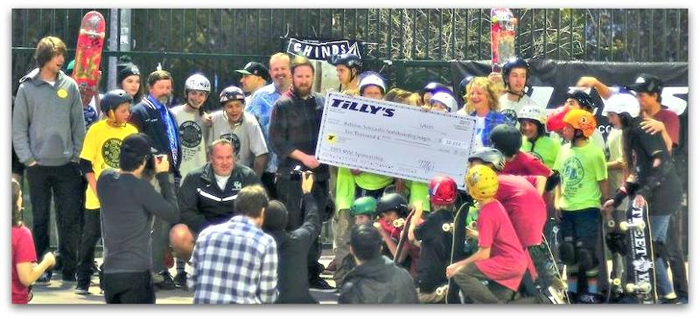 About NSSL 2013 Title Sponsor Tilly's: Thanks to retailers like Tilly's for supporting the league for 2 seasons. Since 1982, Tilly's has been the premiere retail destination for action sports & lifestyle fans around the globe. Inspired by surfing, skateboarding, motocross, music, art, fashion and individuality, Tilly's thrives on creating a unique and inspiring experience for our generation, offering the best brands and largest assortment. For additional information on Tilly's, visit tillys.com.

Official 2013 NSSL School Team Champions below.
Official 2013 NSSL Team Champs are as follows:
High School Team Overall
1. Irvine High School
2. Trabuco Hills High School
3. San Clemente High School
Middle School Team Overall
1. Bernice Ayer Middle School
2. Southlake Middle School
3. Shorecliffs Middle School

About The National Scholastic Skateboarding League
The National Scholastic Skateboarding League (NSSL) is a non-profit charitable organization founded in March 2010 as the Orange County Skateboarding League. In September 2011, the name was changed to the National Scholastic Skateboarding League and the addition of the San Diego Skateboarding League (SDSL) comprises its newest region. The NSSL supports high school and middle school teams, along with student skateboard programs and facility improvements. The NSSL was designed as a way for students to participate in non-traditional school sports programs. It is an excellent way to showcase individual skateboarding talents in a team environment. For more information on NSSL, visit nsskateboardingleague.org and follow us on Twitter and Facebook.
Media Contact:
Monet Quick Smits
NSSL Communications
nsskateboardingleague@gmail.com
Katrina Foley
NSSL President & Founder
949-244-9010
---