BACK TO NEWS
EVENT: Introducing Agenda Emerge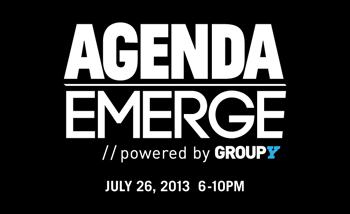 Introducing Agenda Emerge
News from Agenda
AGENDA Trade Show, the leading forum for action sports, streetwear, lifestyle and sneaker industries, is launching Agenda Emerge, a highly curated platform featuring some of the biggest innovators and industry leaders speaking about the intricacies of their business and offering emerging artists crucial insight brand building.
Agenda Emerge joins the program of the prestigious AGENDA show, which is taking place July 25 & 26 in Long Beach. The Emerge event will be from 6-10 p.m. July 26, at the Center Theater at the Long Beach Convention and Entertainment Center and will feature a talented panel, including founders of some of the most notable brands in street- wear, including Eckô, The Hundreds and more.
"We are focusing on an event that will benefit young brand owners trying to break into the industry." said AGENDA Founder Aaron Levant. "After 10 years, we've gotten to know a lot of these brands and watch them reach immense success. This is a great opportunity for the new generation of designers to learn from seasoned veterans who have turned their brands into household names."
One of those veterans will be keynote speaker Marc Eckô, a serial entrepreneur who founded the multi-billion dollar Eckô franchise in the mid-'80s, building his corporation to include streetwear staples, such as Eckô Unltd, Zoo York and Complex Media Group. Eckô also founded venture innovation company Artists & Instigators, as well as venture capital fund SeventySix Capital. He serves on numerous boards, including the Council of Fashion Designers of America (CFDA), Big Picture Learning (BPL) and Everloop.
Also speaking is co-Founder and Chief Creative Officer of The Hundreds, Bobby Kim, aka Bobby Hundreds. Kim has been recognized in Inc. and the New York Times magazines for guiding The Hundreds from an independent creative project into a worldwide apparel label. The Hundreds holds four flagship stores, a dynamic online magazine read by millions, a print magazine and footwear program, right in line with the company's motto: "The Hundreds is Huge."

Just added: Jeff Staple of Staple Design
There will be more speakers to be announced in the upcoming weeks.
Date: July 26, 2013
Time: 6-10 PM
Guest Speakers: Marc Eckô , Bobby Hundreds, Jeff Staple
Hosted by: Jon Buscemi
Location: Center Theater @ The Long Beach Convention & Entertainment Center
AGENDA Emerge is a creative and brand building conference featuring today's most iconic creative directors, industry leaders and entrepreneurs in the youth marketplace. A highly curated platform where industry insights and business intricacies are shared.
TICKETS
Tickets give you access to the Agenda Emerge Conference as well as a limited access pass to the Agenda Tradeshow on Friday, July 26th from 1PM - 5PM.
The first 250 people to register will receive a copy of Marc Eckô's new book Unlabel Me, published by Simon & Schuster.
** Your pass for Agenda Trade Show does not get you access to Emerge. Emerge requires a separate ticket. **
For more info, visit: agendaemerge.com
---