BACK TO NEWS
EVENT: ASC Action Sports + Culture Conference Set For July 24th At The Long Beach Convention Center

4th Annual ASC Action Sports + Culture Conference presented by Group Y Kicks off the Agenda Trade Show with "Authenticity Is Everything"
Press Release from Group Y
LONG BEACH, Calif. - Group Y, the original collective of youth marketing, action sports and entertainment professionals, will launch the ASC Action Sports + Culture Conference in conjunction with the AGENDA Trade Show in Long Beach, Wednesday, July 24 from 9:00 a.m.-6:00 p.m. The event theme "Authenticity" will focus on the key ingredient that is the foundation upon which youth culture and action sports are based - the 'North Star' in a landscape driven by commitment, progression and constant reinvention. The outstanding roster of heavy hitters whose work has impacted youth culture and action sports will draw on their experience, bringing insight and perspective on what authenticity means: how to respect the traditions of the past, break the rules of tomorrow, and recognize and embrace visionary ideas while sustaining a trajectory that is true.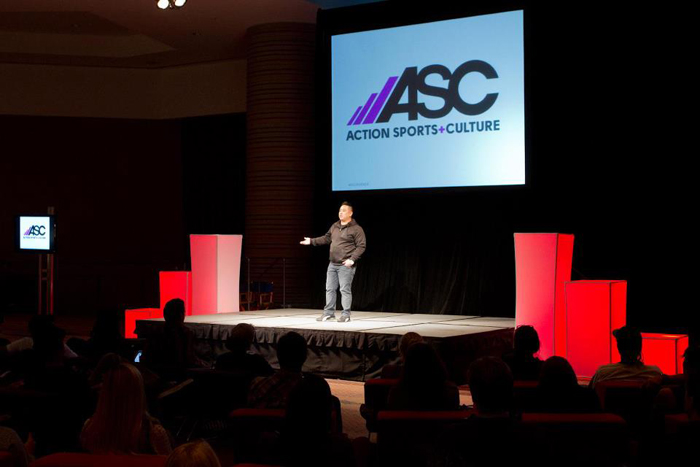 ASC Presenters*:
YouTube - Derek Callow - Director, Global Partner Marketing
Red Bull North America - Christopher Mater, Head of Sports Marketing
th13teen - riCardo CRESPO - C/C/O (Formerly 20th Century Fox, SVP Global Creative Chief )
Sol Republic & Monster Cable - Kevin Lee, CEO, VP of Brand & Corporate Development
Loeb & Loeb - Brian Socolow, Partner and Chair, Sports Practice Group
Brain Farm - Curt Morgan, CEO, Creative Director & Executive Producer
STOKED - Steve Larosiliere, Founder & President
Host & Moderator - Pat Parnell, Sports Broadcast Journalist (NBC, Fuel, ASP)
*Additional Speakers Announced Soon.
Attendees will participate in an engaging day inside the Center Theater in Long Beach-home of the TED Conference-immersed in a visually inspired and intimate conference environment. Meet, learn from, and network with those who have the power to make change. Ticket packages available ActionSportsCulture.com :
• Basic Package $400. Includes July 24 presentations, lunch, exclusive content & networking hour.
• Deluxe Package $550. Includes July 24 VIP seating for presentations & lunch, 2-day pass to AGENDA Trade Show, gift bag and donation to STOKED.
Group Y will also power AGENDA Emerge on Friday, July 26 from 6:00 p.m.-10:00 p.m. featuring Marc Ecko, Bobby Hundreds and more. AGENDA Emerge is a highly curated platform of innovators and industry leaders discussing the intricacies of their business and offering crucial insight into brand building for emerging artists. Tickets and information are available at AgendaEmerge.com.
About ASC Action Sports + Culture Conference
Since 2009, ASC Action Sports + Culture Conference has curated authentic conference programming that brings together the best and brightest new talent in lifestyle, culture and youth industries with global industry leaders in entertainment, media and sports. By creating an audience mix that includes the world's largest corporate brands and media alongside industry-leading action sports and lifestyle-focused companies, the ASC strives to create an environment that benefits attendees through education and the expansion of personal and professional networks. Past conferences were sold-out successes, hosting speakers, attendees and sponsors from companies including ESPN, The U.S. Olympic Committee, NBC, Target, Getty Images, Fast Company Magazine, Nike, Disney, Vans, IMG, The Hundreds, Burton, Huf, Oakley, Monster Energy, UFC, Wasserman Media Group and Transworld Media.
The ASC Action Sports + Culture Conference is made possible by the generous support of partners AGENDA Trade Show, Loeb & Loeb, BeCore, Nemo Design, 530MediaLab, ChopShop, Label Network, Malakye.com, FoxTales and YPulse. For more information, please visit actionsportsculture.com and follow us at @ASConference on Twitter.
About Group Y
GROUP Y is the original and leading collective of professionals focused on youth marketing, action sports, entertainment and other progressive and expressive cultures. Its mission is to share insights across industries and ignite ideas that inspire the current and next generation leaders and decision makers. Using events, outreach, content and consultation, Group Y takes the work out of networking and strengthens the areas where industries overlap. For more information, please visit groupynetwork.com, @groupy and facebook.com/groupynetwork.
About AGENDA Trade Show
The AGENDA Trade Show is a forum for the most inspired in the streetwear and action sports industries to unite. Lines speak for themselves and buyers are not intimidated by the usual overwhelming tradeshow experience. From the garage-run lines on the verge of explosion, to the well-established elite, AGENDA caters to the needs of buyers and brands that exist on a higher level of design and aesthetic. With a strong emphasis in style, art, music and culture, the AGENDA experience is as much a lesson as it is a tool. For more information, please visit agendashow.com.
---