Back to News
Ludo Malmoux, President & Creative Director at OTZ Shoes
June 7, 2013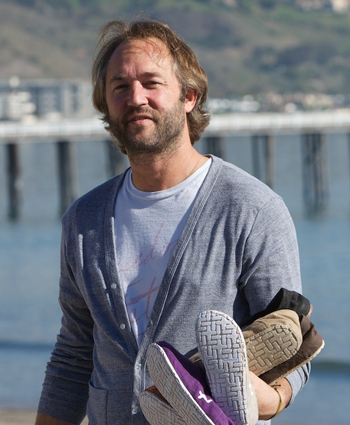 Ludo Malmoux, President & Creative Director at OTZ Shoes
Sneaker industry creative Ludovic Malmoux made a bold move in 2009 when he left his job as the creative director of a leading athletic lifestyle brand to launch OTZ Shoes, which are inspired by a simple yet function design and features Corkcomfort Technology with footbeds that gradually mold to your feet.
In just 4 short years, Ludo has taken OTZ Shoes from its office in partner Skip Murgatroyd's Airstream to its current home in Malibu, Calif. Along the way, he has managed to build a great team, which includes a new CEO who has served as President & CEO of REEF and CEO of Sanuk in the past. And most recently, the company announced its acquisition by K-Swiss.
"Although I have always had faith in our brand, it is a little scary when you're trying to bring up 2 teenagers!" explains Ludo via email. "Did I mention that Tammy, my wife has been the Operations Manager for the past 3 years? She might have other challenges in mind to share with you!"
We spoke with Ludo about how he meet his eventual partner Skip Murgatroyd, when he initially got involved in footwear design, why he loves being based in Malibu and what the future looks like for him and his company.

Ludo was inspired in 2005 by an article describing the oldest shoes ever found, worn by Oetzi the caveman - fast forward to now and the vast line of product offered by the company he founded, OTZ Shoes.
In 2009 you founded OTZ Shoes with Skip Murgatroyd - what was your vision and purpose and how do the company's roots tie into the oldest shoes ever found on a prehistoric iceman found frozen in '91?
The simple answer is that I wanted to make shoes that fit my lifestyle. I'm an avid outdoor guy but simply can't get away from a perfectly made Latte...and I mean a Latte, not something that you get a Starbucks. The long story is that in the early part of 2009, I found myself bed ridden with 2 herniated discs - probably the most pain I have ever experienced - and found that walking on the beach barefoot was the only walking I could do that relieved the pain I was feeling. At that time I met Skip whose dog Spot had become besties with my dog Cowgirl. I remember him asking me about what I did, and when I mentioned that I had a new footwear brand in mind, one that reverted back to the essentials but embraced today's way of living, he became my partner overnight. In 2005 I was given an article about Petr Hlavacek and his amazing adventures re-creating the oldest shoes ever found on the oldest mummified human ever discovered! This was "Otzi" and that article changed my life.
How were the first few years for you as an emerging brand in the comfort footwear category?
They were awesome :) we started in Skip's Airstream which we decorated with massive OeTZI3300 (our original name) decals on both sides! It was so refreshing to be working with Skip, who is just the most clear headed person I have met. We also worked with his childhood friend Peter (who kept a close eye on the cash!). You might say that it would be a crazy trying to launch a new brand during the lowest of economic climates the US has seen, but it was the complete opposite. Everyone (meaning all the brands) looked the same on the shelf, but what we had looked like nothing anyone had ever seen, which completely intrigued the buyers. We had a killer mascot and cultural story with the connection to Otzi, the Iceman, and our shoes were genuinely comfortable! We also had the two best sales people in the industry; John Spilman, who not only knows everyone, but actually knows how to sell shoes!), and Melissa Solano who is the most passionate and dedicated sales person I have ever met. Just ask any one of our current retailers, they all love her. And I'm not sure I would categorize OTZ in the comfort footwear category too quickly…what happens when we start making hiking boots or running shoes? We are simply a brand that has our finger on the pulse, we're relevant and comfort is intrinsic.
Until earlier this year, you served as CEO for OTZ Shoes but in February the company brought on industry veteran Bob Rief to fill your spot. How has it been in your new role?
It's a relief to hand over the steering to one of the most respected and talented CEO's in the industry. He's killer and fits in too well! As for my new role, we all have 10 hats, I now have 9 left!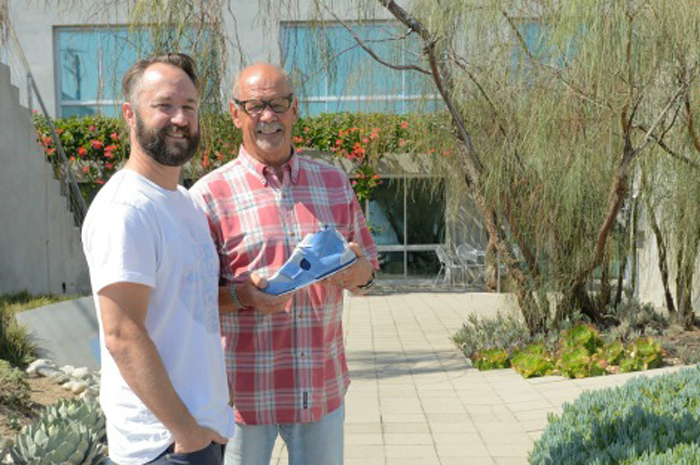 Ludo with Bob Rief. "I am very pleased to join the OTZ Shoes team and help explore the brand's opportunity in the contemporary comfort shoe category," noted Rief in a February 14, 2013 press release.
Can you share any similarities and differences you've experience between these two positions – CEO and President and Creative Director?
We simply get the job done here at OTZ which includes everything from leading, design, operations - to taking the trash out. I personally enjoy being part of a team of great people and just as happy when I am on the road selling with Melissa as I am problem solving finances at the office. As far as my role as Creative Director? That's not a job, it's a lifestyle!

Did bringing Bob Rief on-board influence the recent acquisition of the brand by K-Swiss?
Barney Waters the new CMO of K-Swiss Inc., and a good friend of mine introduced OTZ to the E.Land World Group, and K-Swiss' new CEO, Larry Remington during last FN Platform tradeshow. It was Bob's second day on the job! I distinctly remember him saying "we're not selling OTZ, we're looking for investors." However the E.Land acquisitions team kept a keen eye on product, the stories and the people, we were so impressed that we agreed to sell the company to them :) One thing is for sure, without Bob's experience, I doubt we would have been able to handle the process so smoothly.

Being recently acquired by a company founded nearly fifty years ago in Van Nuys, Calif. - was it a perfect fit for you, being based in Malibu?
Our office in Malibu is heart and soul of the OTZ brand, so much so that we actually tag it in our ads "DESIGNED IN MALIBU."It's just simply ironic and fate I suppose, that I was the creative Director of Royal Elastics, the company that the former K-Swiss bought in 2002, and the reason why I am living here in the USA. Malibu was the closest beach from the K-Swiss Westlake offices!!! And now after 4 years of building OTZ, I find myself working with the K-Swiss talent I know very well.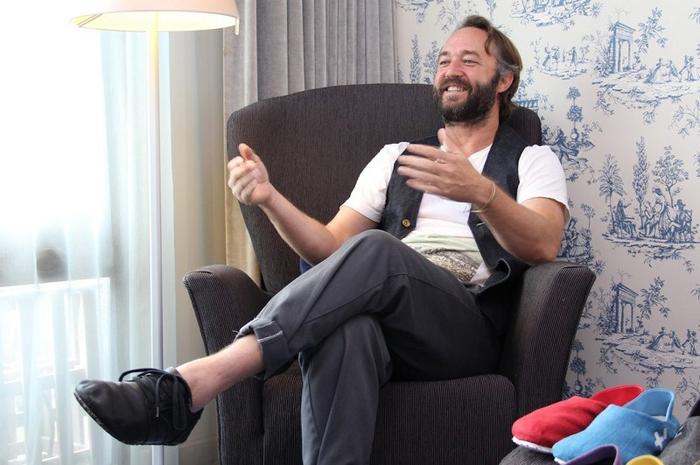 Ludo in Taiwan. "Follow your dreams, work hard and have fun doing it."
How has the company evolved since being started four years ago?
You could say things have evolved in a fast and yet organic way from our Airstream office with 3 people and 2 dogs to the current team of 8 very talented and dedicated individuals, 2 very funny dogs, 14 awesome US reps selling to over 580 doors across the US and distributing to 20+ countries! We have worked hard! We hit our glitches and worked through them, switching warehouses 3 times over, changing operating systems 3 times. We have developed and manufactured hundreds of SKUS and still manage to have our management meetings on the beach with the dogs!

Where do you see the company in another four years?
I always thought OTZairlines had a nice rhyme! But that might be a few decades! So, 4 years...OTZ is all about the Product, and I can tell you we have yet to touch the tip of the iceberg. The first chapter has been about educating people about OTZ, chapter 2 starting with the addition of Bob Rief and a fundamental back end provided by K-Swiss and E.Land. The next 4 years is going to be about turning OTZ into a world class footwear brand. I can't wait to see it happen.

What has been the biggest challenge for you in starting a company?
Haha! Each day feels like the next biggest challenge! The one that stands out is having enough capital to make the wheels go round. Our growth over the last 12 months have been so aggressive that there have been many times that Skip and I would pass on our wages to make sure payroll was met and our bills were paid! Although I have always had faith in our brand, it is a little scary when you're trying to bring up 2 teenagers! Did I mention that Tammy, my wife has been the Operations Manager for the past 3 years? She might have other challenges in mind to share with you!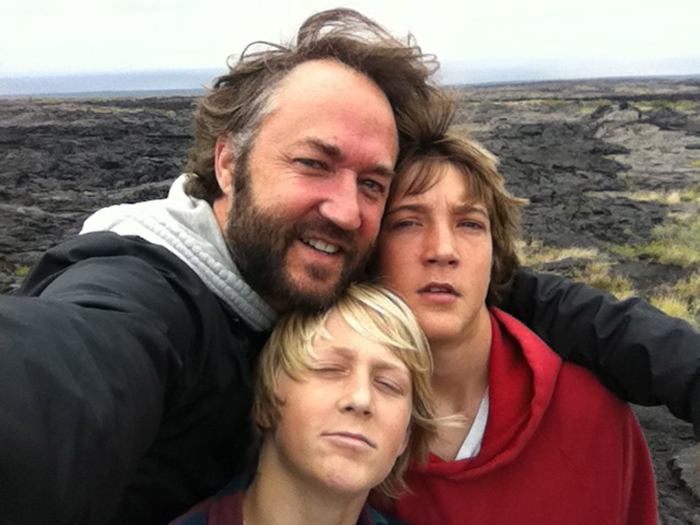 Ludo with his two teenage sons.
How are you defining success for OTZ Shoes?
The only way to measure success is through sell through. Checking in on the stores is hard work but when the product checks out, then you're onto something. Seeing people wear the shoes and reading all the emails and comments we receive through social media channels is simply awesome and definitely makes me proud of what we have created with so few resources.

What of your past experience are you drawing from that has led to OTZ Shoes' success?
Everything...and not just professionally.

How long have you been working in the footwear industry?
At the time I had been working in Australia as a Senior Industrial Designer in one of the best firms, but did not feel fulfilled. That's when I discovered the action sports industry in France and started my own consultancy and designed my first shoe for Salomon back in 1996, but it really wasn't until when I moved back to Australia and met Tull Price from Royal Elastics that I found myself immersed in the sneaker world! What a trip that was! Another incredible start up for those of you that knew Royal back in the early 2000's!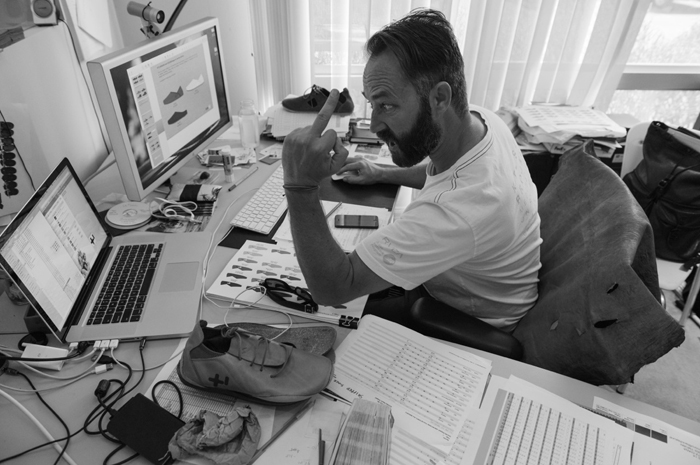 "Our growth over the last 12 months have been so aggressive that there have been many times that Skip and I would pass on our wages to make sure payroll was met and our bills were paid!"
What has been the biggest reward for you with starting OTZ Shoes?
I was so completely burnt out with the corporate thing; I would come home after a full day's work and question what I had even accomplished in that day. My biggest reward is having such a cool wife, who was 100% with me in building OTZ in the middle of a recession when everyone was holding to their jobs waiting for a better day. OTZ has brought me the best 4 years of my career, meeting so many incredible people along the way, from the people we work alongside of everyday, the people that believed in us from the start and the people that got it and bought it.
What advice can you give someone who is building a career in footwear and sales, or looking to start one?
Follow your dreams, work hard and have fun doing it...and remember it's the people around you that help you make it all happen :)
Care to add anything we may have missed?
Did I tell you about our Logo? Did I mention our 4 CORKfootbed technologies, perhaps our philanthropic efforts? The culinary collaboration we are about to start? Well I guess we have much more to cover in your next interview :)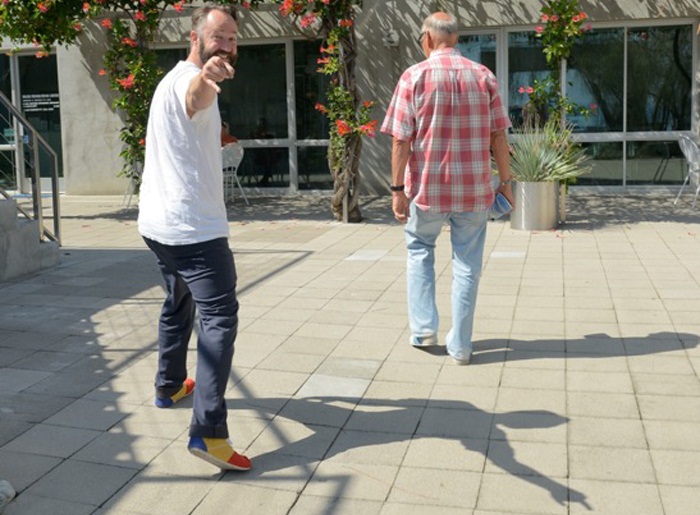 For more about OTZ Shoes, visit otzshoes.com and follow OTZ on Vimeo, Facebook, Twitter and Instagram. And be sure to check out OTZ Shoes at Outdoor Retailer this summer, they will be at Booth #30155!!
---