BACK TO NEWS
B$Z: Master Plan Communications Wins Eight OC/PRSA Awards for PR Success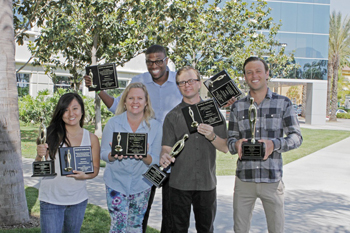 Master Plan Communications Wins Eight OC/PRSA Awards for PR Success
Press Release from Master Plan Communications
Award-winning Master Plan Communications PR campaigns included ThirtyTwo, Network A's Billabong Code Red Premiere and GoldCoast
June 10, 2013 (Foothill Ranch, Calif.) – Master Plan Communications, the leading action sports PR agency, won eight awards at the Orange County Chapter of the Public Relations Society of America (OC/PRSA) PROTOS Awards Ceremony at the Lyon Air Museum in Santa Ana last Friday night. The Master Plan Communications team's award-winning PR campaigns included the ThirtyTwo Snowboard Boots and Outerwear Launch, Premiering Billabong's Code Red on Network A and GoldCoast Skateboards Press Tour.
The Master Plan Communications Team from left to right: Assistant Account Executive Deborah Choi, Account Director Kirsten Woodard, Account Coordinator Aaron Gilliam, Managing Director Ashton Maxfield and Staff Videographer Jon Arman.
PROTOS Awards are the "highest" Awards or achievement one can receive in recognition of their work in the public relations field in Orange County. The Master Plan Communications team won three PROTOS Awards and five Awards of Excellence at the 38th Annual OC/PRSA PROTOS Awards.
The growing Master Plan Communications agency has produced strong results for the following action sports brands: ThirtyTwo Snowboard Boots and Outerwear; CAPiTA Snowboarding; Fred Water; GoldCoast Skateboards; Naklin; Network A; Union Binding Company; Red Bull Manny Mania; The Sheckler Foundation; and the Surfing Heritage & Cultural Center.
About Master Plan Communications:
Master Plan Communications is a full-service PR agency that provides value to brands and foundations by achieving measurable results through strategic PR programs that authentically connect with their consumers, donors and partners. Based in Orange County, California, MPC is retained by clients in diverse industries doing business around the world. MPC's leadership is known for bringing a fresh perspective with creative solutions, moving quickly and exceeding expectations with well-planned PR programs. Connect with Master Plan Communications on Facebook (facebook.com/masterplancommunications), LinkedIn (linkedin.com/company/master-plan-communications) or at masterplanpr.com.
---