BACK TO NEWS
EVENT: New Ride 2 Recovery Honor Ride to Take Place at Interbike 2013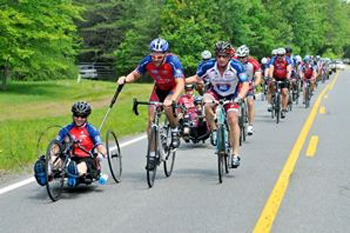 Veterans, troops and bicycle industry supporters to ride custom hand cycles, recumbents, tandems, modified and traditional road bikes to OutDoor Demo
Press Release from Interbike
SAN JUAN CAPISTRANO, Calif. – June 12, 2013 - Interbike, the largest bicycle industry trade show in North America, today announced that it is partnering with Ride 2 Recovery (R2R) on the new R2R/Interbike Honor Ride at this year's event. Ride 2 Recovery is a non-profit organization whose mission is to improve the health and wellness of healing heroes from Iraq and Afghanistan through mental and physical rehabilitation programs that feature cycling as the core activity.
The new 25-mile ride will start at Interbike's new home, the Mandalay Bay Convention Center (MBCC), on Tuesday, September 17th, at 8:00 a.m. Veterans, troops and all attendees of the Interbike trade show are invited to ride to the OutDoor Demo site in Boulder City, NV. This new Honor Ride event replaces the annual Lake Mead Ride that used to stage at the OutDoor Demo on Tuesday morning.
"This event is really important to us and to our industry," said Pat Hus, Vice President of Interbike. "We want to celebrate these heroes and what they have done for this country, and honestly we couldn't think of a better way to kick off the show than with an event such as this. We are extremely proud to be partnering with R2R and Raleigh to put on what promises to be a very powerful and moving experience for the industry."
Ride 2 Recovery works closely with Raleigh, Shimano and others to adapt bikes for injured veterans so they can once again find a physical and mental outlet, whether alone or in groups. As they rebuild strength and conditioning, they are also healing the effects of post-traumatic stress disorder, traumatic brain injuries and depression. The organization was founded by John Wordin, a former racer and race team director for the Mercury Cycling Team.
"Cycling is a powerful, therapeutic exercise that can play a significant role in the healing of our nation's injured warriors," Wordin said. "These athletes are amazing in what they are able to accomplish and we are very proud to be able to help make their lives more fulfilling through cycling. Everyone in our industry should come out and join us for this ride. I personally guarantee they won't be disappointed."
A large reception and fund-raising silent auction at the OutDoor Demo are planned for when the cyclists arrive at approximately 10:00 a.m. Interbike and R2R are working to include participation from the Nellis Air Force base and local media as part of the reception at the OutDoor Demo Oasis. Participating in the R2R/Interbike Honor Ride is free to all Interbike attendees. Participants can sign up at www.ride2recovery.com starting on July 1, 2013. SAG Support will be provided by Ride 2 Recovery and Raleigh.
About Interbike
Interbike is the largest bicycle trade event in North America, bringing together manufacturers, retailers, industry advocates and media to conduct the business of cycling. Established in 1982, the show gathers more than 1,200 cycling-related brands and more than 25,000 total attendees annually.
Interbike is a division of Nielsen Expositions, a leading organizer of tradeshows complemented by industry analysis and market intelligence from its award winning publications and websites. Other events produced and managed under the Interbike umbrella include OutDoor Demo, Health+Fitness Business Expo, IBD Summit and the Electric Bike Media Event.
Nielsen Expositions is a business unit of Nielsen Holdings N.V. (NYSE: NLSN), a global information and measurement company with leading market positions in marketing and consumer information, television and other media measurement, online intelligence, mobile measurement, trade shows and related properties.
About Ride 2 Recovery
Ride 2 Recovery, a 501(c) 3, helps injured veterans improve their health and wellness through individual and group cycling. Cycling has proven to be a catalyst in the recovery process by providing a new physical challenge while concurrently helping to cope with the psychological challenges.
Ride 2 Recovery has established Project HERO programs at 34 military installations and three VA sites. Through these on-site programs, R2R partners with the facility staff and cadre to create personalized and progressive programs to fit the needs of the individual patients and promote a fuller, quicker rehabilitation.
Funds raised support the equipment donated to each healing hero participating in the events, including bikes that require modification due to injuries. Ride 2 Recovery supporters include UnitedHealthcare, Chevrolet, Raleigh Bicycles, United Airlines and the USO. For more information, visit ride2recovery.com.
---