Back to News
Anomaly Action Sports Q&A with co-founders Carlo Salmini and Ted Ligety
June 12, 2013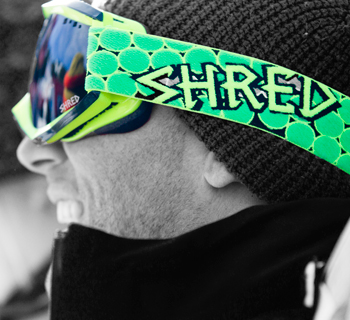 Anomaly Action Sports Q&A with co-founders Carlo Salmini and Ted Ligety
Anomaly Action Sports distributes the brands Shred Optics and Slytech Protection, who together make products that focus on technology and enhancing athletic performance, including protective equipment, eyewear, helmets, and sunglasses. Since the company's founding in 2006, they have proven results - just ask Shred and/or Slytech sponsored athletes like members of the US, Swiss, French and Japanese Ski teams, top professional freeskiers like Oscar Scherlin and Duncan Adams, as well as snowboard legends like Romain De Marchi, Wolle Nyvelt, DCP and JP Solberg, Mat Schaer and Marco Feichtner.
The company was started by Olympic Gold Medalist Ted Ligety and MIT-trained product engineer Carlo Salmini and is currently based on the East Coast, where the founders are able to design and create products that incorporate technology, safety, product design and style.
"Combining our insights, Carlo and I were able to create our version of the perfect product with the necessary technological skills and materials," states AAS co-founder Ted Ligety via email. "We set out to make the products of our dreams, and we made our dreams a reality."
We spoke with Ted and Carlo, co-founders of Anomaly Action Sports, about the success of Shred Optics and Slytech Protection since the brands' launching in 2006 and what is takes to design high performing protection gear for action sports.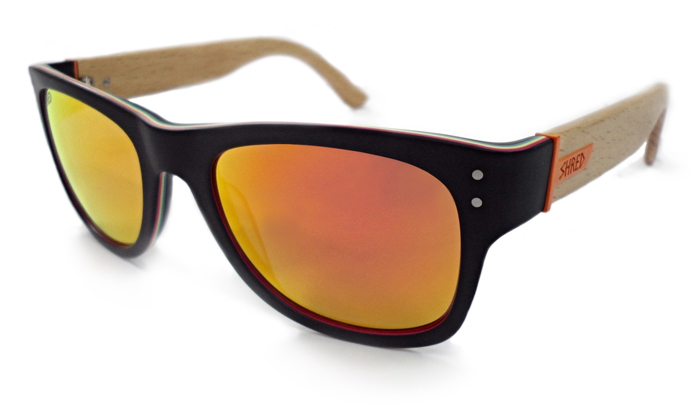 The NEW Shred Optics 2013-2014 sunglasses with lenses from Carl Zeiss Vision.
Why did you decide to start up Anomaly Action Sports?
Carlo: We felt like there was a need in the market for a goggle brand that bridged the gap between performance products and style. There was nothing designed to perform at 90 mph that wasn't really dead and tired. We decided to go for something that had a unique and edgy style and we were able to put together a product that had no comparison.
Ted: We decided to start Shred because we were not happy with what was on the market, especially products associated with ski racing. There was a market gap in the sense that there weren't any helmet/goggle companies that were cool and associated with ski racing. With Shred, we really embraced the whole freeride and snowboard side of snow sports.
What enabled you to progress so quickly?
C: We progressed so quickly because there was nothing out there that simultaneously combined high-end performance with progressive style. We created a combination that was truly unique. Our first line of four goggles was maybe the best selling four color-ways ever. We sold 10,000 pairs of just those first four goggles.
C: For the first time, a goggle brand, with its roots in ski racing, was being worn by snowboarders and free-skiers that loved the product and embraced our company and its mission. The design and functionality of the products are inspired by athlete input, which allows us to produce a superior goggle designed by athletes and built for athletes at the highest levels. This process translates into a higher quality product for the public.
T: My success on the World Cup has helped a lot. However, we have made a product that the younger generation really identifies with. We've also made some really innovative products that have separated our brand from the rest. We have pushed boundaries and have become cool stylistically, but we've made a lot of unique innovations ranging from Slytech 2nd Skin and NODISTORTION lens technology to collaborations with ICEdot, as well.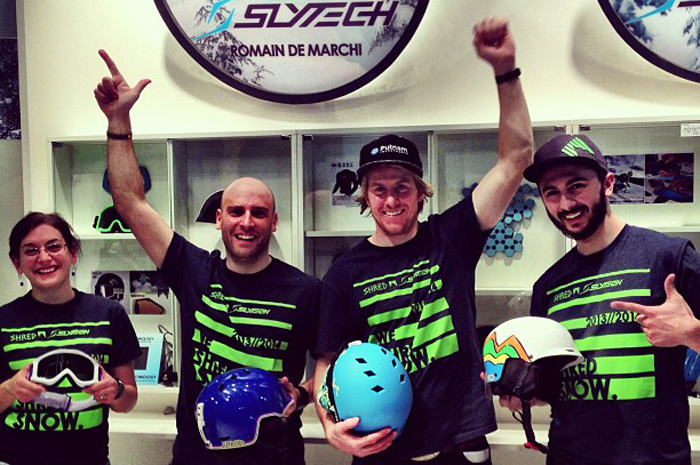 Carlo and Ted, center, after a successful day at ISPO in Munich, photo: @shredoptics
Where is the company based and how many employees work for AAS?
C: We are based in Nashua, NH, and Venice, Italy. We have 17 employees, but as we continue to grow we will hire more and more. When we hire someone new, we look for people like us – people who love the world of action sports and who push their own boundaries. We are all skiers, snowboarders, mountain bikers, surfers, skate boarders, or kite boarders, etc. We enjoy the outdoors and we care about the environment. We have fun, but we work hard as well. We love what we do. We have selected our team from the best of the best in all aspects of their individual lives, and we hope that as we continue to grow, that the personalities we add will further our mission as a company and add to our culture.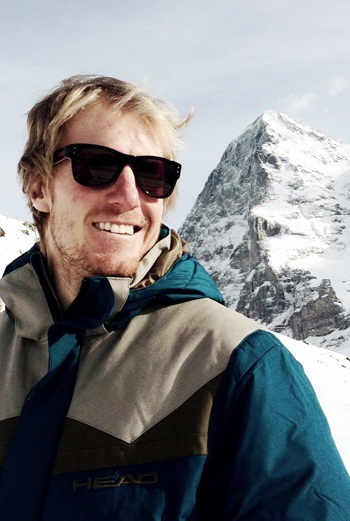 Can you speak on your respective backgrounds as a professional skier and an engineer, and how that enabled you to successfully launch a ski accessories company?
T: As a pro skier, I definitely know what works and what doesn't work. I am very picky when it comes to my equipment. I always choose the best and need the best to perform at my peak, which has helped push our products in a progressive direction. I take the same approach with Shred products as I do in my professional career. Combining our insights, Carlo and I were able to create our version of the perfect product with the necessary technological skills and materials. We set out to make the products of our dreams, and we made our dreams a reality.
C: I have a master's degree in materials engineering from University of Padova and an MBA from MIT Sloan School of Management. I chose MIT to be exposed to technology and innovative ways of conducting business. In order to fully realize both the potential of the company and my desire to participate in the action sports community, I understood that the only place to further that growth was MIT. In fact, the Slytech 2nd Skin came from a technology I was exposed to by a professor at MIT whom is amongst the global leaders in foam technology.
C: I've always been an equipment geek. I was constantly searching for ways to be faster, more efficient, to have my equipment be more durable, and to look better. It has been a very natural consequence of being a surfer, a biker, and a skier. I started making composite parts while doing research. It was a very organic way for me to start making protection for skiing. I was making prototypes of back protection with my family's sewing machine. It was during that time that I fell in love with innovation.
AAS is a young company with two emerging brands featuring a product line, who's funding the operation?
C: To date we've been self-funded. It has been pretty amazing how much we have been able to achieve and grow given that the progression has been a result of our own investment.
T: Carlo and I have self-financed Shred through our own contributions and annual sales. As we progress, in order to take our brand to the next level, we may need to evaluate all possible options, but we have been focused on our strong tradition of unique innovation and progressive style.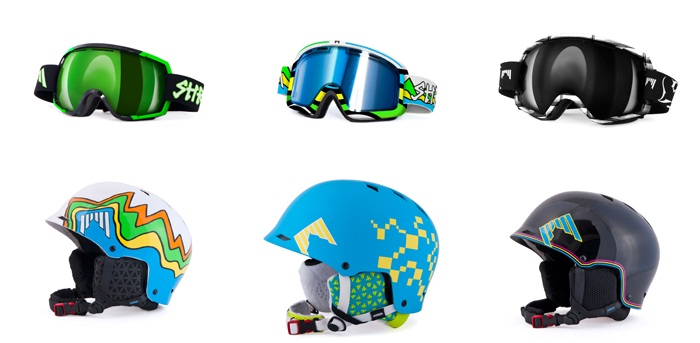 The Shred Optics and Slytech product lines feature performance focused ski accessories, including goggles, helmets and sunglasses – what's unique about your offerings?
C: We are a comprehensive snow brand, not just ski, and we are committed to furthering that end. What is very unique about Shred is the brand's performance quality and style standards. We have our own trademarks and patents on various technologies that we have developed in order to constantly improve athlete's experience. For example, the NODISTORTION lens technology keeps vision from warping. Traditional double lenses are sealed air tight to prevent fogging and keep moisture from getting in between the layers. However, when altitude is gained or lost, the pressure differential causes the two lenses to bend and warp distorting vision. We created a small valve to equalize pressure. We also used a PORON filter to keep moisture out.
C: Slytech 2nd Skin is our proprietary material used in our protection line. It can also be found in our helmets, which make them some of the most protective on the market. We are very proud of our new partnership with ICEdot and the unique safety support this relationship has brought the brand. ICEdot technology is standard on all Shred helmets and is unique to our brand until 2015. ICEdot is an emergency notification service that first responders utilize to gain access to more information during the rare incident when a skier or rider is injured on the mountain. With a unique PIN and phone number to text, first responders can retrieve critical information on allergies, medications and emergency notification preferences within a matter of seconds after arriving on the scene.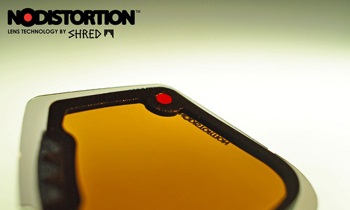 T: Our proprietary technologies have really differentiated us from the pack. From the Slytech 2nd Skin inside our helmets, NODISTORTION lens technology, and ICEdot emergency notification services, the Shred line really stands above the rest. All of our testing shows that our helmets are amongst the safest on the market. I think that is something that can't be stressed enough.
T: We started from scratch with our sunglasses this year in order to make a collection that was streamlined and uniquely Shred. We formed a relationship with Optics by Carl Zeiss Vision, a company that has over a century of optical experience, innovation, and product perfection, which we brought into the forefront of our sunglass offerings coupling with uniquely crafted handmade wood and acetate frames.
What is the company working on as summer approaches – is this a quieter time of the year for the AAS crew?
C: No, it is not quiet. [laughs]. We are adjusting our timeline to be more efficient and effective in new product design and product launches. It's a very busy time for us, and we expect to stay that way as we fuel our growth with new ideas.
T: We are always working on the next level products, new designs, and ways to improve our current line. So, no, it is not a quieter time of the year, but we're happy that our growth has fueled this fury.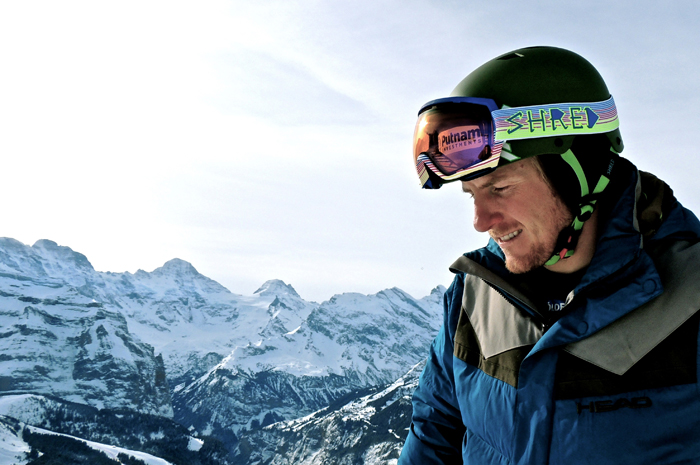 Thank you for your time and thoughts Carlo and Ted. Contact AAS via email - [email protected], or head to anomalyactionsports.com to check out Shred / Slytech products that are widely available online and in specialty retailers in approximately 40 countries worldwide. And be sure to check out Shred Optics on Facebook, Twitter and Instagram.
---