Back to News
B$Z: Using Conductiv Mobile, Justin Boots Breaks Sales Record at Berkshire Hathaway Event
June 13, 2013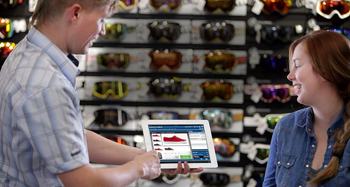 Using Conductiv Mobile, Justin Boots Breaks Sales Record at Berkshire Hathaway Event
Press Release from Conductiv Software
Conductiv Software shows off its stuff and helps Justin Boots sell at a record pace, selling an average of one and a half pairs of boots per minute--for 10 straight hours at the 2013 Berkshire Hathaway Annual Shareholder's meeting
OMAHA, Neb. - When Justin Boots, a maker of top-end traditional boots since 1879, set up a pop-up retail shop at the recent shareholder meeting of its parent, Berkshire Hathaway, it was eager to move lots of product and make a big impression. By using Conductiv's Cloud-Based Interact App at point of sale, the company sold a record-setting 1,000 plus pairs of boots in just over 10 hours -- an average of more than one and a half pairs of boots per minute.
"This exceeded even our most optimistic projections," said Chuck Schmalbach, Justin Boots VP of Sales and Administration. "There is simply no way we could have sold anywhere near this amount of product in such a limited retail space without Conductiv and their Channel Partner Retail Information Systems. It turned out to be an amazingly easy system to use. Instead of buying tons of expensive IT hardware, the Conductiv approach was cheap and easy to deploy. And it was fast."
How did Justin break its own sales records without the usual benefits of deep on-site inventory and product selection? Sales employees used Conductiv's Interact iPad app to sell well beyond the small amount of product in the tiny booth--they had visibility and access into all of Justin's stockpiles of inventory, and sold from Justin's full product line from a remarkably small footprint.
"It was really impressive to see," Schmalbach further noted. "Very few people at the meeting wound up leaving that booth without buying a new pair of boots. And they were able to move people in and out so quickly. It was like looking straight into the future of retailing."
This retail achievement was a direct outgrowth of an existing strategic partnership between Justin and Conductiv, which began earlier this year. Conductiv transitioned the western footwear maker's catalog into the cloud, giving retailers such as Baskins, a 60-store Texas chain, real-time access to the full breadth of brands' product lines, all delivered in vivid photos and rich media. In addition to connecting to Justin, Conductiv connected Baskins to VF Corporation's Wrangler Jeans. Baskins is now connected to more than 10 major brands.
Conductiv offers an innovative suite of handheld sales apps for retailers focusing on brick-and-mortar locations, e-commerce sites, or both. And by also offering accurate, self-updating digital catalog apps to suppliers, Conductiv delivers a turn-key approach that deals head-on with modern retailing's transformative changes -- and vast opportunities.
"Acknowledging the threats of Amazon and other online e-tailers, retailers and their suppliers know that the best way to improve their sales, margins, and in-store experience is to lock arms and collaborate, " says Conductive CEO Robert Loughan. "Conductiv's Collaborative Mobile Commerce was created to do just that, and it's already a proven solution with surprisingly good returns for both sides."
Conductiv believes the missing link for retail is to take the best from the online shopping world and bring it into the in-store real world. And with Conductiv's "Virtual Aisle"--which allows sales staff to sell products they don't have in stock (through Conductiv's drop-ship home feature) and to see available inventory and price adjustments in real time--stores and their e-commerce sites simply sell more products, and customers get what they were shopping for.
About Conductiv Software Inc.
Founded in 2011, Conductiv is a privately held company that produces Collaborative Mobile Commerce applications and services for the retail industry. The company has offices in New York, Seattle and Los Angeles; Conductiv solutions are sold around the world via a network of value-added business partners, who bring both industry expertise and local capabilities. Today, Conductiv provides its full suite of software-as-a-service solutions primarily to clients within the apparel, action sports, hobby and crafts, and wine industries. For more information about Conductiv and its innovative retail applications, please visit www.conductiv.com.
About Retail Information Systems
Retail Information Systems (RIS) through its various partnerships provides innovative and turn-key technology solutions to retailers. RIS was founded in 1998 and supports over 1,700 retail locations. RIS is a Retail Pro Diamond Partner and, in addition, a strategic partner for Conductiv Software Inc. Through these and other partnerships, RIS provides end-to-end solutions from store operations and inventory control to analytics such as traffic counting and conversion, fully integrated e-commerce and Business Intelligence. To learn more about RIS's solutions, please visit www.retailinfosys.com.
---