BACK TO NEWS
Huen Q&A with Rebecca Huston and Cody Barnickel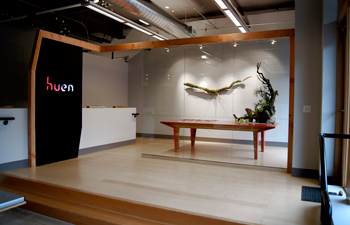 Huen Q&A with Rebecca Huston and Cody Barnickel
Huen is a strategy and design firm based in Portland, Ore. that works with brands to develop creative solutions for retail and beyond. The company was started in 2010 by Rebecca Huston, Cody Barnickel and Craig Wollen; and in three quick years is proud to list standard-setting brands like Dick's Sporting Goods and Nike as their clients, among many others.
All three of the partners had been working as the lead creative team for another design firm for between 8 and 15 years when they decided to launch their own consultancy. And the decision has paid off, on multiple levels.
"Having companies approach us to come in and look at them with as big and radical a view as possible has been really, really fun," explains Rebecca in a phone conference. "It's amazing to work with a brand or a team and help them reach a potential they didn't even know they had."
We spoke with principals Rebecca and Cody about the company's amazing roster of clients, how Huen has evolved over the past three years, and the challenges of launching a world-class strategy and design firm.



l-r, Huen founders & principals Craig Wollen, Rebecca Huston and Cody Barnickel. Above is Huen's conference room in Portland, Ore.
Is there a right time for someone to come to you for service?
Rebecca: Most often, brands come to us when there's a turning point. They see something in their plans, presentation or marketing and they see a need to shift. If they want to do more of what they're already doing we can do that, but it's not where we are most effective.
Cody: It's when there's a shift. If anything needs to happen, whether the company is aware of it or not, or if there's something in particular they are looking for, we make sure to provide a different, external perspective.
So, Huen is there to be a catalyst; to provide inspiration?
R: Absolutely, I think some of what we do best is we help to shift people's perception of their own brand or their own organization. All organizations need to rethink themselves from time to time. Sometimes there's a gap between internal and external brand perception. Or, how they are communicating is not aligned with their customers. We can provide clarity and perspective to give them a roadmap. Whether the need is for a deep dive or a quick-strike update, challenging assumptions around brand presentation will inform a better outcome.
How long does a typical assignment take?
R: It varies and depends enormously on the scale.
C: Our projects can take three months to a year and a half. Rarely do we have a straight-up design project. We'll always try to add insight and clarity to figure out what a client really needs.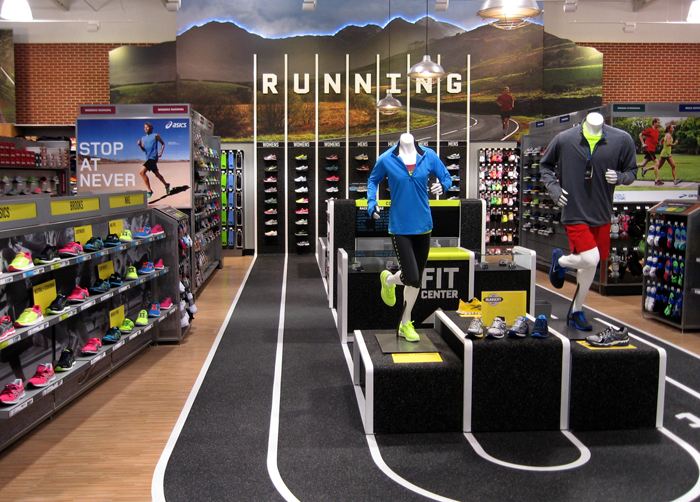 Dick's Sporting Goods footwear deck.
You have listed an amazing roster of clients – what does it take to work with brands like Dick's, Nike and adidas?
R: There are a couple of things. On one side, we know how to deliver for the most demanding people out there. Along with the companies you mentioned, we've worked with Apple, Starbucks, Sephora...there are no timelines or demands that we can't handle. The flip side is that we have amassed an enormous wealth of first-hand knowledge. We have visibility to the ways in which the best brands in the world keep customers happy, how they track their in-store metrics, or how they develop communication strategies. We've been there and understand that –and while the specifics are of course proprietary, our approach is informed by those best practices.
Can you speak on some of the most popular designs to come from the Huen team?
R: The work we've done for Nike, under the Nike+ umbrella, has had a very long life. We're doing work for Dick's that is turning out to be very successful, in terms of in-store metrics. Those are two that jump out to me immediately as having a long tail. We're not going for awards; we are going for repeat success. What we want is our clients to say, "This moves the needle and we want more of it."
C: Things on the horizon…We have the Umpqua flagship location coming online this summer in the financial district in San Francisco, which will be a major new market for that brand. We also have new global retail projects for Nike Golf and Teva. Those are the most popular projects with us right now, because that is what we are working on at the moment.
R: About three years ago we completed a re-imagining of the Sephora retail experience, and it's still their current prototype that they are using now - so that one has also had a really long and vibrant life.
How does being based in Portland influence how the company operates?
R: We recently discussed this with the team at Dick's Sporting Goods, because getting to and from Pittsburgh out of Portland is not pretty. You can look long and hard to find a really great fit in your own neighborhood, but when you find the right partner the relationship works regardless of location.
C: I would add that having brands like Nike, Columbia and Adidas Americas based right here in Portland, and the relationships we have with these brands, has enabled us to develop a really strong understanding of the sportswear category. This has directly translated into other projects outside of the city and Pacific Northwest region.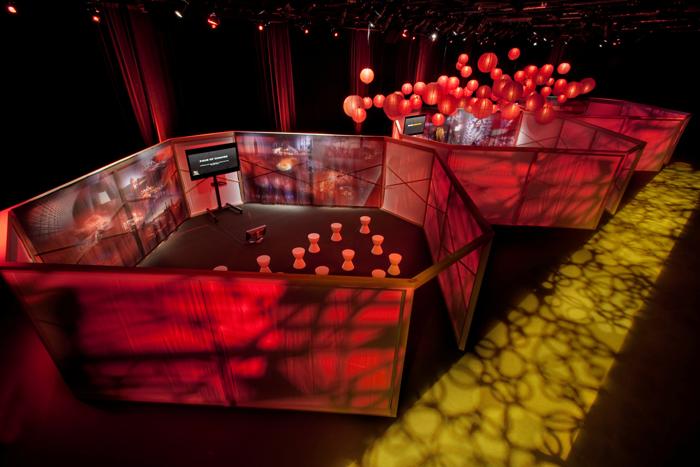 Nike China To Go temporary event space.
How has the company evolved since being launched in 2010?
R: When we started this company we expected it to be relatively similar to the other design firms we had worked for. What we didn't expect is for some of our conversations with clients to get to such a deep level. So, when we're talking to many of our clients about creating an experience for them, we are looking at their total business; including metrics, digital impressions, and sales figures to make sure we are firing on all cylinders. The experience is about selling through, making sure we can drive the brand to the positioning it wants to have so that the perception and message is developed.
What has been the most rewarding aspect of starting a strategy and design business?
R: Having clients that give us the freedom to tell the truth and then help to do something about it is priceless. It's incredibly rewarding, and you can only do that if it's built into your business model. Another thing that's been amazing is having strategy and design under the same roof. We're confident that what we put on the table in terms of insight will directly inform the design - and we get to see that thinking put to work and succeed in the market.
C: The notion that you have the ability to shape something the way you see fit and to get a project done properly and efficiently. We've all worked places where it was not efficient and you have no control. Personally, having that control is a huge plus.
R: The other thing we did is introduce a model that's very unusual in our business: we don't have account executives and we don't have a sales team. We believe that our success is attributable to our principals staying involved day-to-day with everything we do, and making sure the right people are attached to the right project and supporting them from underneath.
Are there any firms out there you see as competition? Is there anyone out that does what you do?
R: We compete with companies that have offices in ten countries and with hundreds and hundreds of employees - and there is a small team of us in one office here. One of the most surprising things when we went from our former firms to launching this firm was whom we are competing against. We feel incredibly fortunate to be seen at the level we are looked at. We do absolutely everything to validate our clients' trust in us.
C: The space between us and the bigger studios has almost been a motivating factor in developing our brand awareness.
R: We always say we understand things on three levels: we understand what's universal to people, things people do and the ways they behave regardless of where they're shopping or what they are buying. The second is the category level: there are certain things that change when you're buying healthcare versus buying a car versus buying a cup of coffee. And we understand how the particulars and the trends and the specifics of those categories influence how people behave. The last thing: we understand that every brand brings its own uniqueness to the table, and we know how to filter that through as well.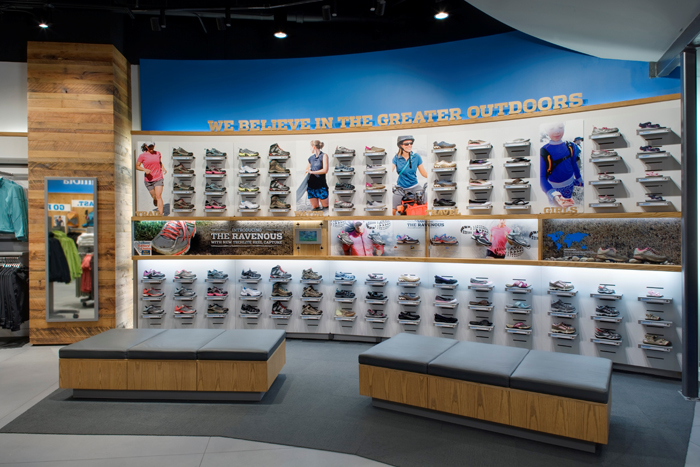 Columbia Sportswear flagship footwear presentation.
What challenges have you faced since starting three years ago?
R: Our biggest challenge is really growing our team and expanding our reach at the same time. Because of the scale of some of the projects, we've had to adjust our models in regards to follow up, particularly when we are handling multiple projects at once. What we are finding is we have to be much more strategic with where we are putting our time and we must figure out how we can make up for any lost time. As you can tell from what Cody said, we are all control freaks. You have to figure out how to maintain what's really working for your clients and your team and at the same time not compromise the quality. We've been really lucky that our biggest challenge is figuring out how to get the work done and not if we have any work at all.
Do you care to add anything that I may have missed?
R: We try to make sure that the work we've shared online is as diversified as possible so that it's clear what our work has in common, rather than spotlight a particular category focus or style. The message I want to get out there is that if you want to know how to connect with people better - if you look at Apple, Nike or Starbucks with envy - we understand the mechanics of building that kind of a brand. People are people. You are the same person whether you're ordering exactly what you want from Starbucks or whether you're having Apple solve the problems that need fixing most and not having customers pay for it. When you walk into a bank or healthcare service, your expectation of service or brand is downgraded. Brands have so much to learn about connecting with and servicing their market and you don't get a pass just because of the kind of business you're in.
C: Right, people are people. Every client is a customer is a consumer and there's a level of understanding about that here.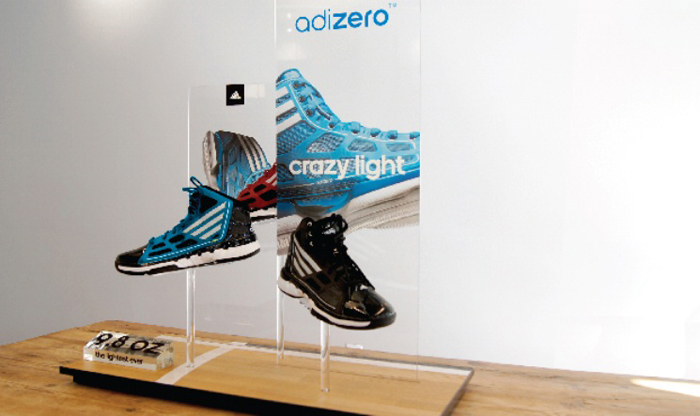 adidas adiZero footwear launch display.
Thank you for your time and thoughts Rebecca and Cody. For more on Huen, head to huenspace.com, connect on LinkedIn or like them on Facebook.
---