BACK TO NEWS
EVENT: The Paddock at Interbike Adds Additional Outdoor Experience for 2013 Show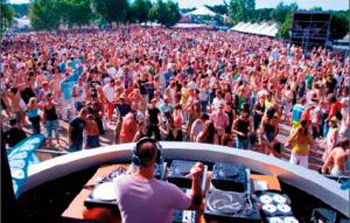 The Paddock at Interbike Adds Additional Outdoor Experience for 2013 Show
Press Release from Interbike
SAN JUAN CAPISTRANO, Calif. – June 26, 2013 - Interbike, the largest bicycle industry trade show in North America, today announced a new featured area of this year's show called The Paddock at Interbike. Located in the large parking lot just steps from Interbike's new home in the Mandalay Bay Convention Center, The Paddock at Interbike will feature additional exhibit space/touch points for exhibitors with retailers, the Sierra Nevada Outdoor Oasis, a road test track, a large stage with continuous music, a jumbo-sized LED screen with video content and more.
"We've never had the opportunity to incorporate an outdoor experience so close to the show floor," said Pat Hus, Interbike's Vice President. "This is really going to add a new dimension to the show that will allow attendees to get outside, interact with key exhibitors, test bikes, network over a beer, watch the race and much more. This is one of the real perks of our move to Mandalay Bay."
The new area has already attracted key brands such as SRAM, Campagnolo, Raleigh and more.
"We're bringing the big show to Interbike's new Paddock area this year," said David Zimberoff, SRAM's Global Marketing Director. "In addition to bringing our MTB race truck in its complete setup, we'll be bringing a large demo fleet of bikes all equipped with the latest and greatest of gear from all of our brands – SRAM, RockShox, Avid, Truvativ, Zipp and Quarq."
A quarter-mile test track will frame The Paddock area, where companies can offer extended test rides during show hours. The track will be extended to a full half mile criterium course on Thursday to handle the USA CRITS Finals that evening. Spectators will be able to watch the race from The Paddock or in designated VIP hospitality areas around the course. The USA CRITS Finals is open to the public beginning at 6:00 pm and it is estimated that there could be 10,000 to 15,000 spectators on-hand for the event.
Show attendees will be able to walk directly out of the hall through glass doors onto The Paddock. One of the first things attendees will notice is the Sierra Nevada Outdoor Oasis. A mix of pub-style and healthy food options will be available for purchase under a misted-tent, alongside beverages that feature a broad selection of Sierra Nevada beer. A jumbo-sized LED screen will broadcast a wide selection of content from OutDoor Demo, Good Morning Interbike and provide additional promotional reach to exhibitors at the show.
Adjacent to the Oasis, there will be a full stage area where sponsors can book time for individual events, presentations, etc. The large stage will play host to the themed Throwback Thursday night's activities that includes '80's rockers "Phoenix", bicycle industry DJ "ATOM", raffles and more.
There are a select number of sponsorship opportunities for exhibitors throughout The Paddock at Interbike, including banner placements, digital content, vehicle placement, helmet sponsor, test track sponsor, custom events and more. Interested exhibitors should contact Andria Klinger at 949-226-5745 or andria.klinger@emeraldexpo.com for more information.
Updates on events happening within The Paddock can be found by visiting www.interbike.com.
About Interbike
Interbike is the largest bicycle trade event in North America, bringing together manufacturers, retailers, industry advocates and media to conduct the business of cycling. Established in 1982, the show gathers more than 1,200 cycling-related brands, over 25,000 total attendees annually and is considered one of the most important global trade events for the bicycle industry.
Interbike is one of 65 premier tradeshows owned and operated by Emerald Expositions, a leading producer of large business-to-business tradeshows. Emerald Expositions, based in San Juan Capistrano, CA produces shows and conference events globally that connect more than 335,000 buyers and sellers across nine diversified end-markets. Markets covered include general merchandise, sports, hospitality and retail design, jewelry, photography, decorated apparel, building, healthcare and military.
More information about Interbike can be found at www.interbike.com
---