BACK TO NEWS
GEAR: Etnies Releases STI Evolution Foam Technology in the New Aventa and High Rise Skate Shoes
STI #EvolutionFoam Makes Skate Shoes Lighter and More Durable with High-Impact Rebound Qualities
Press Release from Etnies
June 27, 2013 (Lake Forest, CA) – Creating innovative products that help advance skateboarders has been in etnies' DNA since day one, and etnies has pushed the envelope even farther by including STI Evolution Foam™ in the new Aventa and High Rise to join the Marana. Through rigorous testing, having a design team made up of real skateboarders and listening to the needs of etnies' team riders and skaters around the world, etnies has created some of the most advanced technologies in skate shoes. Available today, these two new shoes are super lightweight, more durable, comfortable and have a high-impact rebound quality unlike most standard skate shoes, all because of the STI Evolution Foam™ technology inside.
Every single piece built into a skate shoe matters. From the toe-cap size down to the type of rubber used, etnies carefully designs each style to improve overall performance. The innovatively crafted STI Evolution Foam™ molded midsoles and outsoles in the Aventa, High Rise and Marana replaces the typical EVA, PU and heavy rubber with a durable, abrasion-resistant, ultra-lightweight and high-impact rebound cushioning foam. Instead of being die-cut from a sheet, STI Evolution Foam™ midsoles and outsoles are made by a special molding process, producing no waste.
etnies uses STI Evolution Foam as a single solution for the midsole, on the Marana, and the new Outsoles on the Aventa and High Rise. Its molecular build is more resistant to abrasion and has a high-impact rebound quality so it won't pack out when landing hard. Additionally, this advanced shoe technology enhances the cushioning and comfort of the footbed and noticeably decreases the weight of the shoe.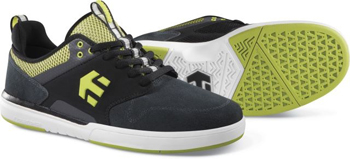 The Aventa
A new skate style for fall 2013, the etnies Aventa is the first skate shoe designed with an exposed STI Evolution Foam™ outsole. It also has small areas of etnies stock-fit rubber tread for grip, on the toe and heel for extra durability in the areas that wear the most while skateboarding. The heel-lock system ensures a secure fit while the mesh window on the inner side of the shoe allows plenty of breathability. It also features the STI Foam Lite 2 footbed for extra comfort and is available globally for $80-$90, the Aventa comes in black/orange, grey/black and red/black along with a black colorway that was adapted for cold weather and that is part of etnies' Skyline Collection.
etnies Aventa in grey/black, $80, available now on etnies.com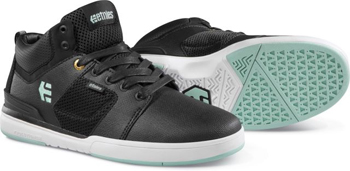 The High Rise
Also a new style for fall 2013, the High Rise mid is built on the same outsole as the new Aventa, featuring exposed STI Evolution Foam™ outsole. The rubber sole tread varies between colors with etnies stock-fit rubber tread in the black/white/turquoise and red colorways, while the black High Rise, which is part of the Skyline Collection, takes on a hiking boot look complete with metal eyelet hardware and a matching tread pattern of deep-lugged, tough rubber soles. The High Rise also includes a stabilized rubber heel, a gusseted tongue to keep water out and an STI Pro 1 foot bed for extra comfort. It is available globally for $90-$100.
etnies High Rise in black/white/turquoise, $90, available now on etnies.com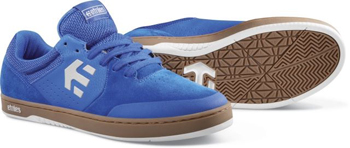 The Marana
The Marana was developed to be the most durable cupsole in skateboarding, and its lightweight, super comfortable STI Evolution Foam™ midsole doesn't pack out enhancing cushioning. It has a Pro 1 Polyurethane footbed and full-length flex grooves in the 400 NBS rubber outsole for flexibility. The Marana's fused-on injected rubber toe cap makes it super hard to wear through, and Ryan Sheckler said they are "the longest lasting shoes I've ever skated!" For fall 2013, the Marana is available globally for $75 in blue, black/red, black/white/gum and grey/yellow.
etnies Marana in blue, $75, available now on etnies.com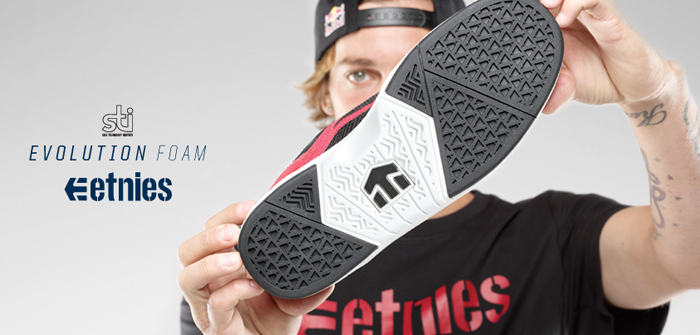 About etnies
Established in 1986, etnies is the first skateboarder-owned and operated global action sports footwear and apparel company. etnies not only pushed the envelope by creating the first pro model skate shoe, but it pioneered technological advances and changed the face of skateboard footwear forever. Today, etnies' vision, led by owner and skateboarder Pierre-André Senizergues, is to remain the leading action sports company committed to creating innovative products that provide the most style, comfort and protection possible. etnies stays true to its roots by sponsoring world class skateboarding, surfing, snowboarding, moto x and BMX teams and continues its dedication by giving back to each of these communities. For additional information, visit etnies.com.
---