BACK TO NEWS
B$Z: Native Shoes Under New Ownership
Firm Names New CEO and Company President
Press Release from Turner PR
VANCOUVER, BRITISH COLUMBIA - Native Shoes (Native), the global brand known for its lightweight EVA footwear has been acquired by Scott Hawthorn, one of the company's original founders, in addition to a small group of private investors. Hawthorn, who has been actively involved in the brand since its inception, will move from acting to full time CEO effective immediately.
"This significant investment will provide Native with the resources to strengthen our business partnerships and grow our global position, and I'm thrilled to lead the next phase for such a dynamic brand," said Hawthorn. "We are laser-focused on expanding our efforts in the U.S., bolstering our operations, strengthening our supply chain and implementing systems globally that will better serve our partners and support our long-term growth."
Hawthorn appointed seasoned retail and apparel industry executive Darren Hawrish as company president. Additionally, a Board of Directors will advise the brand as it pursues its global alignment and future growth initiatives. Board members currently include Hawthorn as well as long time brand advisor and footwear veteran, John Vance. Additional Board appointments will be named in the weeks to come.
After an extensive search, the Hawrish appointment came in June 2013. He brings more than 20 years of experience in the retail and apparel industry to the helm of Native. Most recently as CEO of No Limits Sportswear, Inc., where he founded a single branded distribution company in 1993 that grew to an 11-brand operation in 2012. In his new position, Hawrish will oversee sales, operations, production, design, marketing and finance from Native's Vancouver headquarters. He will also guide the company's global operations and international growth strategy.
Native's playful brand marketing and imaginative product range has helped to firmly establish it as a leader in the global footwear market. Building on this momentum, Native delivered its Summer line on schedule in May 2013 and is on track to deliver its Fall collection in August 2013. The brand will show its Spring 2014 collections at the upcoming Agenda Trade Shows in New York, Long Beach and Las Vegas.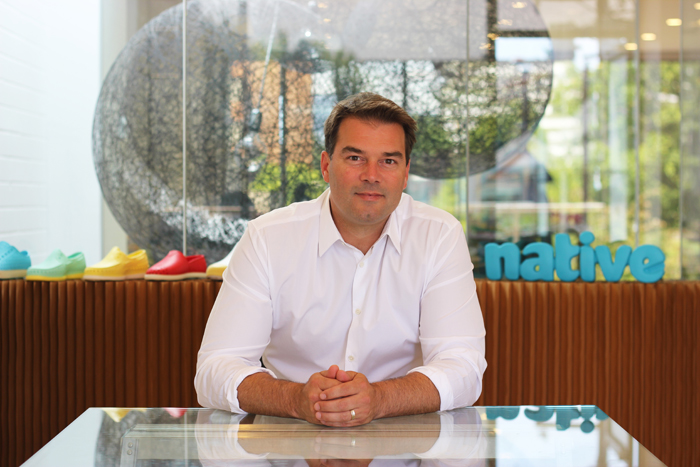 About Native
Native (www.nativeshoes.com) was established in Vancouver, Canada in 2009 with a vision to combine the best of evolving technology and great design. Inspired by classic, casual silhouettes, Native Shoes are made from foam-injection molded-EVA, a lightweight, durable and comfortable material. Along with a unique, low-emission manufacturing process, Native Shoes are washable, waterproof and odor-resistant. Native is headquartered in Vancouver, British Columbia and is currently distributed in more than 45 countries.
---