BACK TO NEWS
TEAM: Stephanie Gilmore Joins Roxy Surf Team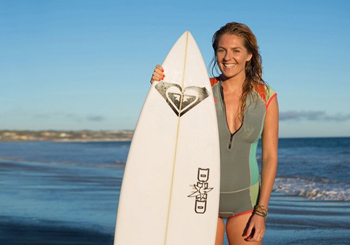 As Quiksilver Women's closes, Stephie eases over to Roxy
Press Release from Roxy
Roxy announces five-time Association of Surfing Professionals (ASP) World Champion surfer, Stephanie Gilmore, is joining the Roxy Surf Team. Stephanie is a natural fit for the Roxy brand – a world-class, trailblazing athlete, who is the only surfer to ever have won a world title in her rookie year.
Stephanie Gilmore, 25, was born and raised in New South Wales, Australia. She was awarded ASP World Champion Titles in 2007, 2008, 2009, 2010 and 2012. Additional victories include three Hawaiian Triple Crown wins in 2008, 2009 and 2010. In 2011, she also won the prestigious ESPY Award, Female Action Sports Person of the Year, and was awarded the Laureus World Action Sportsperson of the Year in 2010.
Stephanie's move to the ROXY team is a natural transition for her. She has long admired ROXY's position as both a leader and pioneer within women's surfing. Of the announcement, Stephanie stated, "ROXY epitomizes the image and lifestyle I live, both in and out of competition. I'm excited to join forces with such an iconic brand during this powerful time in female surfing."
ROXY is thrilled Stephanie will join the team. Chairman of Quiksilver, Inc., Bob McKnight, stated, "ROXY is beyond thrilled to welcome Stephanie to the Surf Team. ROXY has more world champions and more world titles than any other female brand in the industry – it is only natural that she would be a part of the world's best female team."
---