Back to News
B$Z: Body Glove Releases Brand New, All Natural Energy Shot
July 10, 2013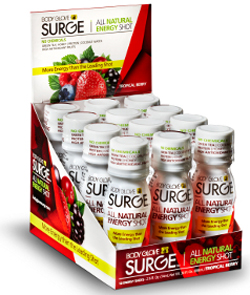 Body Glove Releases Brand New, All Natural Energy Shot
Press Release from Body Glove
Redondo Beach,CA (July 10, 2013) Body Glove International, one of the foremost global brands in outdoor activity, in collaboration with PacificHealth Laboratories, Inc. (OTCQB: PHLI.OB), a leading sports nutrition company, announced the launch of Body Glove® SURGE, the first proven all-natural energy shot that delivers instant and long-lasting energy with the added power of protein and green tea. Developed by a renowned sports scientist, Body Glove Surge is scientifically tested and proven to reduce muscle fatigue, increase alertness and enhance mental concentration.
Caffeinated energy shots are one of the fastest growing retail categories with 2012 sales exceeding $1.4 billion. Body Glove SURGE enables sports retailers to tap into this growth category by offering consumers an effective, all-natural alternative from an iconic brand in the sports industry.
Ingredients That Consumers Trust
Combining protein, honey, green tea, coconut water, pomegranate and other high-antioxidant fruits, all natural Body Glove SURGE has been studied by researchers at Montana State University. The study, presented at the 2013 annual meeting of the American College of Sports Medicine's, showed Body Glove SURGE was more effective than 5-hour Energy® in speeding reaction times, extending endurance, improving alertness and raising mental focus.
The developer of Body Glove SURGE and acclaimed sports scientist, Dr. Robert Portman, said, "Body Glove SURGE's ingredients act synergistically to raise energy levels and improve mental focus even though it contains 30% less caffeine than the best-selling shot. Body Glove SURGE gives you fast and long-lasting energy whenever you need it plus added immune, antioxidant and muscle recovery benefits."
"Body Glove SURGE provides retailers the opportunity to expand this category and pick up additional sales from the 92% of consumers who are not currently using energy shots," said Robbie Meistrell, CEO of Body Glove. "With Body Glove SURGE, busy health conscious consumers have a safe, all-natural proven energy product to help them perform at their best whether they are exercising, working or playing."
Launching nationwide in July, Body Glove SURGE will be sold in 12 bottle display cartons in Grape and Tropical Berry flavors and retail for $2.99 per shot. The launch plan will include national advertising in lifestyle magazines and aggressive social media campaigns to drive consumers to retailers. Part of the national marketing campaign will feature world-class professional athletes well-known in outdoor, endurance and action sports.
For information visit: bodyglovesurge.com
For more information on Body Glove athletes and products go
to www.bodyglove.com and for daily updates visit www.facebook.com/bodyglove
About Body Glove
Founded in 1953, Body Glove is a leading, worldwide water sports brand specializing in wetsuits, swimwear, clothing, footwear, accessories, and technology accessories. The company sponsors one of the most respected surf and wakeboard teams in the industry with such powerhouse names as pro surfers Jamie O'Brien, Cheyne Magnusson, Anthony Walsh, Alex Gray and Holly Beck and wake boarders Rusty Malinoski, Harley Clifford, Bob Soven and Jeff McKee. Body Glove and Jean-Michel Cousteau and his Ocean Futures Society have formed a legendary alliance to help preserve and protect the ocean while providing ocean and diving geared equipment to water enthusiasts around the globe. Some of the proceeds from the sale of those products go directly to Ocean Futures Society. Through Reef Check, SIMA's environmental fund, and the Surfrider Foundation, Body Glove also works to preserve the purity of the waters it loves. Body Glove products are sold in the U.S. by a network of independent retailers. Body Glove is also sold in approximately 50 countries internationally.
---