BACK TO NEWS
B$Z: Hookit Welcoms Metal Mulisha As Newest Brand Partner
Partnership Offers Extended Brand Reach Via Hookit's Multi-Level Platform
Press Release from Hookit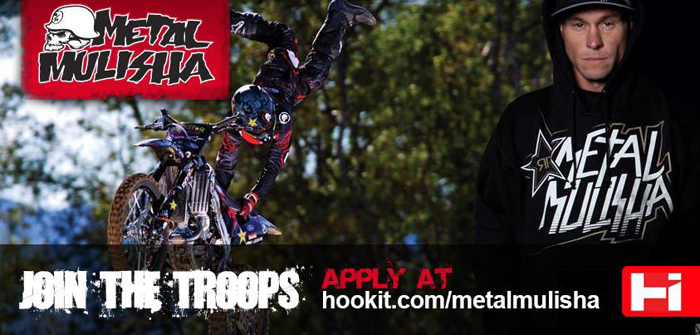 SOLANA BEACH, CA – Hookit today announced new brand partner Metal Mulisha. Freestyle motocross company Metal Mulisha will retain Hookit to facilitate an athlete support program and eCommerce services.
"We are pumped to take on Hookit! Our loyalty to Moto along with tapping into other sport categories is our priority," said Shane Ruiz, Digital Media & Marketing Manager. "The platform Hookit provides us is incredible as it supports athletes on distinctive levels for a chance to be discovered while pursuing their goals and dreams. Here at Metal Mulisha we are ready to take on a wave of new potential athletes who are up for the challenge while assisting them not only as a sponsor but also as a part of the family. Mulisha legends like Brian Deegan, Larry Linkogle, Ronnie Faisst and the rest of the team are in full support of helping these athletes with advice, guidance and support. Using the technology Hookit provides will allow us to hit all audiences coast-to-coast and have a more comprehensive look on how we can help make a difference in our fans' lives."
"After learning more about Hookit, I think it's a great idea for all these athletes that want to work their way into the spotlight and be part of something influential," added Ronnie Faisst, Metal Mulisha Team Rider and ambassador for the brand. "Nothing like this was around when I was growing through the ranks. Metal Mulisha really is stepping up a full support program that is something to be excited about. I'll be there to mentor and to help out all the members involved with the Hookit Metal Mulisha program."
The Hookit marketing platform provides solutions for brands looking to extend their reach through loyalty programs and athlete management programs. Brands can connect directly with their target customers, reward their biggest influencers, and provide exclusive offers, pro-forms or incentives.
"At Hookit, we always operate by our main goal to support the athletes," said Scott Tilton, CEO, Hookit. "We have created an amazing community and some incredibly useful technology around it that brands can tailor to fit their specific goals. Metal Mulisha is a greatly respected brand, started by core riders who have built an amazing company. They share our philosophy on supporting athletes and we are proud they chose Hookit to help grow their audience even further."
Under the agreement, Metal Mulisha will be able to leverage the Hookit platform reaching the highly sought-after demographic of action sports athletes and enthusiasts to round out their overall marketing plan.
For more information, contact Dorian@hookit.com or shane.ruiz@metalmulisha.com .
About Hookit

Hookit is a powerful digital marketing platform for sports. Monster Energy, Dunlop, SPY, Recon Tour, TransWorld Media, Roadracing World, Jeremy McGrath, Justin Barcia, Aaron Gwin, Ryan Guettler and over a million other athletes, brands, spots, events and media partners use Hookit. Hookit exists to support athletes by plugging them into our growing network. Join the Movement -- find Hookit on your phone or www.hookit.com.
About Metal Mulisha
Known for winning gold medals, breaking world records, and turning industry tradition upside down through the sport of freestyle motocross, pro riders Brian Deegan and Larry Linkogle launched Metal Mulisha Clothing in 1999. What began as a group of friends riding dirt bikes in Metal Mulisha gear and competing to see who could do the best tricks has grown into one of the most recognized and respected brands in action sports. Metal Mulisha's winning form in freestyle competitions like the X Games has helped spread the brand's take-no-prisoners style and attitude to a growing audience around the world.
---