BACK TO NEWS
B$Z: Surf Europe Celebrates Its 100th Issue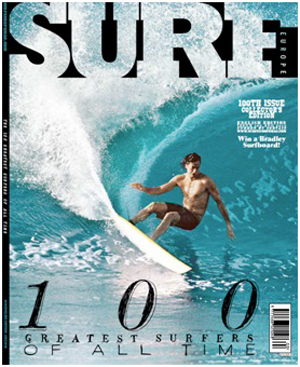 Surf Europe Celebrates the Centenary Issue with a Countdown of the Top 100
Press Release from Surf Europe
Surf Europe started before the Millennium when trousers were baggy, when having followers meant you were either the Messiah or paranoid and when videos were plastic boxes you queued up to rent in Blockbuster from a man in a short sleeve shirt and tie.
The magazine thought to champion the cause of the Atlantic's eastern fringe surf rider, the European. Of he or she who surfed under the shadow of medieval fortifications, who drove narrow streets and had trouble parking. America and Australia were great, of course, but we were Europe. We drove compact cars. We had confusing currencies, ancient tongues and arcane grudges. Europe!
Our 100 back issues serve not to document a period of history. We travelled the globe, we drank contest beers and blagged free lunches whenever we could and tried to annoy the powers that be enough to get a giggle out of our readers but not quite enough to get sent home. We surfed with our heroes, lauded them in person and in prose, then tried to pull their pants down.
And now, Issue 100, The Hundred Greatest Surfers of all Time.Great meaning very big, great meaning very good. There are 7 women in our list of 100. 1 father son combo.2 twins, 2 brothers, 2 Brazilians.1Bahaiconvertee, 1 former Hare Krishna, 1 transexual, 2 surfers who lost eyes to leash accidents.
It was meant as an entertaining, engaging, maybe even informative read between surfs. Which is something we've been thanked for/asked for a closer approximation of to varying degrees over the past 100 issues.
Here's to a few more.
So who made the cut and who can take the credit of being crowned as THE greatest surfer of all time? To get the low down and find out how to win a Bradley surf board, grab a copy of Surf Europe on sale 23rd July – available at WH Smiths, Easons, selected Martin McColls and all good newsagents.
Free T-shirt and Suncream when you subscribe
Want to feature in the next 100 greatest surfer list? Step 1 – subscribe to Surf Europe. You'll also grab yourself a FREE t-shirt and suncream. It'll get you on your way. The next steps are down to you.
To subscribe, call +44 (0)1795 414631 or visit themagfactory.com and quote code SE100.
About Surf Europe
Surf Europe is Europe's premier surf magazine, committed to providing the best surf content from Europe and beyond. With a humorous approach, Surf Europe is aimed at surfers of all ages and standards who love the sport and live the lifestyle.
About Factory Media
Factory Media is Europe's largest and most innovative Action Sports media owner with 32 years of individual brand heritage. The Company publishes 18 traditional print and 30websites reaching over 500,000 readers and 4 Million online users every month. The business currently focuses on three market segments, Boardsports, Bike and Outdoor, with an international footprint and multilingual products.
---