BACK TO NEWS
Industrial Profile
7/19/2013
Mark Sperling, Co-Founder & President of Group Y
Mark Sperling, Co-Founder & President of Group Y
Group Y was relaunched earlier this year at the Agenda Show in Long Beach, when the organization produced the Action Sports + Culture Conference. So, it's no coincidence that Mark Sperling, who co-founded Group Y in 2006, chose the Center Theatre in the LBC (the home of TED events) as the venue for two upcoming events to be produced in conjunction with Agenda.
On July 24, from 9:00am-6:00pm, Group Y will host the ASC Conference focusing on the theme "Authenticity Is Everything" and features an outstanding roster of heavy hitters from within the action sports industry that will bring "insight and perspective on what authenticity means." Then, on July 26 from 6:00-10:00pm is Agenda Emerge, a discussion panel, featuring Marc Ecko, Bobby Hundreds, Jeff Staple, Johnny Cupcakes, and hosted by Jon Buscemi.
"It's been an honor to work alongside Aaron Levant from Agenda Show and our partners in creating two event platforms for these presenters to share and people to learn," explained the Co-Founder & President of Group Y, Mark Sperling, via email. "You won't find a similar all-star cast of industry and thought-leaders presenting at any other Youth Marketing conference or event."
We spoke with Mark about starting Group Y with Liz Randall and others in the summer of 2006, the company's re-launch and new focus, and how he was able to wrangle together a group of heavy-hitters to present at the ASC Conference and Agenda Emerge.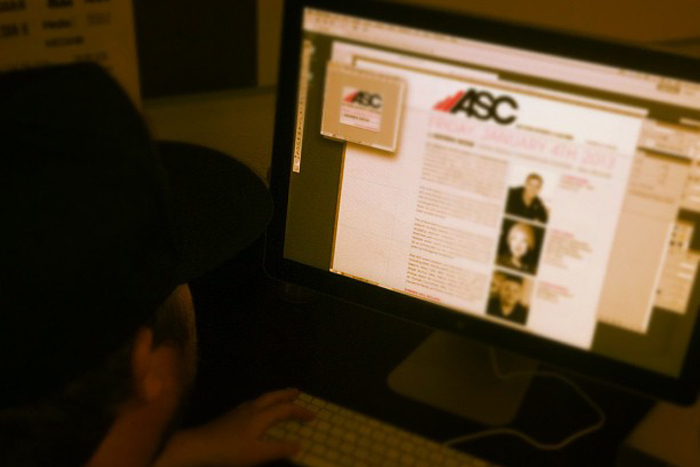 "We have exciting news we hope to announce to our members here shortly."
What was the inspiration for you in starting Group Y in 2006?
We started in 2006 with a handful of friends who had roles in marketing and PR at action sports brands. It began as a way to casually get together monthly to talk about our jobs, share advice and make connections—at that point it was great to meet just one new person, or even just to get to know an existing acquaintance a bit more. Each month the group grew, and more of their friends and colleagues joined us. Over the years, our small social group has grown via our events and social media to over 80,000 online followers. Group Y's collective membership now includes those working within entertainment, fashion, music, consumer product goods, gaming, media, digital, automotive and other industries.
Since Group Y was launched, you've worked at Live Nation, Troy Lee Designs and Red Bull; how was it juggling multiple jobs in the past and pushing the development of Group Y?
It was definitely a challenge but well worth it. Group Y was just our "side project", working on it whenever I had a free moment on weekends or late at night. We (Liz and I) were both working full time jobs while maintaining the day-to-day operations and planning of Group Y. But we were both passionate about it, and have had a lot of help from many friends within the industry along the way. It was exciting to see it gain momentum and see the new faces attending our events. After producing over 40 monthly networking/panel discussion events and two very well-attended and successful lASC Action Sports Conferences since our launch, both Liz and I needed a break. We both decided to take a hiatus, and reassess the direction of Group Y.
How are things going with the new focus on Group Y?
Better than expected. We appreciate the emails and calls we've been getting lately from friends and industry-types excited that we are bringing it back. The feedback has been 100% positive, and we have been discussing quite a few potential collaborations across all fronts.
What's different now compared to the first years?
We've expanded our purpose this time around. Our tagline "Uniting Industries, Igniting Ideas" best exemplifies what we are trying to achieve. Our mission is to share insights across industries and ignite ideas that inspire the current and next generation leaders and decision makers. Using events, outreach, content and consultation, Group Y takes the work out of networking and strengthens the areas where industries overlap. Our focus has broadened beyond action sports, which will still be the core of our organization, but to other progressive and expressive industries.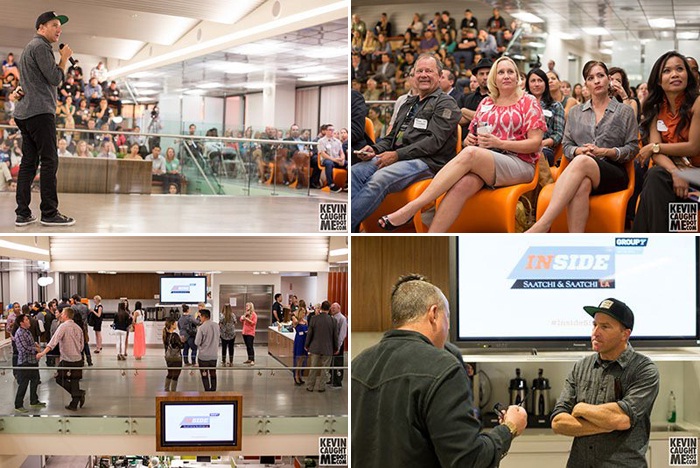 Scenes from INSIDE: Saatchi & Saatchi LA, the Group Y event held earlier this year.
Where's it headed?
We've only just started. Group Y has a number of key projects and initiatives in the works. First are our networking and educational events which we are best known for. Our goal since day one has always been to get like-minded people together in a fun and relaxing environment and encourage networking and learning. Our past events have been huge successes and the stories we hear from attendees about new business or connections they made or ideas they were inspired by is motivating. We want to continue that moving forward as we launch a new event series called "INSIDE:" which provides an exclusive look into the inner-workings of top brands and provides an opportunity for attendees to have a deeper understanding as to the daily on-goings. Our first with Saatchi and Saatchi LA, a leading ad agency, where our audience experienced Saatchi's way of listening to and engaging with consumers via award-winning ad campaigns and activations. The attendees participated in a group exercise alongside Saatchi executives on real-life client scenarios. We are planning more of these type of events with industry-leading brands, as well as other theme-based discussions events in key cities like New York, Seattle, Portland, San Francisco, Denver/Boulder, and of course Southern California.
Our other important initiative is the launch of our content-driven website within the next few months. We are currently developing content based around themes that have been discussed at our events and conferences such as "Authenticity." We hope to create a platform that extends the conversation, provide insights and tools and add a layer of education and inspiration to what you may already find on another site. In addition we hope to become a conduit for those who are interested in the Youth Market and Culture, whether it's a brand, creative agency or the media, to look to us to provide assistance and consultation toward insight into this growing segment.
For us to be able to meet this growth, we called upon our friends who we felt were at the top of their respective fields. We formalized a collective partnership with agencies and companies like BeCore, Nemo Design, 530MediaLab, ChopShop, Getty Images, Label Networks, Malakye.com, Loeb and Loeb, The Writing Stylists, FoxTales and others. Each partner assists us with our needs whether it's producing top-notch event, creating exclusive content or providing tools to educate our members. In turn our members and other brands have opportunities to work alongside our partners in utilizing their services and expertise.
Why did you pick authenticity as a topic for the upcoming Action Sports + Culture Conference?
The event theme "Authenticity Is Everything" will focus on the key ingredient that is the foundation upon which youth culture and action sports are based - the 'North Star' in a landscape driven by commitment, progression and constant reinvention. It's a word that often gets overused and muddled, especially when it comes to branding and marketing. In speaking with a number of CEO, CMO, VP's and other execs of Fortune 500 brands during my time at Red Bull, they all are always trying to find a way to make their brand "Authentic" to their consumer. They think it will magically appear if you throw enough dollars and marketing messaging at it. They don't understand that Authenticity means different things to different people, and that it lies within one's own DNA. Even when looking inward into our own industries, there has been a lot of questions as to a brand is remaining "true" to their consumers and fans. Then there are those who are "faking it" by attracting those to a particular lifestyle, for example surfing, but have no true roots within It (example is Hollister) It's a word that is highly conversional and evokes strong opinions among those actively involved. So with that, I wanted us to address it at ASC in a format and platform for people would learn and become engaged.
(For a great read; go to our partner Nemo Design's black paper "Is Your Brand Authorized To Use The Word Authenticity?")

The scheduled speakers are a noteworthy group. How did you manage to get them all interested in being a part of this?
They represent brands that are leading the way as to the direction and future of not just youth culture, but the societies of consumer and media culture. Brands like Red Bull with their unique branded content and YouTube creating the platform to consume it. They each have a unique story that relates back to our central theme of Authenticity.
In working on the roster of presenters, I reached out to those who I personally wanted to hear from and learn more about to what they are working to achieve. We are very fortunate that a majority of those we contacted agreed to speak and share at ASC. They are:
+ Christopher Mater, Head of Sports Marketing at Red Bull
+ Seth Combs, Co-Founder / CMO at Sol Republic
+ Shaun Neff, CEO / Founder of Neff
+ Eric Grilly, President of Alli Sports (NBC)
+ Derek Callow, Director Global Partner Marketing at YouTube
+ Curt Morgan, President and Creative Director at Brain Farm and director of "The Art of Flight"
+ Norb Garrett, SVP / Group Publisher at Grind Media
+ riCardo Crespo, former SVP Global Creative Chief at 20th Century Fox
+ Brian Socolow, Partner / Chair, Sports Practice Group at Loeb and Loeb
+ Steve Larosiliere, Founder / President at STOKED
+ Pat Parnell, Sports Broadcast Journalist (NBC, FUEL, ASP) as our ASC host / moderator.
What do you think the most valuable takeaways will be?
It's hard to say prior to an event. I am sure every attendee is going into this with some expectation as to it relates to the theme. But as I've learned from all these past events, those in the audience always walk away with a better, deeper understanding of something they never thought about, new connections and having had one heck of a fun time.
This event is not cheap. What makes it worth it for an individual, without a company expense account, to attend?
When producing these events, it's always a challenge to pre-determine the price to charge. Our goal with any of our events is to create the optimal premium environment to learn, connect and be inspired. We did our research, and found that most events of this caliber actually charge higher admission ($500-$1,000+). We wanted to still make it accessible to all, and have made available discount pricing for students and those who have been recently laid off of work.
The reasons why one should attend are many. One, you won't find a similar all-star cast of industry and thought-leaders presenting at any other Youth Marketing conference or event. Secondly, attendees will learn intimately from those brands who are leading the way and shaping our future. Thirdly, the conference allows an open setting in which to network face-to-face with your peers to discuss and share. Lastly, we want everyone to have a good time with the overall experience.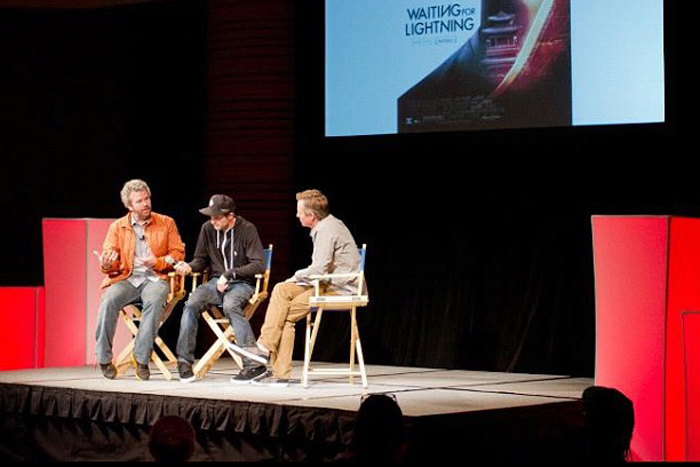 Host Pat Parnell discussing the film "Waiting for Lightning" with Danny Way and director Jacob Rosenberg at the ASC Conference in Long Beach earlier this year.
What has been the biggest challenge for you with your role as President at Group Y?
With the constantly changing numerous forms of social media and communication, it's been a challenge with our limited manpower to keep up and efficiently get the word out about our re-launch and upcoming events. Back in "the good old days" of the late 2000's it was easier--we would just send out an email blast. Now there's a lot more virtual ground to cover in order to connect with everyone we feel our content is relevant to.
Secondly, there are so many opportunities that Group Y has been approached with. My challenge is to stay focused and chose the best opportunities and partners. We will be announcing new initiatives and events here shortly.
What has been the most rewarding experience for you in the past 7 years with Group Y?
The stories we hear so often from those who have attended or been involved with Group Y. It's quite diverse as they range from finding their dream job, to forming partnerships that became extremely profitable to our all-time favorite, finding the love of their life (congrats to Fuel TV's John Stouffer and his wife Stacey who were recently married—they had met at a Group Y event years ago)!
Who are you most excited about seeing speak at the ASC event on Wed., July 24 and at Agenda Emerge on Friday, July 26?
Honestly, all of them. It's been an honor to work alongside Aaron Levant from Agenda Show and our partners in creating two event platforms for these presenters to share and people to learn. Having spoken to all of the presenters about their appearances, I know will all come out with guns blazing. A lot of great insights will be told with few laughs thrown in. We hope the attendees will be inspired to maybe launch a new brand, reshape their current one, or apply that inspiration to their own life in their own way.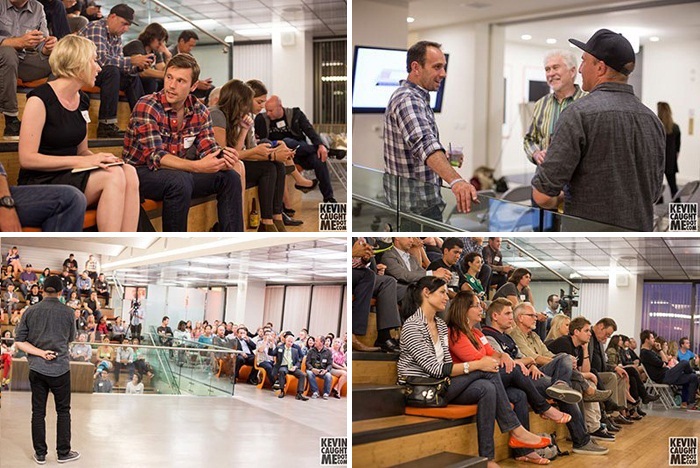 Stay tuned for more great stuff coming from Group Y (www.GroupYNetwork.com) and follow them online at @GroupY on Twitter, @groupy on Instagram and Facebook.com/GroupYnetwork
Special Offer to Malakye Users: 20% OFF Admission to ASC Action Sports + Culture. Use promo code MALAKYE when registering at ActionSportsCulture.com.
---