BACK TO NEWS
B$Z: SDSI Accepting Applications for FREE Mentoring Program for Start-Ups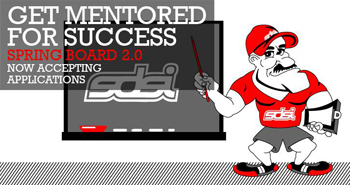 Program assists in fine-tuning company business plans, creating investor presentations for capital funding opportunities
Press Release from SDSI
San Diego, Calif. – July 29, 2013 - SD Sport Innovators, the business accelerator that connects and drives the growth of Southern California's vibrant sports and active lifestyle innovation economy, is now accepting applications for Springboard 2.0 - Class 3 through August 26.
Springboard 2.0 is a free four-month, intensive mentoring program for innovative sport and active lifestyle companies. Accepted companies are paired with mentors to assist in fine-tuning company business plans and creating compelling investor presentations in preparation for commercialization and capital funding opportunities. While SDSI's resources are located in Southern California, Springboard is open to companies outside of the region; however travel to San Diego is required.
SDSI's mentor team is comprised of more than 50 industry veterans and experts who volunteer their time to help make these up-and-coming sports and actively lifestyle companies sustainable businesses that contribute to job creation and the overall health of the business community.
"The SDSI Springboard program has been instrumental in putting our company in the perfect position to raise money. We now are laser focused with our business model and financial analysis," said Ian Sells, Co-Founder of StrongVolt.com. "The mentors went above and beyond to help us perfect our business model and identify our strengths. I would recommend this program to any entrepreneur looking to grow their business and potentially raise money."
To date, twenty-one companies have graduated from SDSI Springboard since it became a standalone program from CONNECT in 2011. Five more companies are slated to graduate mid-August at a Quick Pitch Panel.
Apply to SDSI Springboard 2.0 at http://sdsportinnovators.org/pages/springboard_about or contact Renne Catalano at rcatalano@connect.org.
About SDSI
SD Sport Innovators (SDSI) is a non-profit, business accelerator that connects and drives the growth of Southern California's vibrant sports economy by offering elite level networking, and innovative programs and services for start-ups, mature companies and service providers. We offer mentoring, education and capital funding opportunities for start-ups; best practice collaboration, access to new technology, and public policy advocacy for mature companies; as well as deal flow to our service providers and the Southern California Investment Community.
---