BACK TO NEWS
Exposure: Agenda Long Beach, Summer 2013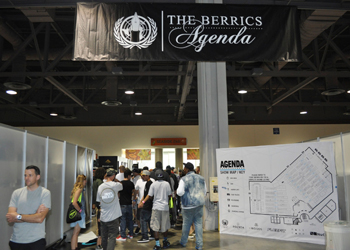 The Agenda Show: Long Beach, Summer 2013
Photos and captions by Patrick Hourihan
With each passing tradeshow season, the Agenda Show continues to evolve since it's start in 2003. Now, with a third location in Las Vegas added this year, Agenda has grown from it's humble roots and is bigger and better than ever.
Agenda: Long Beach, held July 25-26 at the LB Convention Center, was no exception to this rule. The two-day show was packed with a grouping of over 600 unique and diverse brands.
The action at Agenda is not limited to the tradeshow - there is plenty to do and see in and around the venue when the show is on. Group Y's ASC Conference kicked things off on Wednesday, July 24 and the organization helped wrap things up on Friday evening with the inaugural Emerge event. Malakye.com got in on the action as well, hosting the Shmooz on July 26.
Enjoy these photos from Agenda: Long Beach and stay tuned for upcoming coverage from Outdoor Retailer, Surf Expo and Interbike.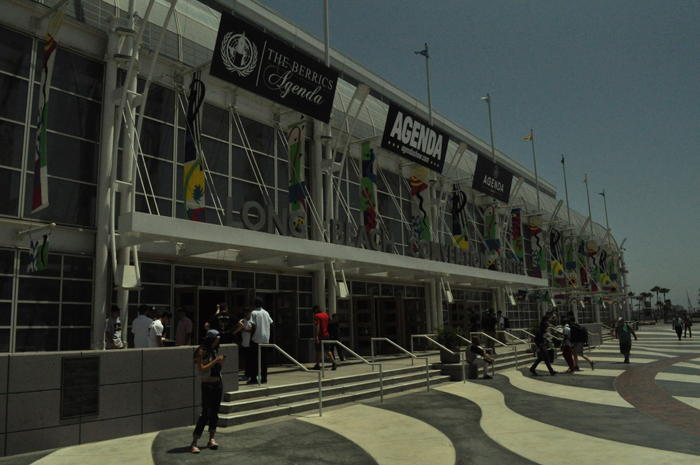 This was Agenda's biggest show ever with over 600 brands appealing to a diverse group of retailers and select media.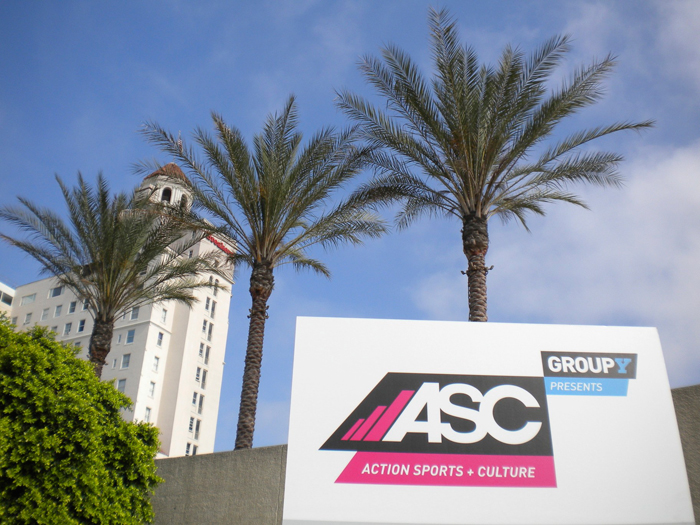 Group Y's ASC Conference ws held on Wed. July 24 as a precursor to the Agenda Long Beach show which lasted two days.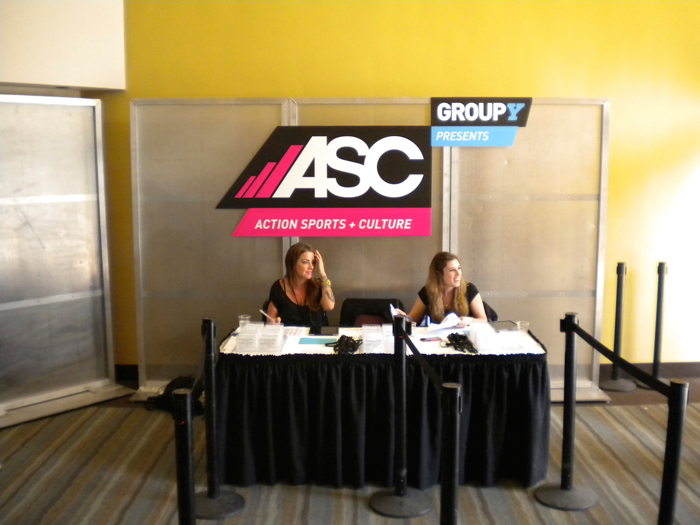 The event was held at the Centre Theater at the Long Beach Convention Center, home oF the TED Conference.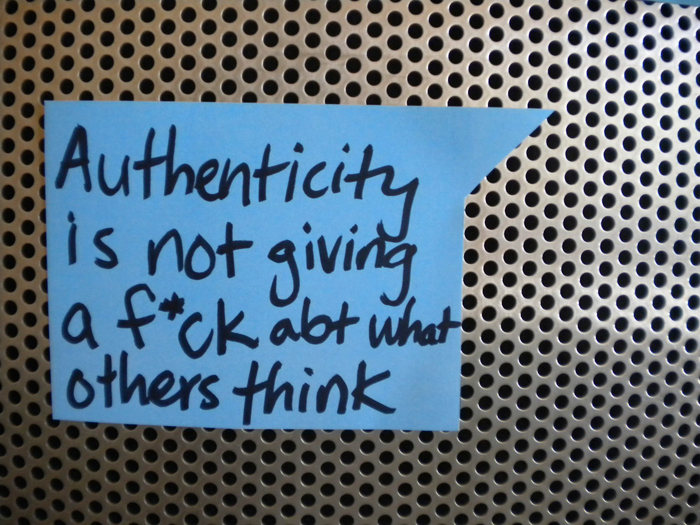 This was the 4th Annual ASC Action Sports + Culture Conference and the event theme was Authenticity.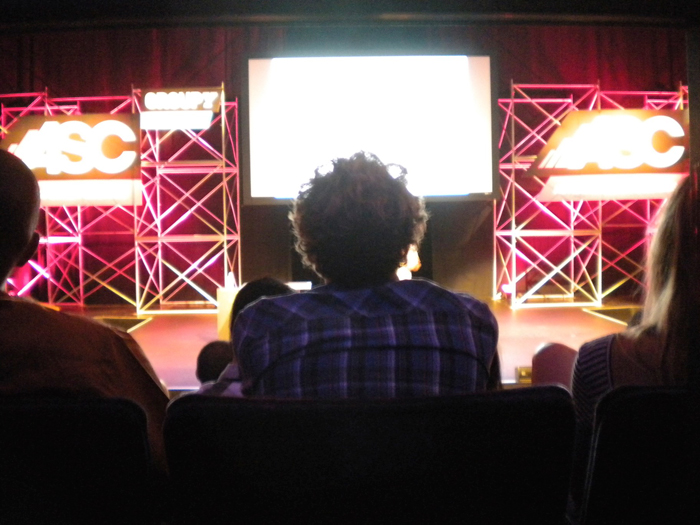 Group Y was founded in 2006 and is "the original and leading collective of professionals focused on youth marketing, action sports, entertainment and other progressive and expressive cultures."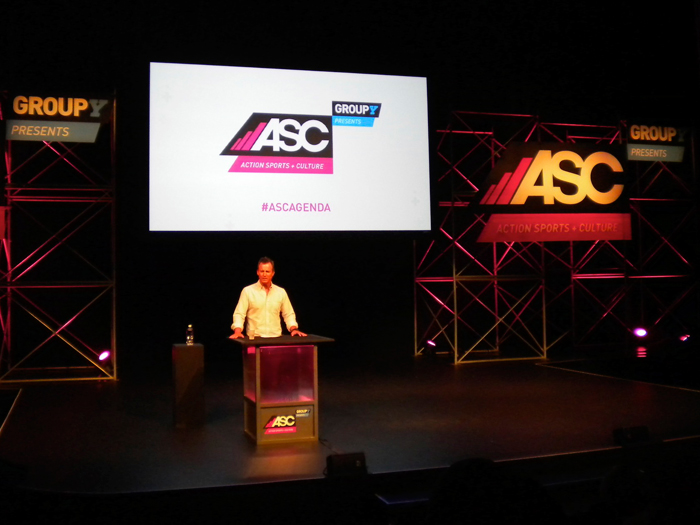 Pat Parnell of Fuel TV and NBC Sports served as the Host & Moderator of ASC.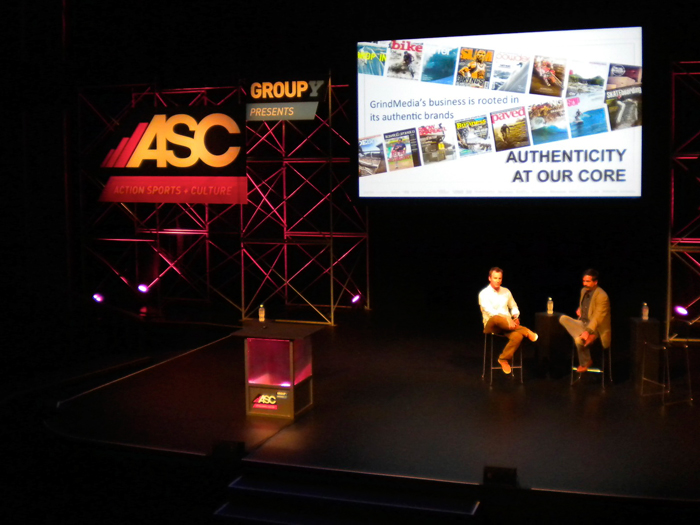 Norb Garrett, SVP/Group Publisher at GrindMedia, was first to speak and shared his thoughts on Authenticity with Pat Parnell.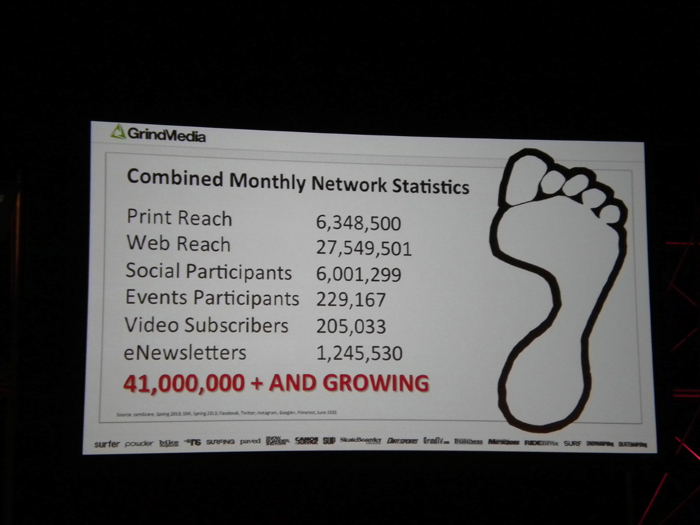 GrindMedia has been growing steadily over the past few years and was recently responsible for an industry shake-up with the acquisition of the TransWorld properties and the subsequent announcement of TW Surf's transition to a digital-only platform.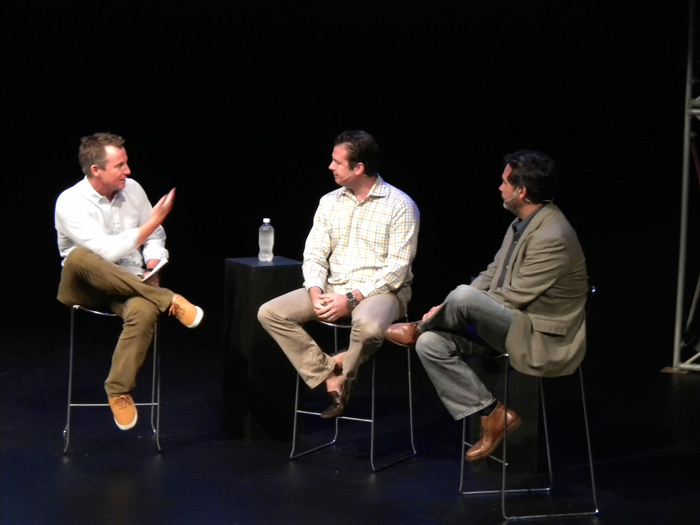 Alli Sports/NBC Sports President Eric Grilly join Pat and Norb to continue the discussion.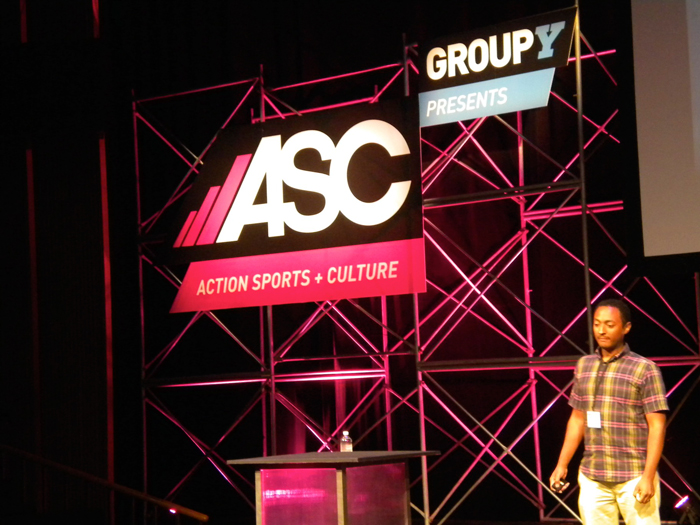 Steve Larosiliere - Founder/President of Stoked.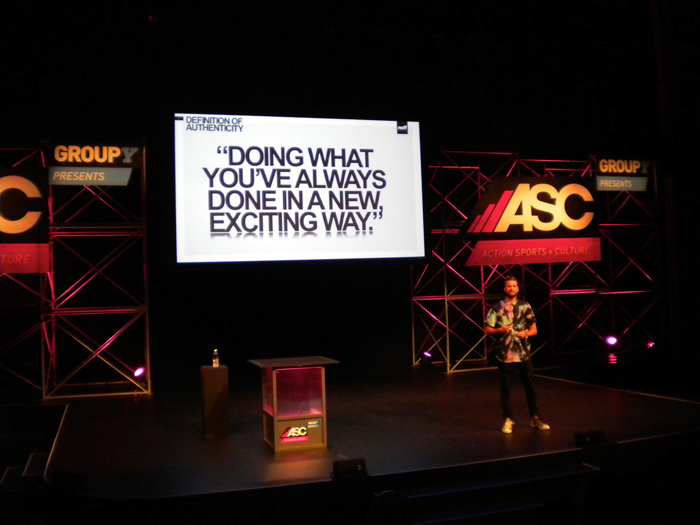 Shaun Neff - CEO/Founder of NEFF.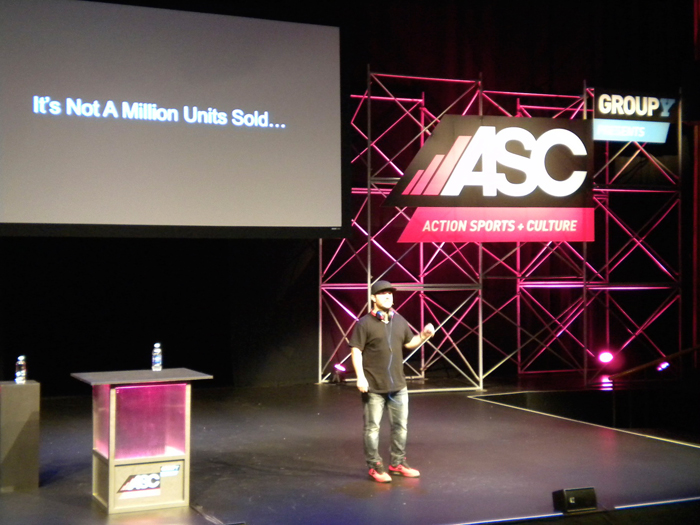 Seth Combs - Co-Founder/CMO of Sol Republic.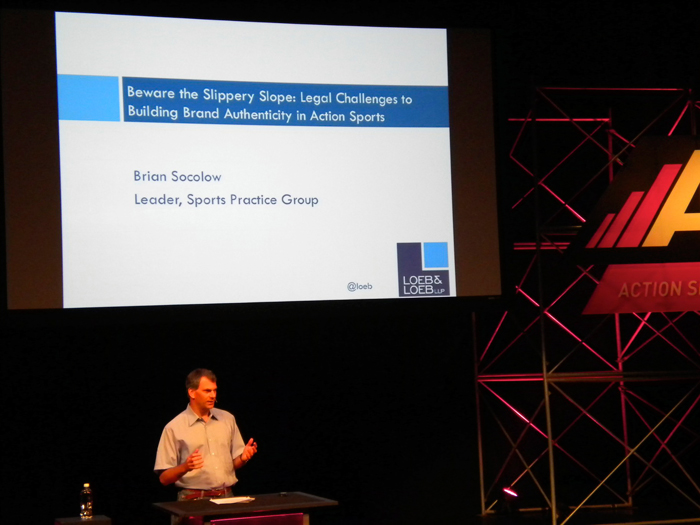 Brian Socolow - Parnet/Chair of the Sports Practice Group at Loeb & Loeb.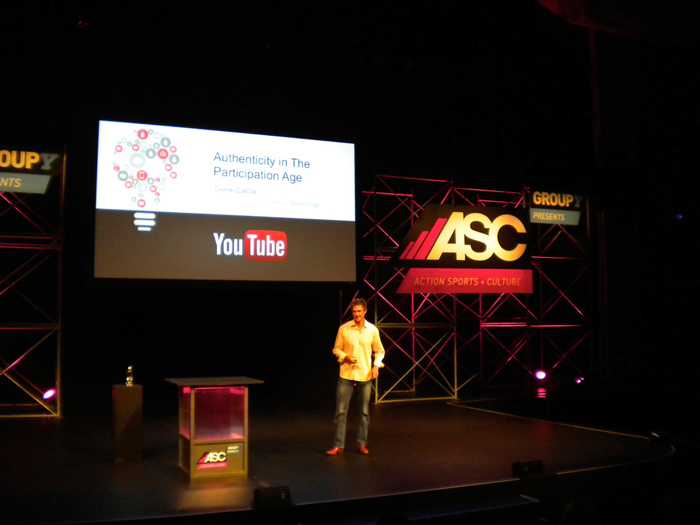 Derek Callow - Director/Global Partner of Marketing at YouTube.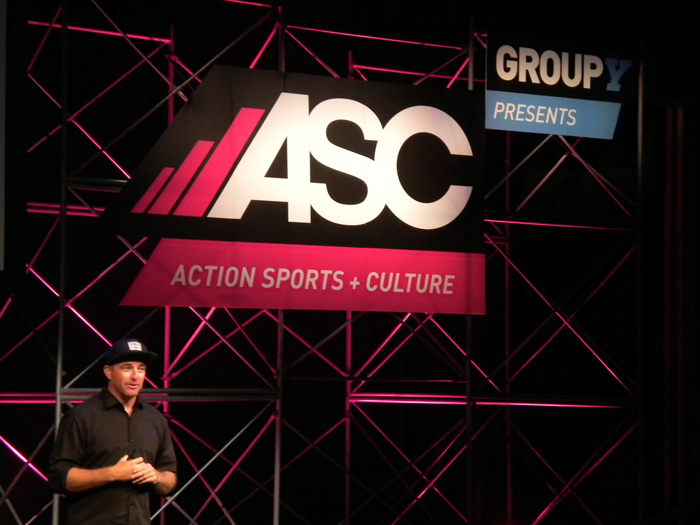 Mark Sperling, co-founder of Group Y, explains that the organization's founding mission was "to share insights across industries and ignite ideas that inspire the current and next generation of leaders and decision makers."

riCardo Crespo - CCO at th13teen, formely SVP at 20th Century Fox.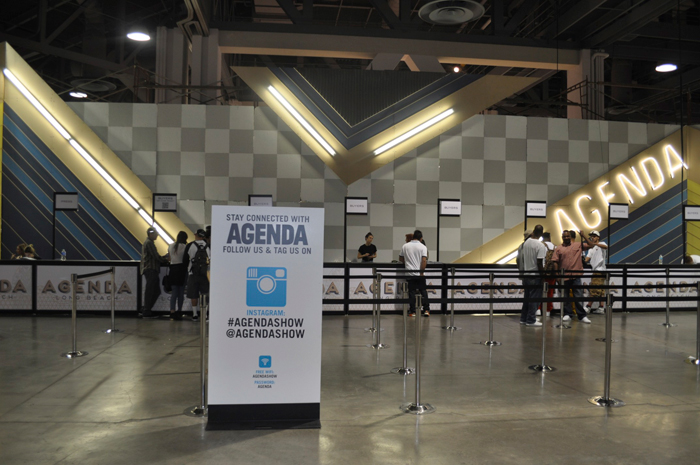 The #agendashow in Long Beach was held at the LB Convention Center on July 25-26.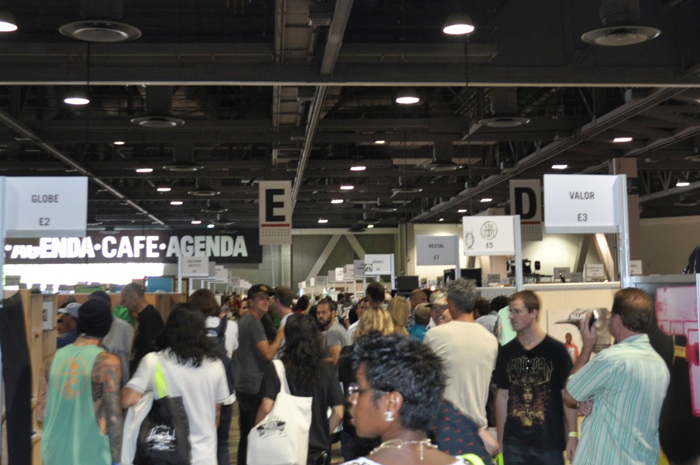 Brands were grouped into neighborhoods including Agenda WMNS for the female side of the business, The Berrics Agenda for the skate community, and The Woods for contemporary brands.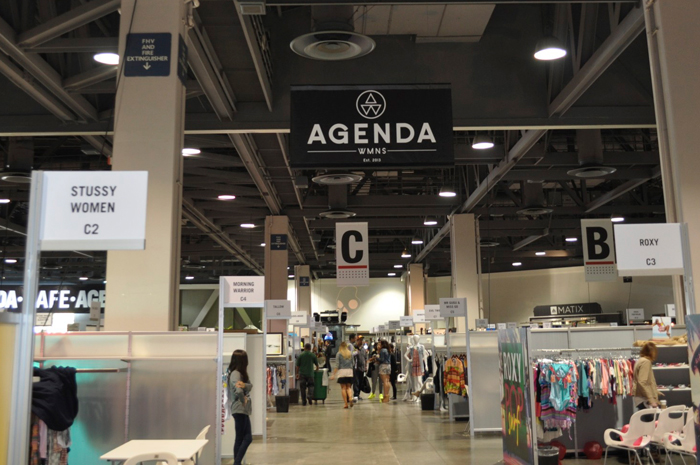 AGENDA WMNS was launched this year and featured female-centric brands like Roxy, Morning Warrior, Tallow, Beach Riot and more.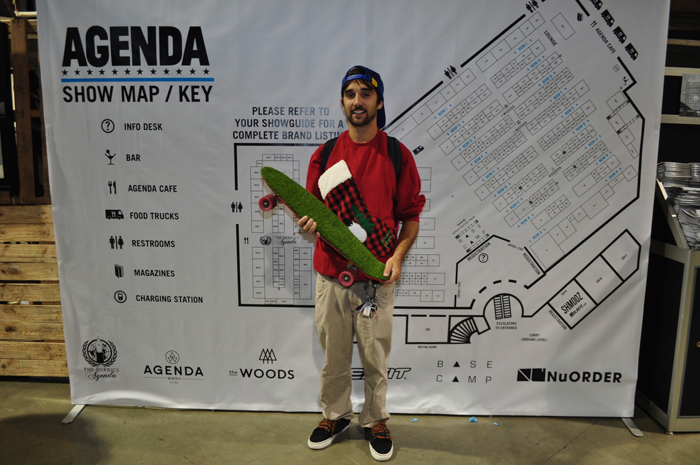 Jesse Goodwick - CEO/Operations at Team PHUN based in San Diego, Calif.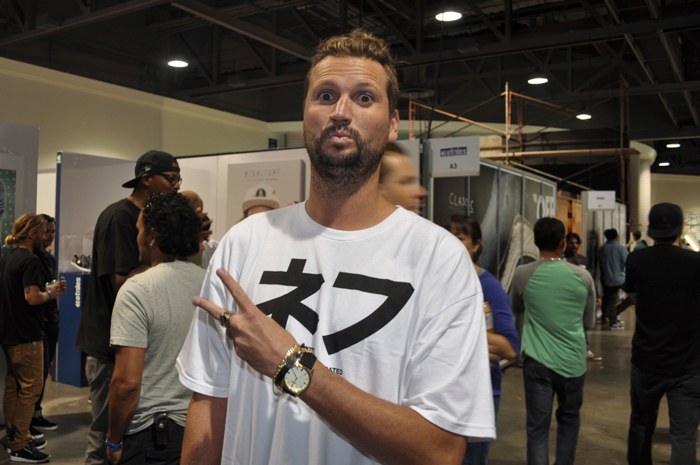 Shaun Neff of NEFF, seen walking the floor on Thursday after his presentation at ASC on Wednesday.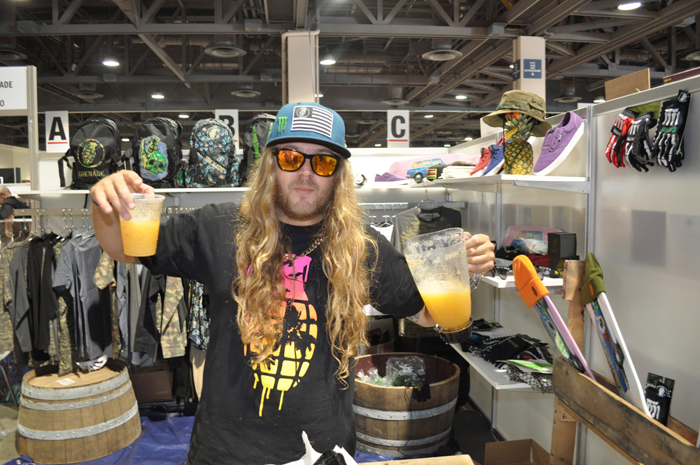 Had to stop by the Grenade Gloves booth to check out what's new with The Dingo.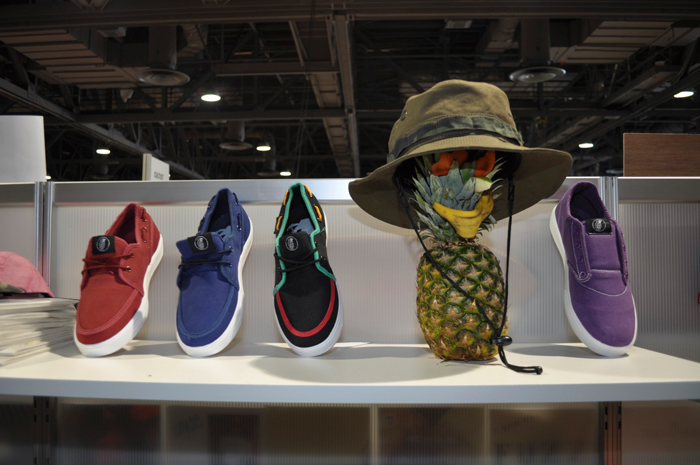 Apparel, accessories, and footwear on tap from Grenade Gloves for 2014.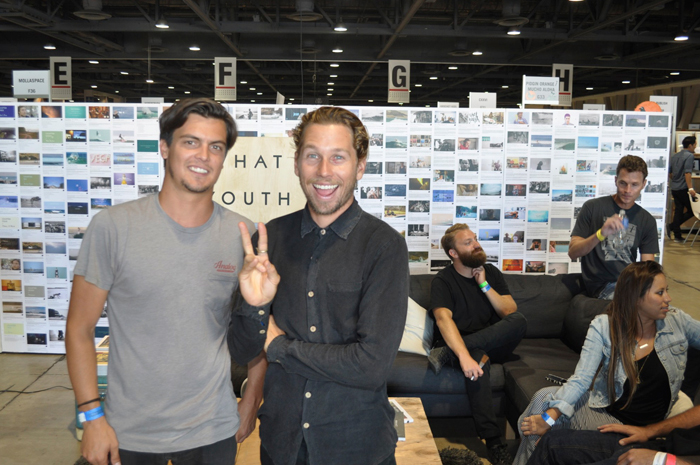 What Youth's Travis Ferré and Kai Neville.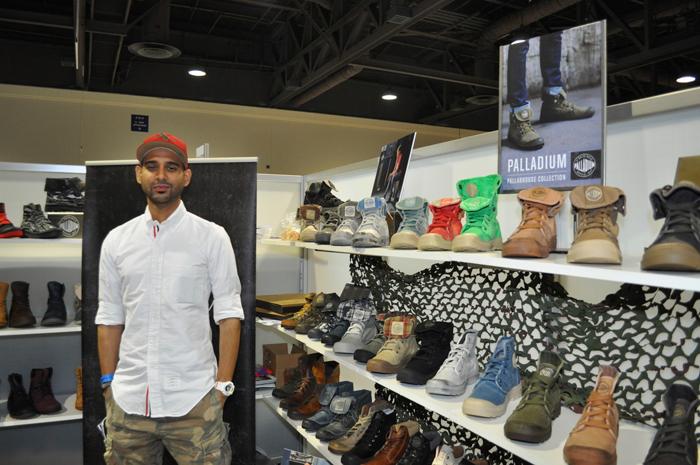 Hommy Diaz, Global Product Line Manager at Palladium Boots.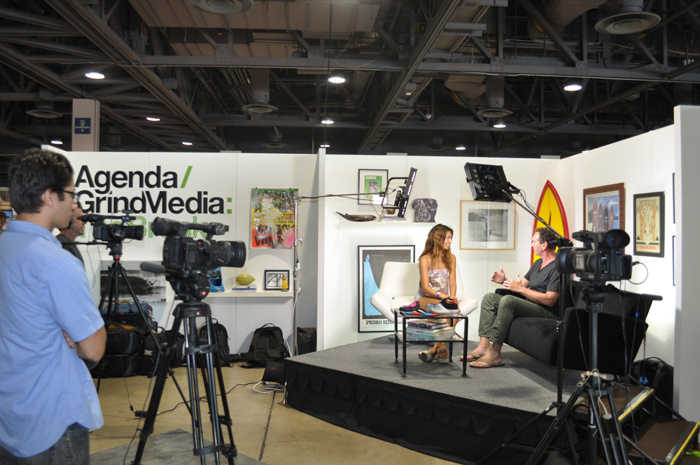 Agenda and GrindMedia unveiled a new video platform at this show called The Break. The Break was created to "be used as a vehicle to highlight exhibiting brands and help them break news about products and other initiatives," According to Mike Carter, VP of Sales and Marketing at Agenda.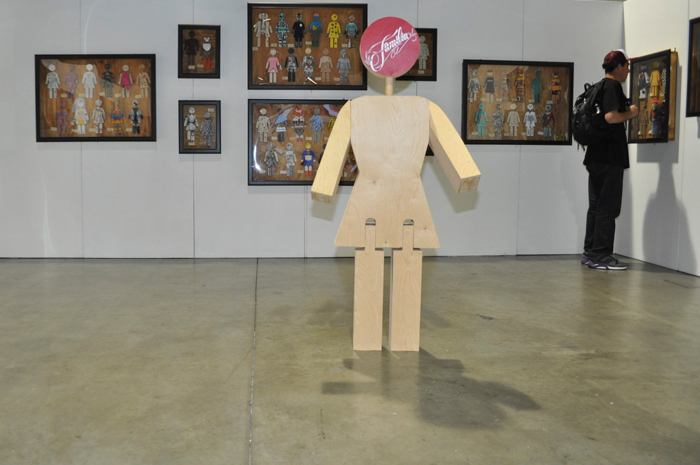 Girl's exhibit space.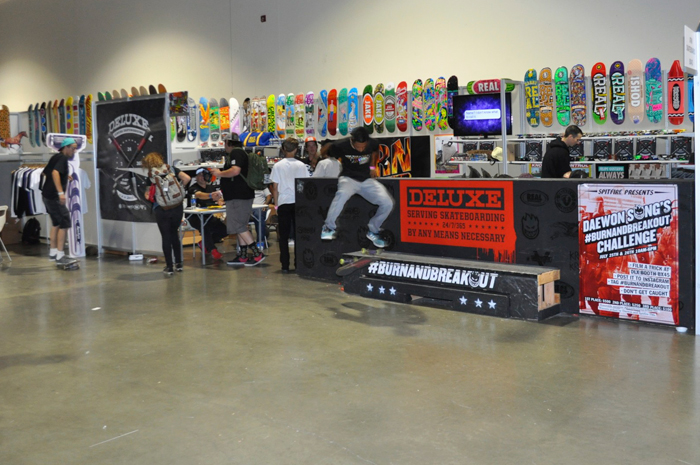 REAL Skateboards kept the party rolling.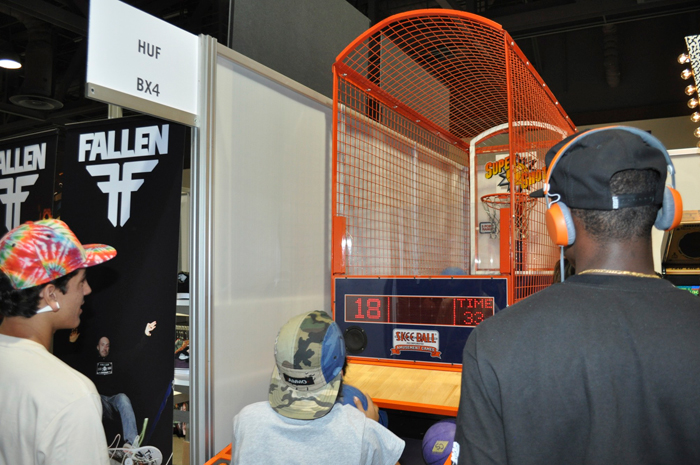 HUF provided fun and games.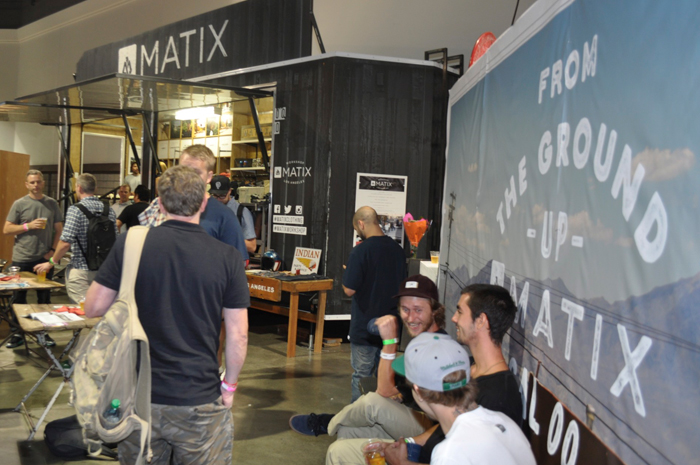 Matix Clothing had a buzzing booth both days.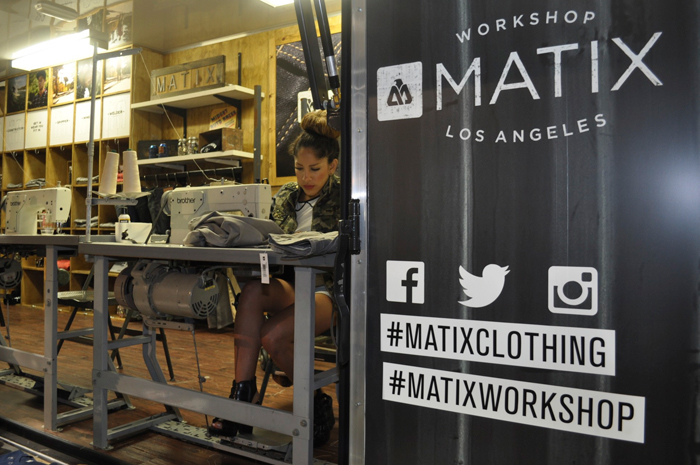 The travelling Matix Workshop.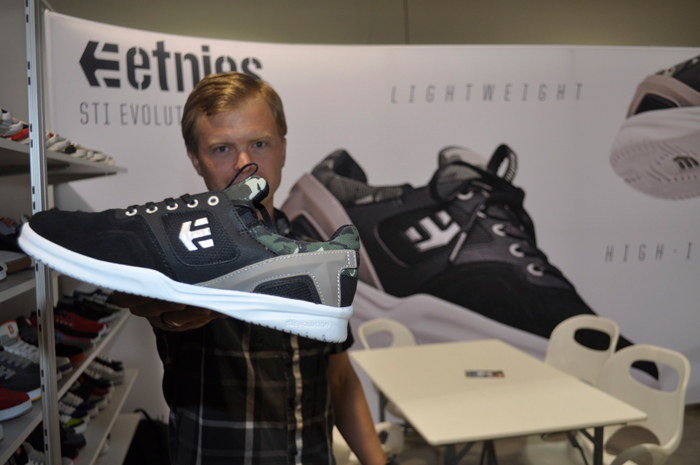 Master Plan Pr's Ashton Maxfield presenting the latest and greatest from etnies.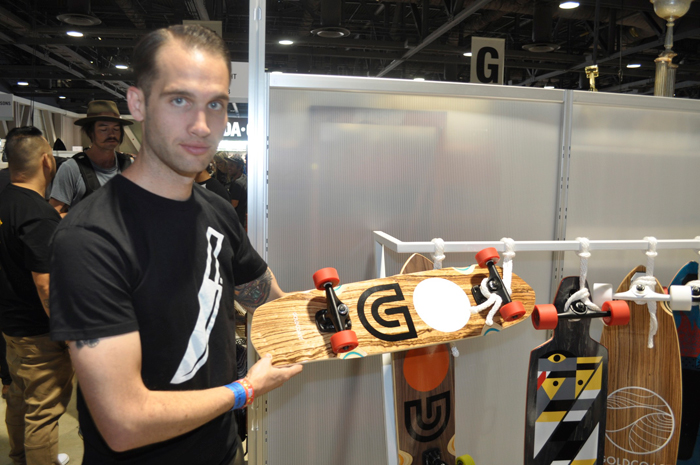 Chris Brunstetter, Co-founder and Sales & Marketing Director for GoldCoast Skateboard.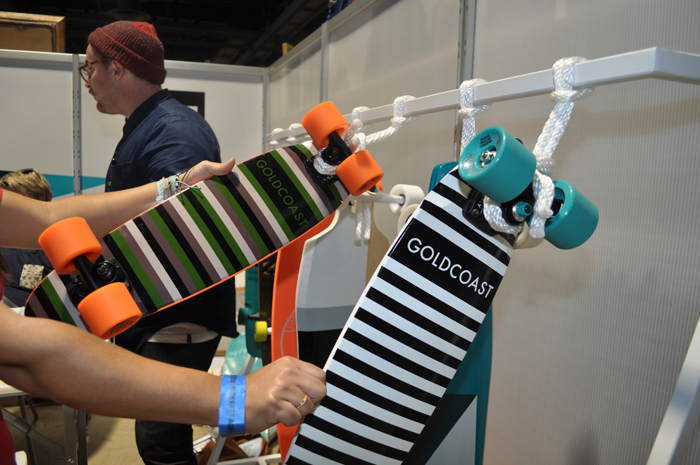 Some new models and graphics from GoldCoast Skateboards.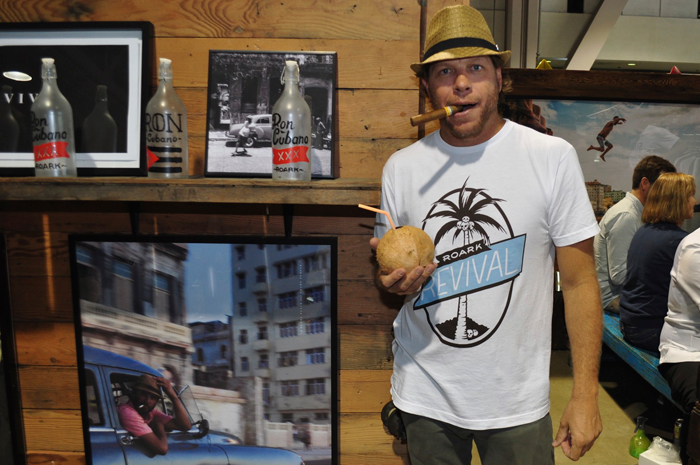 Brandy Faber of Roark...dreamin' of Havana.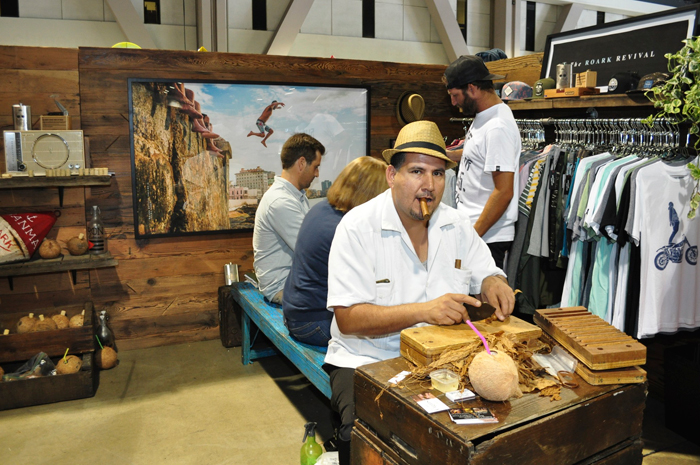 Roark hired a cigar roller which definitely drew a crowd.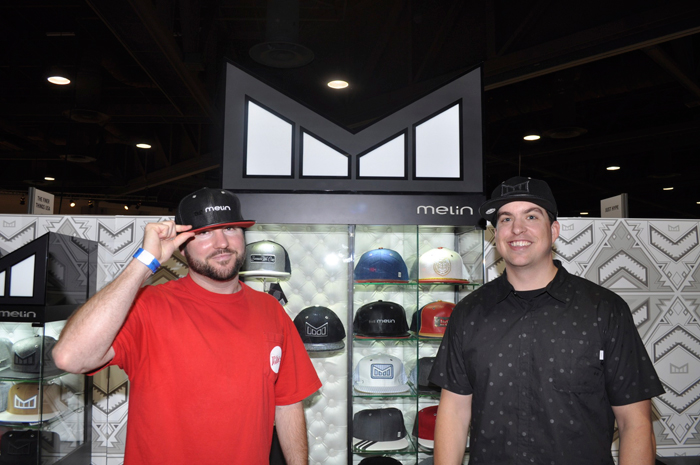 Brian McDonell and Corey Roth of Melin.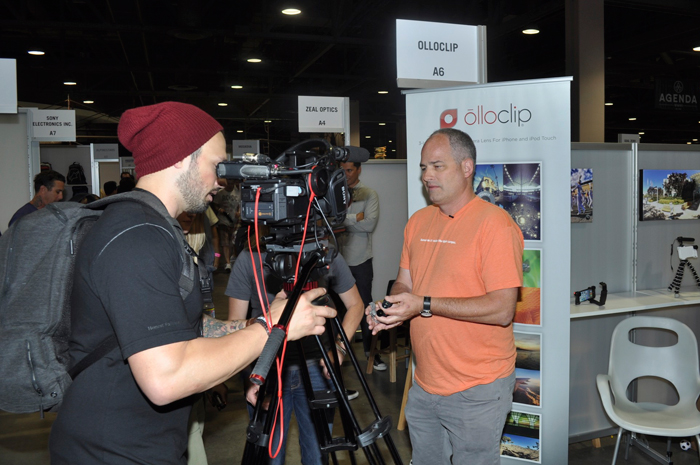 Patrick O'Neill of olloclip.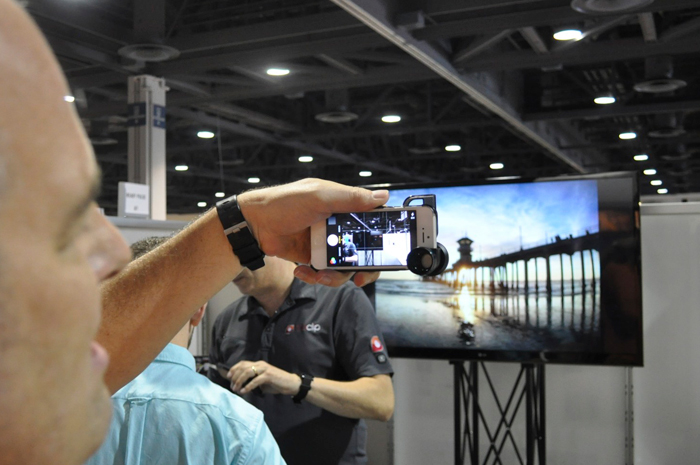 olloclips' CEO showing off the latest and greatest product, the iPhone telephoto lens.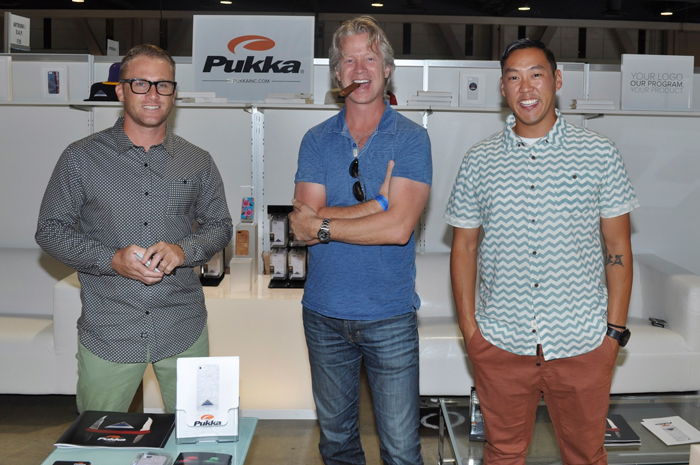 The team from Pukka: David Root, Director of Licensing Sales, CEO Shawn Rogers, and Ryan Zies, Business Development.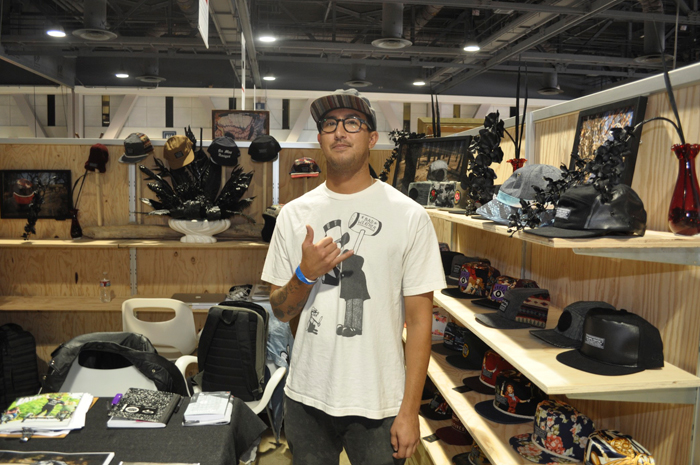 Andrew Potash of Ampal Creative.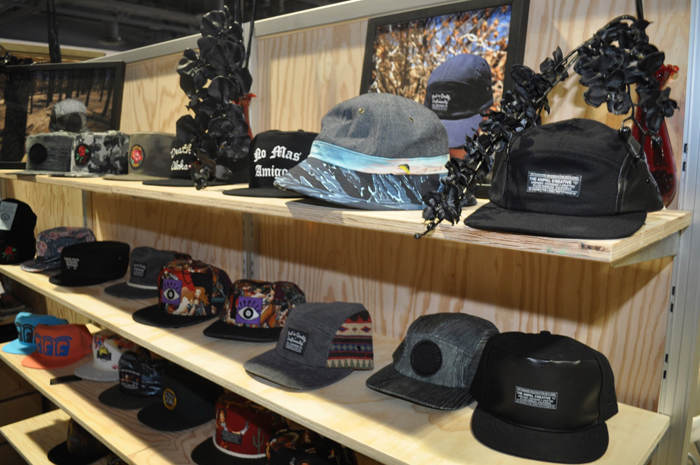 The Ampal Creative, products aseembled in DTLA.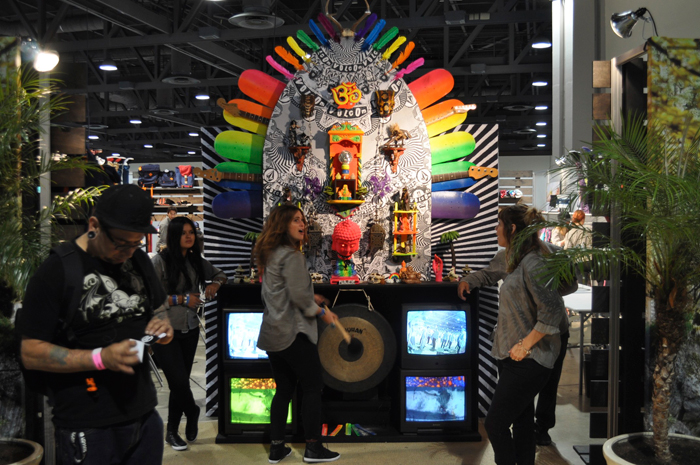 Volcom provided a bit of serenity with the ever-ringing bell.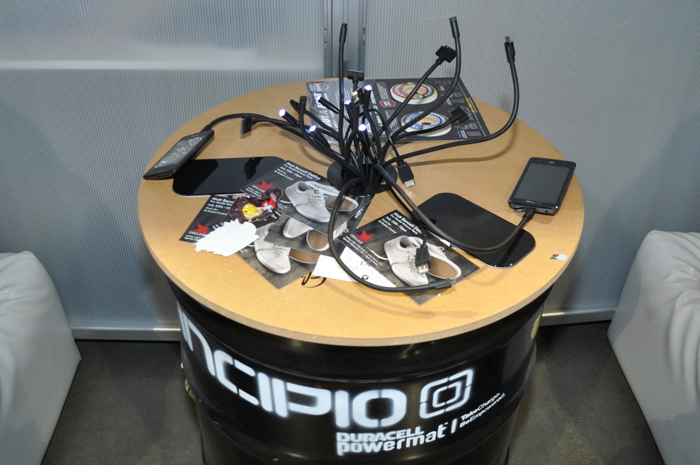 Incipio provided attendees with a much-need boost.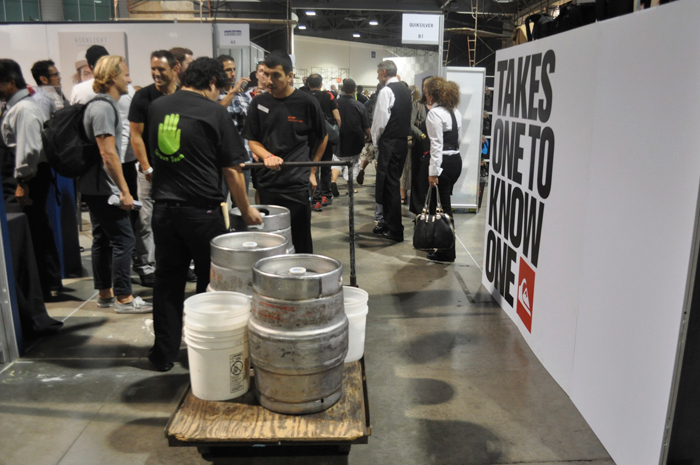 It wouldn't be a tradeshow without proper refreshments...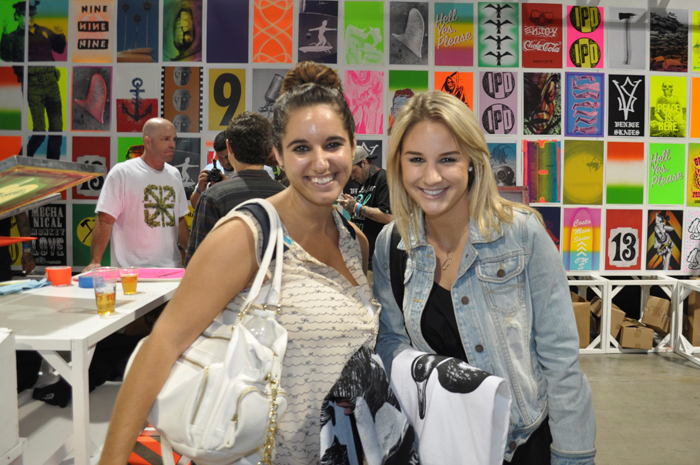 SIMA's Brittanie Arnett, Communications Coordinator, and Kelly Keenan, Event Specialist.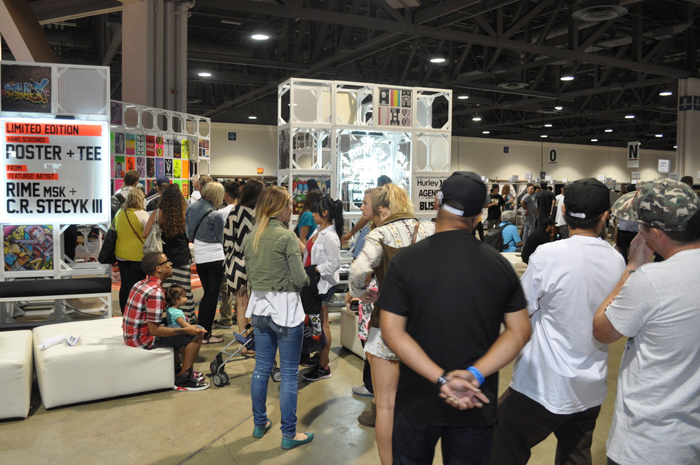 The ever-present crowd waiting for a custom print from Hurley.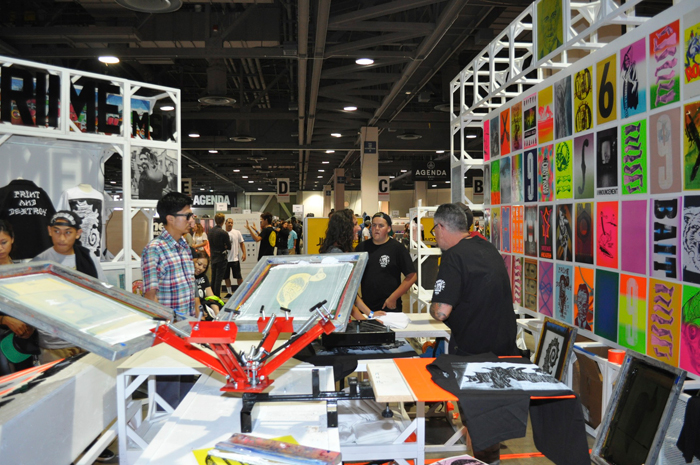 The Hurley Printing Press.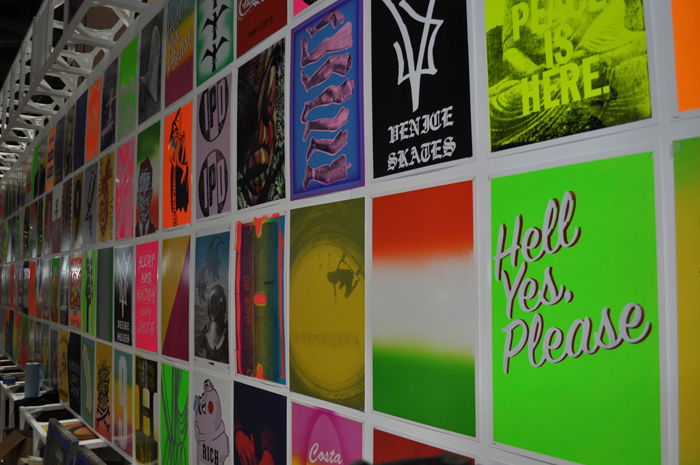 Hurley's wall of prints.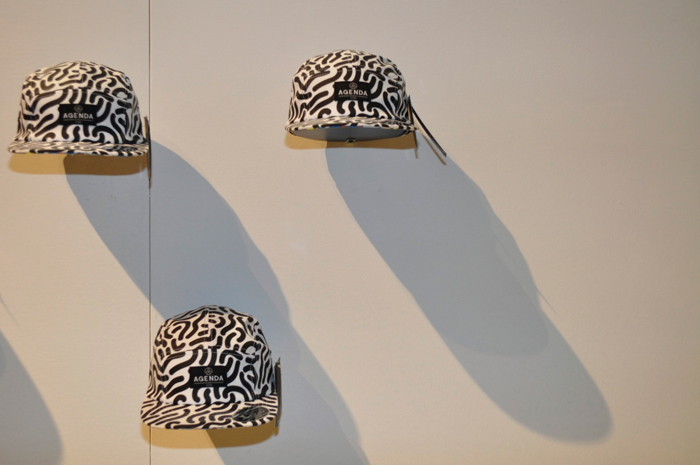 Limited edition AgendaWMNS x Lazy Oaf head piece.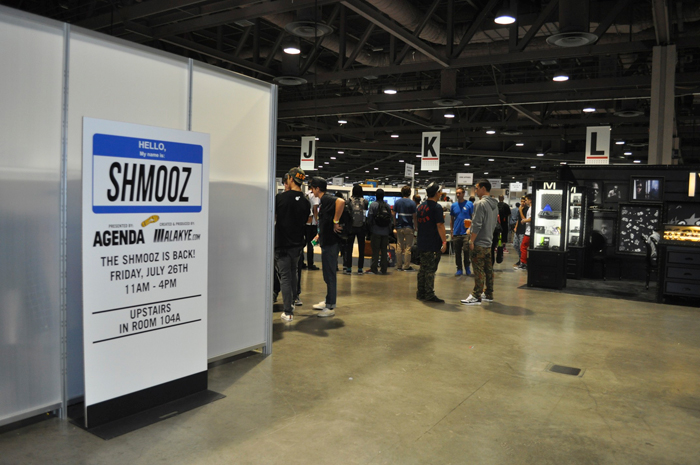 Meanwhile...the Shmooz was on at the LB Convention Center on Friday, July 26.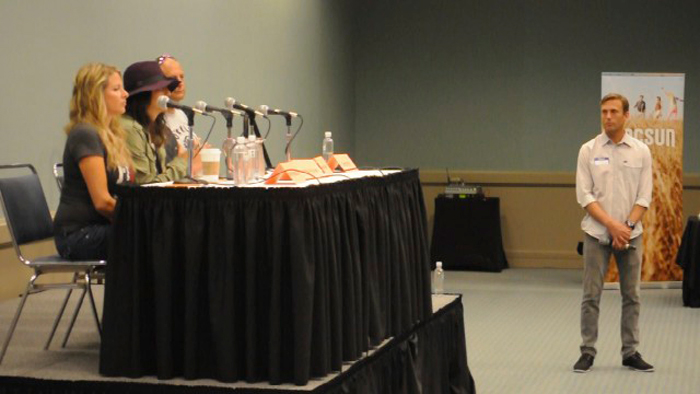 The theme of the discussion panel was: "Making the Most in a Competitive Market."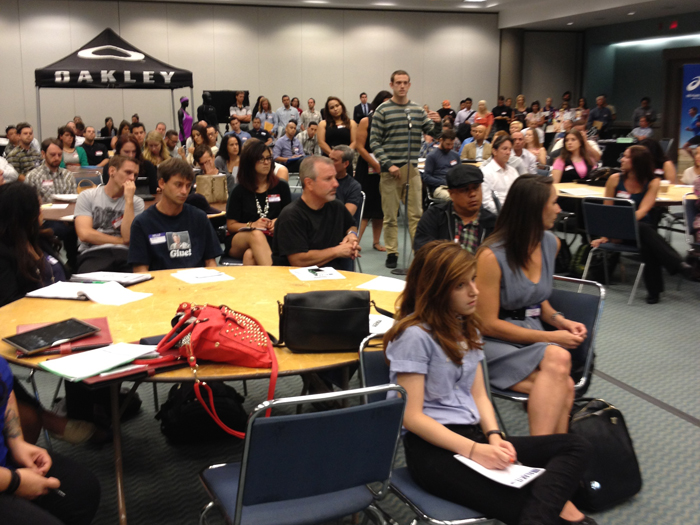 The view for host Chad Mihalick of Malakye.com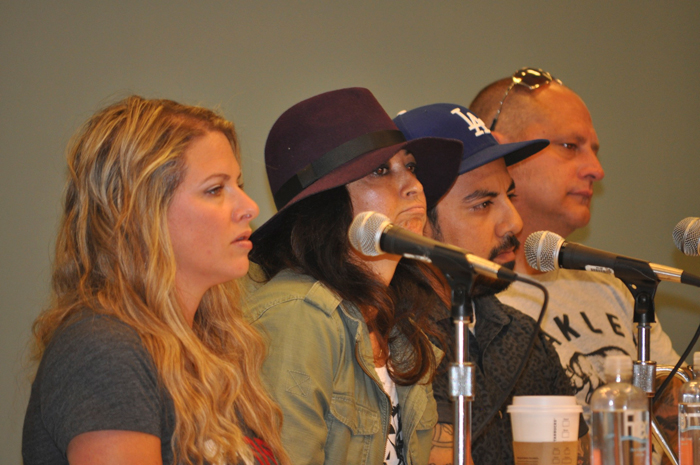 The panelists were: Jennifer Barbaglia and Karina Philyaw of Fox Head, Jonny Sanchez of Pacific Sunwear, and John Seely of Oakley.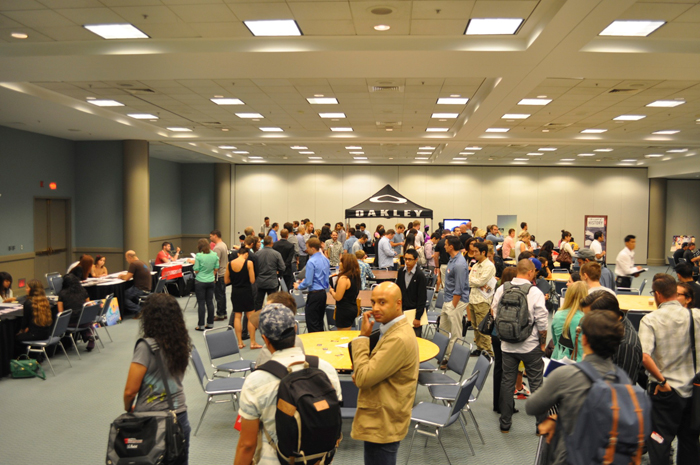 Over 400 attendees packed in for the Shmooz.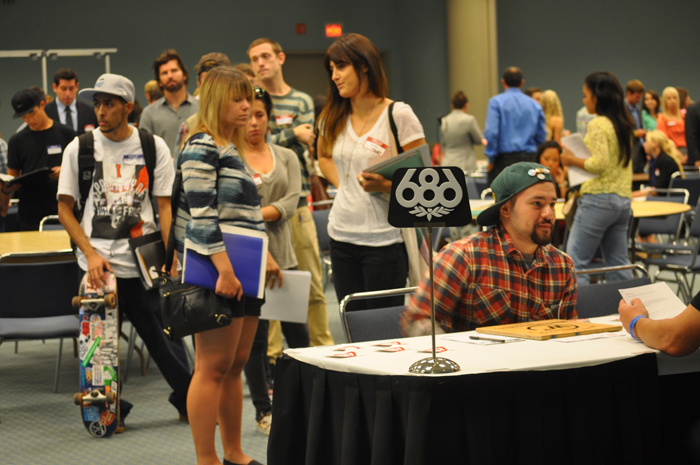 addcaption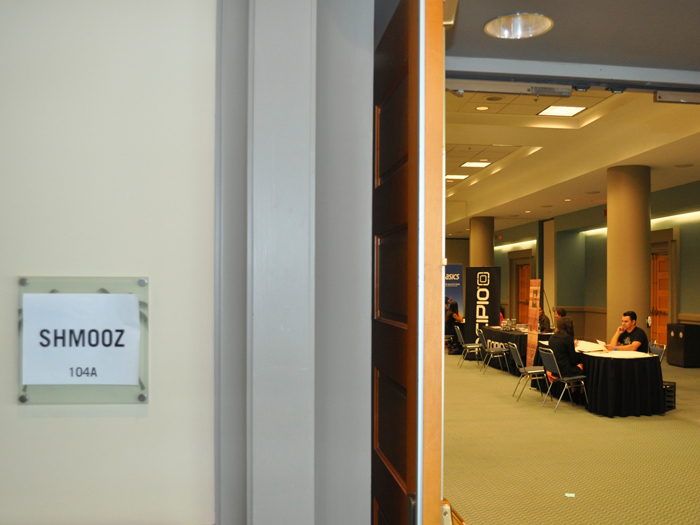 Thanks for making this another successful Shmooz!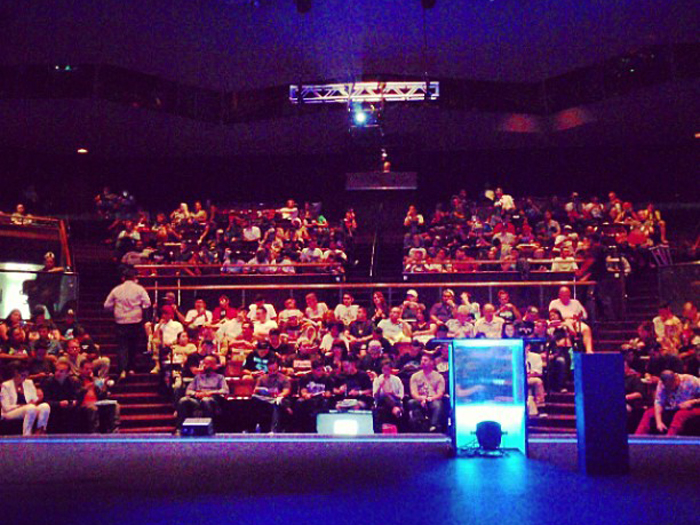 Group Y's inagural Agenda Emerge, photo: @agendashow.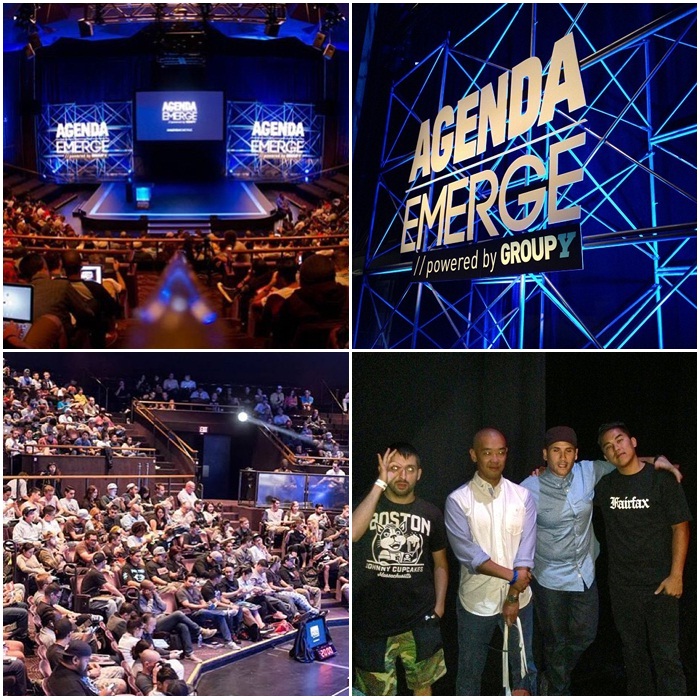 Scenes from a packed house for Agenda Emerge, photos: @agendashow.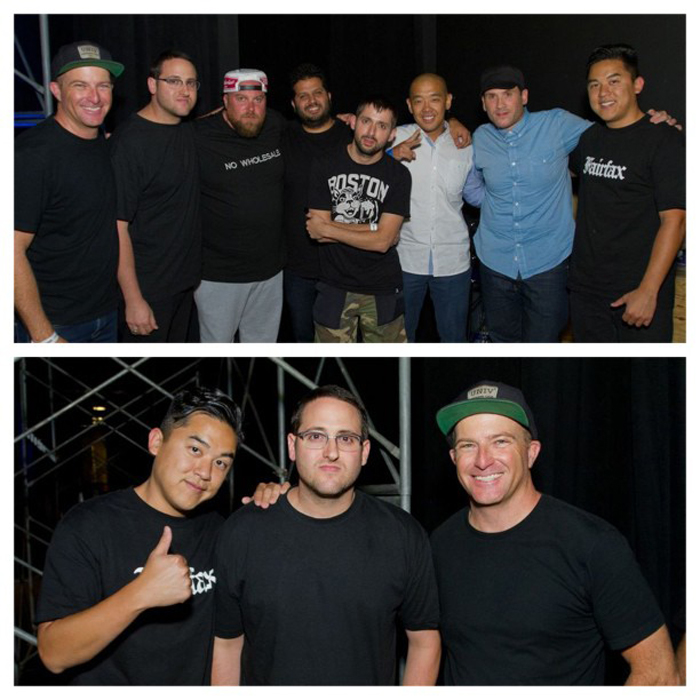 Backstage at Agenda Emerge, top: Group Y's co-founder Mark Sperling, Agenda Show founder Aaron Levant and the event's speakers: Bobby Hundreds, Mark Ecko, Jeff Staple, Johnny Cupcakes and Jon Buscemi; bottom: Bobby Hundreds, Aaron Levant and Mark Sperling; photos: @group_y.
---