BACK TO NEWS
B$Z: The Bike Cooperative Adds Pedego As Electric Bike Partner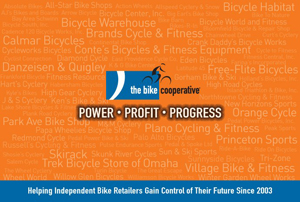 The Bike Cooperative Adds Pedego As Electric Bike Partner
Press Release from the Bike Cooperative
Manchester, NH – The Bike Cooperative has announced a partnership with Pedego, adding the fast-growing electric bicycle company to its stable of brand partners. Effective immediately, members of The Bike Cooperative will earn additional rebates on all purchases of Pedego products.
"As electric bikes continue to make inroads with consumers, more traditional bike retailers are looking to add them to their product mix," said Bike Co-op president Scott Barrett. "It's important that The Bike Co-op has relationships with highly-regarded brands in this category that our members can turn to. We can't think of a better company to start with than Pedego." The Co-op's director of supplier relations, Nat McAllister, added, "Their focus on creating high- quality, innovative and fun electric bikes, along with aggressive marketing efforts, has made Pedego the most recognized electric bicycle company by consumers in the US."
Pedego president Don DiCostanzo commented, "We are very proud of our world-wide growth in retailers from London to Sarasota to Anchorage. Without them, Pedego would not exist. While the big bike companies struggle to build and sell electric bikes, we are thriving. We concentrate our marketing efforts in driving prospective consumers to our dealer base, which is making them very successful."
DiConstanzo expressed his enthusiasm for the new Co-op partnership, adding, "As a young company, we are always open to new ideas, and The Bike Cooperative's innovative toolbox of services will help Pedego and our retailers continue to prosper. With programs like more flexible extended terms for qualified retailers, an automated customer loyalty platform, and their BikeStoreGuys.com eCommerce initiative that supports the local IBD, we're excited by all of the opportunities that come with being a brand partner of The Bike Cooperative."
The Bike Cooperative is a member-owned cooperative with a mission of improving the profitability of independent bike retailers. The Bike Cooperative provides members with exclusive product specials and rebates, consumer financing and credit card processing programs, comprehensive customer loyalty and marketing services, and training in management and sales. For information on becoming a Co-op member, call TBC Member Services at 1-800-450-7595 or visit www.thebikecooperative.com.
---