BACK TO NEWS
B$Z: Outside Magazine Names Fuse as One of America's Best Places to Work in 2013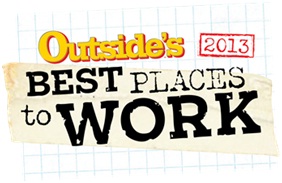 Vermont Marketing Agency Ranked #12 out of 100 Companies Selected
Press Release from Fuse, LLC
BURLINGTON, VT, AUGUST 1 – Fuse, LLC, a marketing agencythat helps brands reach teens and young adults,today was named to Outside Magazine'ssixth annual "Best Places to Work" list. Fuse was ranked No. 12 out of 100 selected companies. The full list is online today at outsideonline.com/bestplacestowork.
Outside's "Best Places to Work" project celebrates the innovative companies setting a new standard for a healthy work-life balance. The list was compiled with the help of the Outdoor Industry Association and Best Companies Group. Companies are selected based on a yearlong evaluation process that identifies employee satisfaction, benefits, environmental efforts, and additional initiatives that enable employees to pursue active lifestyles.
"On behalf of everyone at Fuse, we are excited to be named to Outside's list of 'Best Places to Work' once again," said Bill Carter, Partner at Fuse. "This recognition is another testament of our hard working staff.We have surrounded ourselves with energetic andcreative people, and the work we put forth embodies these attributes.Due to our staff's "extra-mile," attitude, we strive to establish a work environment that does the same."
"We're proud to publicize the efforts of these 100 companies," said Outside editor Christopher Keyes. "They each show a real commitment to creating active, healthy work environments and put a premium on innovative benefits. Year after year, Outside's Best Places to Work program demonstrates that America's most successful companies are the ones that consistently promote true work-life balance for their employees."
CONTACTS:
FUSE: Lauren Machen / lmachen@fusemarketing.com/ 802.383.1414
OUTSIDE MAGAZINE: Jada Williams/ Jada@giantnoise.com/ 646.649.4933
About Fuse
Fuse is a marketing agency founded in 1995 that connects brands with teens and young adults through sports, music, fashion, video gaming and other relevant cultural interests. Fuse's services include insights, brand strategy, public relations, experientialmarketing, design, social media and digital services. The Fuse staff, led by Partners Bill Carter, Issa Sawabini and Brett Smith, is comprised of marketing professionals and cultural experts who have worked for some of the most prominent brands and agencies in the country. In 2013, Fuse was named the Best Place to Work in Vermont by Vermont Business Magazine.In 2011, Fuse was named one of Outside Magazine's "Best Places to Work" in the U.S.
Fuse's experience is in a broad range of key categories that include sporting goods, beverages, snacks, footwear, auto, higher-ed, and finance. In 2011, Fuse launched its annual Service Grant Program that awards $25,000 in marketing services to a deserving charity. Fuse's other community initiatives include a donation program, community engagement committee, donation matching, staff leadership in community projects, monthly group volunteer projects, and paid time off for volunteering.Full-time employees receive generous benefits including health and dental insurance, liberal vacation time, a season's pass to a local mountain resort of their choice, and annual fitness reimbursement. Employees are also encouraged to make use of flex time, half-day Fridays in the summer, and comp days for weekend work.
About Outside
Outside is America¹s leading active lifestyle brand. For more than 30 years, Outside has covered travel, sports, adventure, health, and fitness, as well as the personalities, the environment, and the style and culture of the world Outside. The Outside family includes Outside magazine, the only magazine to win three consecutive National Magazine Awards for General Excellence, The Outside Buyer's Guides, Outside Online, Outside Television, Outside Events, Outside+ tablet edition, and Outside Books. Visit us online and on Facebook.
ABOUT THE BEST COMPANIES GROUP
Best Companies Group works with national and local partners around the country to establish and manage "Best Places to Work," "Best Companies," and "Best Employers" programs on a national, statewide, and regional basis. Through its thorough workplace assessment, utilizing employer questionnaires and employee-satisfaction surveys, BCG identifies and recognizes companies who have been successful in creating and maintaining workplace excellence.
ABOUT THE OUTDOOR INDUSTRY ASSOCIATION
Founded in 1989, Outdoor Industry Association (OIA) is the premier trade association for companies in the active outdoor recreation business. OIA provides trade services for over 4000 manufacturers, distributors, suppliers, sales representatives and retailers in the outdoor industry. Outdoor Industry Association seeks to ensure a healthy and diverse specialty retail and supply chain based on quality, innovation and service. To this end, OIA works diligently to raise the standards of the industry; increase participation in outdoor recreation to strengthen business markets; provide support services to improve member profitability; represent member interests in the legislative/regulatory process; promote professional training and education; support innovation; and offer cost-saving member benefits. Search for outdoor-industry jobs is at OIA's career center: www.outdoorindustry.org.
---