Back to News
B$Z: Bamboo Skateboards Launches Indiegogo Campaign to Raise Funds
August 6, 2013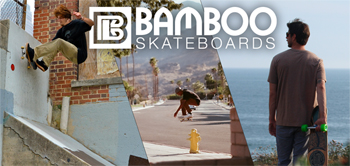 Eco-responsible and socially cause driven San Diego-based company intends to expand offerings and marketing efforts from crowdfunding promotion
Press Release from Bamboo Skateboards
Bamboo Skateboards, the leading sustainable skateboard company striving to inspire others to take steps towards preserving our natural environment, has launched an Indiegogo crowdfunding campaign at http://igg.me/at/bambooskateboards to raise funds in order to increase awareness for sustainable skateboarding, marketing efforts and to expand product offerings (www.bambooskateboards.com).
"From our start, our goal has been to inspire people to make socially responsible choices by choosing bamboo decks and now we are ready to take things to the next level," said Wyatt Gregson, CEO and Owner of Bamboo Skateboards. "This Indiegogo campaign will allow us to expand our vision for the skateboarding industry, amplify our marketing endeavors and introduce more products that present a unique fabrication that's in alignment with our eco-conscious skateboards."
This San Diego-based environmentally friendly company manufactures high quality skateboards from sustainable bamboo in managed forests. Bamboo Skateboards is dedicated to reducing the environmental impact caused by manufacturing traditional maple skateboards. Traditional production of six million skateboards produced annually has led to the world's deforestation.
Bamboo decks are light weight, strong, durable and support overall better performance. To continue the company's environmentally conscious product line, Bamboo Skateboards is planning to launch more eco-friendly products including a clothing line made from recycled water bottles, starting with six t-shirt designs. Money raised from Indiegogo campaign will support marketing efforts for the entire family of Bamboo products.
Bamboo Skateboards is an innovative and philanthropic company that believes in giving back to the community. Charity inspired deck sales and collaborative events have helped Bamboo Skateboards support numerous charities including National Wildlife Federation, World Wildlife Fund, MusiCares, American Red Cross, Surfrider, Grind for Life, Keep a Breast and Stand Up for Skateboards. The 100 Decks for 1 program started by Bamboo Skateboards donates one skateboard to an at risk youth for every 100 decks sold.
For more information or to purchase Bamboo Skateboards decks, longboards and accessories visit www.bambooskateboards.com.
About Bamboo Skateboards
Bamboo Skateboards is an ecologically-based skateboard brand and manufacturer of high quality skateboards made from sustainable bamboo from managed forests. This company is comprised of social entrepreneurs who believe that giving back to the community is as equally important as profits. Bamboo Skateboards services core shops, brands and individuals around the globe while providing a solidified partnership and unique experience with each. This environmentally friendly company is completely immersed in action sports and skateboarding and now passionately hope to inspire others to take actionable steps towards our preserving our natural environment.
For more information on Bamboo Skateboards, visit www.bambooskateboards.com. Become a fan at www.facebook.com/SkateBamboo, follow on Twitter @SkateBamboo and on Instagram at @BambooSkateboards.
---