BACK TO NEWS
EVENT: REEF Releases Cyrus Sutton's New Film, "Compassing" with Brooklyn Premiere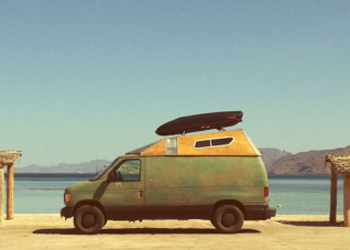 REEF Releases Cyrus Sutton's New Film, "Compassing" with Brooklyn Premiere
Press Release from REEF
(Carlsbad, CA) – Reef, the premium surf travel brand, is proud to announce the release of Cyrus Sutton's latest film "Compassing," the tale of modern gypsies on a two-month Pacific surf adventure. The film will make its world premiere at the Picture Farm Gallery in Brooklyn on August 15.
Sutton, an Emmy-winning director and D.I.Y. surf hero, joined the Reef family in 2012, bringing his creative energy to the team. Known for melding laid-back aesthetics with humorous and insightful storytelling in efforts like "Riding Waves," and "Stoked and Broke," his full-length documentaries and short films have garnered numerous awards and cemented his reputation as the top young surf filmmaker today. He is the founder of Korduroy.tv, a leading voice of individualism in the surf world.
"Compassing" is about "finding freedom," something largely lost as technology makes the world a smaller place. Before embarking on a 60-day adventure on the coast of Mexico, Sutton customized his van for the ideal life on the road. He joins up with Kepa Acero as well as fellow Reef Ambassadors and legendary surfers Rob Machado, and Nick Rozsa.
"I'm really excited about releasing this with Reef," says Cyrus," I was trying to find a way to get down to Mexico for a good chunk of time and surf my brains out. So when they approached me about making a film about the trip I jumped all over it!"
Featuring varied surf styles and landscapes, the film is a visual interpretation of Reef's "Just Passing Through," campaign and Reef's new Shelter Supply line, a collection of bags, premium water resistant packs, surfable walkshorts, rain shells, travel organizers, adjustable rain shells, multi-use duffel and wallet, specifically for Sutton's style of global travel.
The film will premiere in Williamsburg at Picture Farm Gallery, 338 Wythe Ave Brooklyn, NY 11249, a neighborhood art gallery and community center in Williamsburg. Sutton will be on hand to discuss his experience with the film. The evening will also feature a live performance by NYC's New Myths and an art show of selected photos from Sutton's journey.
More on the project can be found at www.reef.com/culture/films. Follow #compass_ing to catch the latest on the premiere.
ABOUT REEF
Reef is the exotic surf brand enabling your journey of discovery...since 1984. Our purpose is to provide premium, comfortable, and innovative products in a sustainable manner. We are guided by the sea.
MEDIA CONTACT: LINDY WILLIAMS
Phone 760.431.2300
Lindy_Williams@vfc.com
www.Reef.com
ABOUT PICTURE FARM GALLERY
Picture Farm Gallery was opened in response to what is perceived as a diminishing community vibe in the increasingly populated neighborhood of Williamsburg, Brooklyn. It looks to support local artists and concerns, giving month-long solo and group shows to friends, friends of friends, and friends of friends of friends during a season that lasts the whole year. Picture Farm Gallery also acts as a community center for volunteer efforts for Hurricane Sandy relief and provides a creative space for local crafts people.
picturefarmpro.com/pf-gallery
---