Back to News
GEAR: etnies Activates the New Scout Early
August 8, 2013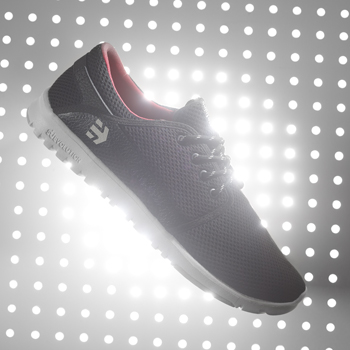 The Lightweight Scout Evolves the Meaning of Comfort and Flexibility
Press Release from etnies
August 8, 2013 (Lake Forest, CA) – The new etnies Scout shoe is floating in Active Ride Shop and other select retailers across the U.S. and Europe today. This limited offering was sped to market before the planned spring 14 launch because of extensive retailer demand. This shoe is so lightweight, flexible and comfortable it feels almost as weightless as the air it breathes. Yes, breathes! Its thin, all-mesh upper lets air in and out keeping feet cool while kicking moisture out. This breathability, combined with the STI Evolution Foam outsole, makes this shoe perfect for cruising anywhere from crowded city streets to desolate beaches and mountain trails. The Scout's a sneaker for anyone, anywhere and anytime.
etnies Scout in black/red and red, $60, is available now at Active Ride Shop and other select retailers across the U.S. and Europe. It will also be available on etnies.com later this month.
This brand new style's breathable mesh uppers have a fully-lined inner making them a great shoe to wear with or without socks. They feature a Rap Bar on the side, and an elastic heel support for comfort and versatility. This heel support can be worn as pictured above or it can be pushed down and so you can simply slide your foot in.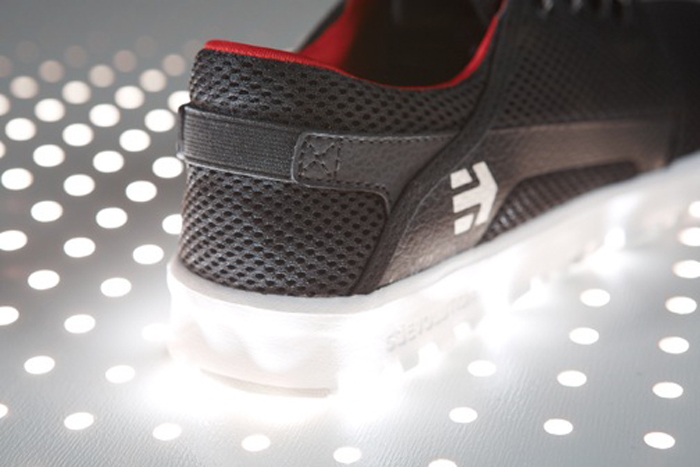 To download images of the Scout shoes, visit: http://we.tl/nPk2MxNdSq
Truly a shoe to be worn anywhere, the Scout is the newest etnies shoe in the STI Evolution Foam™ collection. The Aventa, High Rise and Marana also feature the innovative, durable, abrasion-resistant, ultra-lightweight and high-impact rebound cushioning STI Evolution Foam. Instead of being die-cut from a sheet, STI Evolution Foam™ midsoles and outsoles are made by a special molding process, producing no waste.
The etnies Scout is an addition to the Buy A Shoe Plant A Tree initiative, where for every pair of shoes sold a tree is planted with the Trees for The Future Foundation in Brazil. For more info, visit: Etnies.com/buyashoeplantatree
A full retailer list can be found on @etnies instagram now, and the complete line offering additional colorways will land this October.
Keep the conversation going with these hashtags: #etnies, #EvolutionFoam, #etniesScout and #BuyaShoePlantATree
Connect with etnies on:
etnies.com
Facebook: facebook.com/etnies.
Instagram: @etnies
Vimeo: https://vimeo.com/etniesvideo
Twitter: @etnies
About etnies:
Established in 1986, etnies is the first skateboarder-owned and operated global action sports footwear and apparel company. etnies not only pushed the envelope by creating the first pro model skate shoe, but it pioneered technological advances and changed the face of skateboard footwear forever. Today, etnies' vision, led by owner and skateboarder Pierre-André Senizergues, is to remain the leading action sports company committed to creating innovative products that provide the most style, comfort and protection possible. etnies stays true to its roots by sponsoring world class skateboarding, surfing, snowboarding, moto x and BMX teams and continues its dedication by giving back to each of these communities. For additional information, visit etnies.com.
---