BACK TO NEWS
B$Z: POWDER Magazine Launches Largest Issue Ever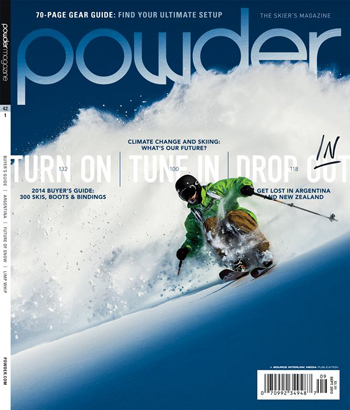 POWDER Magazine Launches Largest Issue Ever
Press Release from POWDER
SAN CLEMENTE, CA (August 8, 2013) – With the first issue of the season set to hit newsstands next week, POWDER, The Skier's Magazine, officially kicks off the 2013-14 winter season.
Today the publication announced the September issue is the largest in its 42-year history, at 212 pages, with advertising and editorial pages both on the rise. With collective consumer magazine ad pages down 4.9 percent in the first half of 2013, combined with late season snowfall and reduction in overall participation numbers, the environment has proven difficult for many of the endemic winter-based publications.
However, partners are strengthening their position with POWDER—most notably, within print—to grow both core audiences and engage new consumers.
"Our growth is a testament to the authenticity of the magazine within the skiing community," says Publisher Ashley Otte. "We were recognized for three national magazine awards last season and are committed to continuing our mission of delivering the most authentic storytelling with thought-provoking editorial and the most captivating photography in snowsports."
"Coming off three awards and producing our biggest issue ever, which includes a definitive piece on climate change and its affect on skiing and a 70-page buyer's guide, in conjunction with an unprecedented focus on digital initiatives, POWDER's reach has never been stronger," adds Editor John Stifter.
In addition to both print and digital properties, POWDER has several events planned for the winter, including the 14th annual Powder Awards and return of the Powder to the People Tour.
The September issue, volume 42, issue 1, featuring the annual buyer's guide, is available on newsstands August 13th.
Powder Magazine: Behind the Cover September 2013 from PowderMagazine on Vimeo.
About POWDER
For 42 years, POWDER, The Skier's Magazine, has been produced by and for those who embrace skiing, and is developed through a collective love of two things: good skiing and good magazines. Since it's inception in 1972, the strength of the POWDER title has been based on authenticity, experience, and respect for its readers—the most passionate, dedicated, and loyal in the sport. POWDER is part of Source Interlink Media's Grind Media that reaches more than 10 million active sports enthusiasts through an integrated network of magazines, online properties, events and television programming. For more information, please visit www.powder.com.
About GrindMedia
Reaching more than 10 million enthusiasts, Source Interlink Media's GrindMedia is the dominant force in the action sports and adventure sports arenas. In addition to publishing leading lifestyle publications such as Surfer, Surfing, Snowboarder, Skateboarder, Bike, Paved, POWDER, ATV Rider, Dirt Rider, Canoe & Kayak and SUP Magazine, Source Interlink Media's GrindMedia delivers a cutting-edge network of online properties such as Fantasy Surfer, events and television programming. For more information, please visit GrindMedia.com.
About Source Interlink Media, LLC
Source Interlink Media, LLC, a subsidiary of Source Interlink Companies, Inc. is the premier source of special interest media in the United States. With more than 70 targeted publications, 90 websites, 800 branded products, 65+events, and TV and radio programs, SIM is the largest provider of content to enthusiast communities interested in automotive, action sports, marine and other niche activities. The division's strategy is to wholly focus on targeted audiences by leveraging and expanding upon its core market-leading brands through a multiplatform media approach.
Media Contact: Kate Gaeir, (206) 334-0863, press@powder.com
---