Back to News
B$Z: Bamboo Skateboards and SOLO Eyewear Present Panda-Monium
August 9, 2013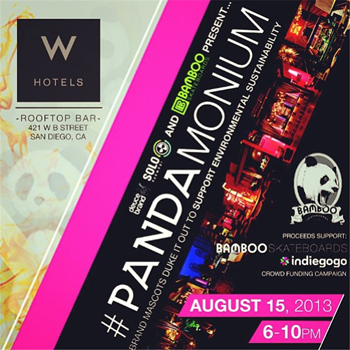 Sustainable and environmentally responsible San Diego-based companies promote Indiegogocrowdfunding campaign
Press Release from Bamboo Skateboards
SAN DIEGO(August 09, 2013)—Bamboo Skateboards, an eco-friendly and sociallycause-drivenskateboard company, is partnering with SOLO Eyewear, a sustainable sunglasses company that gives back to two people in need with each purchase, for a collaborative Panda-Monium event at the W San Diego Hotel on August 15, 2013 (www.bambooskateboards.com). Both environmentally conscious companies utilize sustainable bamboo in their products and have panda brand mascots who will be present, interacting with attendees and competing against each other at the event.
Bamboo Skateboards aims to help reduce maple deforestation byinfluencing the skateboard industry to use green, ecological and environmentally friendly bamboo. This San Diego-based company has recently launched an Indiegogocrowdfunding campaign to raise funds to increase awareness for worldwide deforestation, increase brand marketing and expand their eco-conscious product line.
"We are excited for the opportunity to partner with amazing local brands such as SOLO Eyewear and Deuce Brand," said Mark Olson, Director of Sales and Marketing at Bamboo Skateboards. "This event will also support our current Indiegogo campaign by encouraging attendees to choose to skate green with skateboards made of bamboo."
What: Panda-Monium
Where: W San Diego Hotel–421 West B. Street San Diego, CA 92101
When: Thursday, August 15, 6:00pm-10:00pm
Cost: $5 entrance for Indiegogo campaign – Additional donations accepted

Panda-Monium will also include Deuce Brand, functional lifestyle athletic gear with a focus on wrist wear. The event will offer a raffle with prizes from Bamboo Skateboards, SOLO Eyewear and Deuce Brand. Bamboo Skateboards will be accepting donations from attendees to support itsIndiegogo campaign, running from August 1 through August 30, 2013. For more information on their crowdfunding campaign, please visit http://www.indiegogo.com/projects/bamboo-skateboards.
About Bamboo Skateboards
Bamboo Skateboards is an ecologically-based skateboard brand and manufacturer of high quality skateboards made from sustainable bamboo from managed forests. This company is comprised of social entrepreneurs who believe that giving back to the community is as equally important as profits. Bamboo Skateboards services core shops, brands and individuals around the globe while providing a solidified partnership and unique experience with each. This environmentally friendly company is completely immersed in action sports and skateboarding and now passionately hopes to inspire others to take actionable steps towards preserving our natural environment.
For more information on Bamboo Skateboards, visit www.bambooskateboards.com. Become a fan at www.facebook.com/SkateBamboo, follow on Twitter @SkateBamboo and on Instagram @BambooSkateboards.
---