Back to News
B$Z: Surf Industry Raises More Than $400,000 in Donations at the 24th Annual Waterman's Weekend
August 12, 2013
Fernando Aguerre, Brandon Boyd & Incubus, Peter "PT" Townend and Jon Rose Also Honored
Press Release from SIMA
ALISO VIEJO, Calif. (August 12, 2013) – More than 600 surf industry VIPs came together to support the preservation and protection of the ocean at the SIMA Environment Fund Waterman's Weekend fundraiser August 9-10. The 13th Annual Waterman's Classic Golf Tournament took place at the Monarch Beach Golf Links in Dana Point on Friday, and the 24th Annual Waterman's Ball took place at The Ritz-Carlton, Laguna Niguel the following night. The sold outevents of Waterman's Weekend brought in more than $400,000that will go directly to beneficiaries dedicated to preserving the oceanic environment.
"Do what you love and help along the way," a statement from Special Recognition Award recipient Jon Rose, was an overarching theme of this year's Waterman's Weekend as the surf industry gathered to raise money for the SIMA Environmental Fund grant beneficiaries. The weekend kicked off with the Waterman's Classic Golf Tournament, a tournament that brings together more than 150 surf industry executives and professional surfers to enjoy a day of golf, on-course entertainment and friendly competitions on the side all in the name of charity. The first place team coming in with the lowest gross score was the team made up of golfers from Agenda, Wahoo's and Shwack. The Vans team was deemed the best-dressed foursome in the tournament, and Swell was awarded the title of Best Hole Activity with an on course dunk tank.
Waterman's Ball, a classier affair at The Ritz-Carlton, Laguna Niguel, was at full attendance with 675 attendees raising money for the environment and supporting the night's honorees. The event celebrated four honorees for their outstanding dedication and powerful influence on the sport, culture and business of surfing.International Surfing Association President, Fernando Aguerre, was named Waterman of the Year; musician, artist and surfer Brandon Boyd and Incubus were recognized as Environmentalists of the Year; icon of both the sport and business of surfing, Peter "PT" Townend, was given the Lifetime Achievement Award; and founder of Waves for Water, Jon Rose, was given the Special Achievement Award for what he's led Waves for Water to do and his relief work for Hurricane Sandy.
"All of the money raised tonight goes to lead SIMA's ongoing effort to protect beaches and oceans, efforts that have contributed millions of dollars to critical protection of our most cherished resource," SIMA President Doug Palladini said as he reminded attendees why the Waterman's Ball is so important to the world of surfing.
To maximize fundraising efforts, the Waterman's Ball also incorporatesan annual live auction, a definite highlight of the night. Audi donated a2014 Audi allroad Featuring Quattro All-wheel Drive calling it a premium plus package, and bidding for the car finally settled at $45,000. The House of Blues Anaheim donated a private party for 500 people that included drinks and food, which was sold to two separate parties at $35,000 each. A rare redwood surfboard made from 2,000 year old redwood originally used in the cabernet sauvignon wine vats in the Mirassou Winery built in the mid-1800s was a unique item in the live auction. With only a handful known to be in existence the board sold for $15,000 and the winner also received a piece of wood and shavings from the original blank that still holds the aroma of the wine. Other auction items includedan exclusive sushi dinner for 10 personally prepared by Chef Aki of Akioni's Catering, a commissioned portrait by artist Letty Nowak, and an all-inclusive trip for two to Tavarua Island in Fiji.
All funds raised go directly to supporting specific programs of 20 non-profit environmental organizations that address water quality and ocean pollution issues, defend beaches and surf breaks from development, and provide public education on ocean conservation. Beneficiaries include: Alaska Wilderness League, Algalita Marine Research Institute, Assateague Coastal Trust, Clean Ocean Action, Cook Inletkeeper, Heal the Bay, KAHEA, Los Angeles Waterkeeper, North Shore Community Land Trust, Ocean Institute, Orange County Coastkeeper, Paso Pacifico, Reef Check, Santa Barbara Channelkeeper, Save the Waves, Seymour Marine Discovery Center, SINADES, Surfing Education Association, Surfrider Foundation, and WiLDCOAST.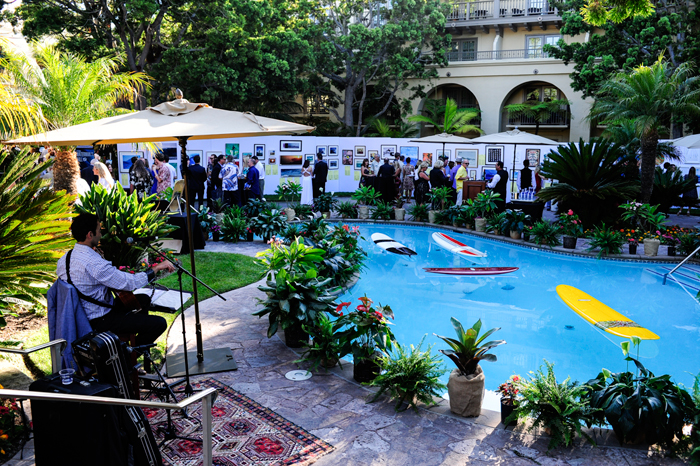 photo: Brent Hilleman

Fernando Aguerre, Waterman of the Year
"Alone I am nothing, I'm a zero, I don't exist. I learned that only when you share passions, struggles, and happiness with other people is when you really find a place in the world. Life is not about how much we make, be that fame money, or power. They mean nothing if you don't have and you don't give and you don't produce a positive impact in the people around you," said Fernando Aguerre as he accepted his Waterman of the Year award.
Waterman of the Year, Fernando Aguerre, epitomizes surfing's spirit and culture. In 1984 he founded Reef sandals with his brother Santiago. As Chairman and CEO of Reef, he led the company not just in the U.S. but also in Europe and Latin America. Now, Aguerreserves as the president of the International Surfing Association (ISA). In this position he is working hard and meeting with top sports and government officials around the globe to make surfing recognized as an official Olympic sport. In the last three years he's introduced countries from China to Afghanistan to surfing and the ISA – helping create an avenue for surfing in countries where the sport was virtually nonexistent. He has lead the way for surfing, launching ISA and ASP events in China, a nation where the surf industry has a huge opportunity to create a strong consumer foothold. Aguerre is also an avid humanitarian in the surf world. He started and served as the first president of Surfrider Foundation in Argentina, co-created the Liquid Nation Ball, and served on the global boards and contributed significant income to charities like SurfAid International, Save The Waves, Quiksilver Foundation, SIMA Humanitarian Fund, and many more.
Brandon Boyd and Incubus, Environmentalists of the Year
"[Brandon Boyd] has given countless hours to our oceans, our beaches and our waves which provide us a lot of enjoyment. I think all of us here can attest to that," said surfer Rob Machado as he presented Brandon Boyd and Incubus with the Environmentalists of the Year award.
Musician, artist, environmentalist and surfer Brandon Boyd and his band, Incubus, will add 2013 SIMA Environmentalists of the Year to their long list of accolades. The Grammy-nominated musicians have a long history of efforts to help the environment, specifically ocean-pollution issues. A lifelong and still avid surfer, Boyd and Incubus created the Make Yourself Foundation (MYF), a registered non-profit organization, in 2004 to fund various charities around the world. MYF has raised more that $1.3 million since its inception, benefitting a variety of environmental groups including the Surfrider Foundation, Save the Waves, Heal the Bay, Reef Check and the Santa Monica Baykeeper. The band also makes great efforts to engage directly with their fans to help raise awareness for environmental causes, raising support wherever they go.
Peter "PT" Townend, Lifetime Achievement Award
"You know what, surfing's been good to me. It's been good to a lot of people in this room. I'm honored for this recognition – stay stoked, never stop surfing, remember why we're here. It's the Waterman's Ball; we're here to do good stuff to keep our oceans clean. Don't forget that," said PT after receiving the Lifetime Achievement Award.
Lifetime Achievement Award recipient, Peter "PT" Townend, has a long list of accomplishments in both the sport and business of surfing. PT was the first World Professional Surfing Champion (1976) and was a dominant figure in professional surfing's formative years, being ranked in the top five in the world from 1976-79. From doubling in the movie "Big Wednesday," to working as a journalist at the Sydney Daily Mirror, coaching and acting as the executive director of the National Scholastic Surfing Association (NSSA) in the 80s, to working as a publisher of the Surfing Group, being the voice of pro surfing on TV in the 90s, serving as SIMA president, founding and serving as president of Surfing America, to coaching the USA Surf Team, PT is an icon of the surf industry to say the least. Today, PT runs ActivEmpire (ATE), a brand consultancy company specializing in brand management, athlete representation and special event marketing in the surf and skate markets. PT's impact on the surf world is extensive, making the Lifetime Achievement Award the obvious choice.
Jon Rose, Special Recognition Award
"Jon's passion is his soul, sharing it with others is his gift to humanity. He manages his opportunities and he seeks to mold them into lasting value and heartfelt effects," said US Army Captain Michael Brabner as he introduced Jon Rose as the Special Recognition Award recipient.
A former pro surfer, Special Recognition Award recipient Jon Rose founded Waves For Water in 2009 after witnessing the devastation in Sumatra after a 7.9 earthquake. The eye-opening experience solidified the need for Waves For Water, a non-profit organization aimed to bring clean water solutions to impoverished countries around the world. Since the founding of it, Waves For Water has distributed thousands of water filters to areas such as Sumatra, Haiti and Chile. Rose also mobilized relief efforts in the wake of Hurricane Sandy and helped the people and environment of the devastated area during a crucial time. His leadership, work and dedication to making the world a better place are powerful and he represents the best of what surfers can be.
Photos from the event are available for media. For media inquires please contact SIMA Communications Coordinator, Brittanie Arnett at [email protected] or 949.366.1164 x7.
The Surf Industry Manufacturers Association (SIMA) is the official working trade association of more than 300 surf industry suppliers. Founded in 1989, SIMA is a non-profit organization that serves to promote awareness of the surf industry and participation in the sport of surfing through public relations efforts and a variety of services, educational programs and research. In addition, SIMA actively supports oceanic environmental efforts through its 501(c)(3) charitable environmental foundation, the SIMA Environmental Fund. In the past 23 years, SIMA's Environmental Fund has raised more than $6.2 million for environmental groups seeking to protect the world's oceans, beaches and waves. The SIMA Humanitarian Fund, also a 501(c)(3) charitable foundation, was established in 2006 to award grants to various surf or boardsport related social and humanitarian non-profit organizations whose efforts are focused on improving the quality of life, health and/or welfare of people.
---