BACK TO NEWS
EVENT; Vans and Leila Hurst invite you to Krochet Kids Fall '13 Launch Party, Thursday Aug. 15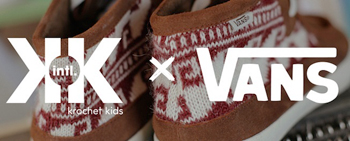 Vans and Leila Hurst invite you to Krochet Kids Fall '13 Launch Party, Thursday Aug. 15
Press Release from KKi x Vans
Vans, Krochet Kids and Vans surfer Leila Hurst invite you to celebrate the Fall '13 Vans x Krochet Kids collection this Thursday, August 15th in Costa Mesa.
Krochet Kids International will launch the latest from their Fall '13 collection including Vans' second project with Krochet Kids featuring three pairs of footwear and a custom backpack. Vans surfer Leila Hurst will be doing a Q&A and screening a video from her trip to Peru to meet the women empowered by the Krochet Kids program.
Krochet Kids International - Peru from Vans OffTheWall.TV on Vimeo.
Check out the Vans x Krochet Kids collection here.
http://shop.vans.com/catalog/Vans/en_US/category/collections/krochet-kids.html
Thursday, August 15
KKi HQ
1630 Superior Ave, Unit C
Costa Mesa, CA
Music by The Branches
Drinks by The Bruery
Free and All Ages
---