BACK TO NEWS
Jetty Clothing Q&A with Co-Founder & Partner Jeremy DeFilippis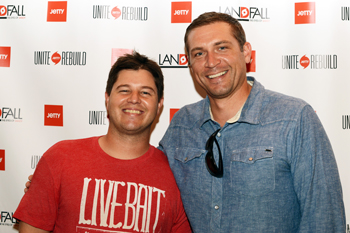 Jetty Clothing Q&A with Co-Founder & Partner Jeremy DeFilippis

Jetty is an action sports lifestyle apparel brand with roots in skate and surf based in Little Egg Harbor, New Jersey. The company was founded by Jeremy DeFilippis (on the left) and Cory Higgins (on the right) in 2003 with a few other high school classmates, who have since dropped out of the picture, as an excuse for the friends to work for themselves after college.
Ten years later, with two new investing partners and multiple side jobs for all involved - the brand is as strong as ever. And after the devastation of Hurricane Sandy kicked the company's community involvement into overdrive, Jetty maintains its strong local presence with events like Rock for Sandy held in April and the Tom Curren Sandy Benefit Concert that was held in Beach Haven, NJ. on Aug. 14.
"It's been awesome to work with Rip Curl who also put forth quite a contribution to the relief effort with their "Restore the Core" campaign," explains Jeremy via email. "Knowing that we are linking up with a legendary surfer/musician who is hugely responsible for helping build the industry that we exist in feels damn good and we're doing all that we can to strengthen and improve it."

We spoke with Jeremy DeFilippis, Co-Founder & Partner of Jetty, about life after Sandy in South Jersey, how the company stays involved in the community, and where he sees Jetty in another ten years.
Where is the company headquartered and are there any advantages or disadvantages to being based on the right coast?
There are definitely some barriers in coming from the East Coast as most brands have been bred internationally and/or through CA, but it's challenging and we wouldn't have it any other way! Our headquarters & operations are in Little Egg Harbor, NJ. We have a 2500 sq.ft. warehouse where we screen print all of our own gear using an Eco-friendly, water-based ink process. We're from the East Coast and our brand emulates the passionate people who reside here.
It's been nearly a year since Hurricane Sandy devastated the area Jetty calls home - what can you share about life after Sandy?
Life after Sandy is forever different then life before Sandy. The relief efforts that we have organized have become a daily part of our personal lives and although charity/community was a pillar of our brand before the storm, it truly magnified what we are all about here at Jetty.
Jetty stays involved in the community and it seems you guys are firing on all cylinders this summer - can you briefly speak on the recent events the company has been involved with and how it's been teaming up with Tom Curren and Rip Curl?
On Saturday, August 3rd we held our first non-Sandy charitable event since the storm, our 5th Annual Jetty Coquina Jam. This all-female surf contest benefits breast cancer patients via David's Dream & Believe Cancer Foundation, a NJ charitable organization dedicated to helping real people in real bad situations who are fighting Cancer. We overcame small waves and cloudy weather as a couple hundred people packed Taylor Avenue in Beach Haven to watch the girls (ages 13-60) do their thing! The cool thing about this event, which was spawned from our Clam Jam event, is the format which randomly pairs one young surfer with another more experienced one. The purpose of that format is to bring the community together and bridge the gap between generations.
On Wednesday, August 14th we have Tom Curren coming to town to as we have joined forces with Rip Curl to host a benefit concert at the Seashell in Beach Haven, NJ. All of the proceeds will benefit Waves for Water who we cannot thank enough for working side by side with Jetty throughout our Sandy Relief Effort and truly laid down the disaster relief blueprint. It's been awesome to work with Rip Curl who also put forth quite a contribution to the relief effort with their "Restore the Core" campaign. Knowing that we are linking up with a legendary surfer/musician who is hugely responsible for helping build the industry that we exist in feels damn good and we're doing all that we can to strengthen and improve it.
Can you talk about the founding of the company in 2003 – who were the key people involved in launching the business and what was the initial inspiration in starting Jetty?
Jetty was born in 2003 as a partnership between five high school friends who recently graduated from college. The initial inspiration was the same as it is today, to motivate and inspire other athletes, musicians and like-minded people/organizations who share our passions for board-riding, travel and creative outlets. We've changed our tagline several times, but they all explain our motive: Draw Your Own Line so that travel and the pursuit of your passions are apparent and Design Your Life around doing so. Jetty, Apparel for Goodtimes.
Do you have any stories from the early years that users looking to break into the industry could learn from?
We charge money for that and it can be found in our book Surviving Brands in the Cutthroat Action Sports Zoo...just kidding. You have to have a business plan and something to fall back on in case it doesn't take off as quickly as you hope it will. Not getting ahead of yourself is another good lesson that we learned the hard way because in the beginning we thought that the proverbial next step was a full page ad or custom board shorts and at the time we just weren't ready for those things from a knowledge or financial standpoint. I guess the advice would be to stick to your plan and be yourself, but know that you have to constantly tweak things. Lastly, we like to have as personal of a relationship with our customers as possible and do whatever it takes to keep them stoked on our brand!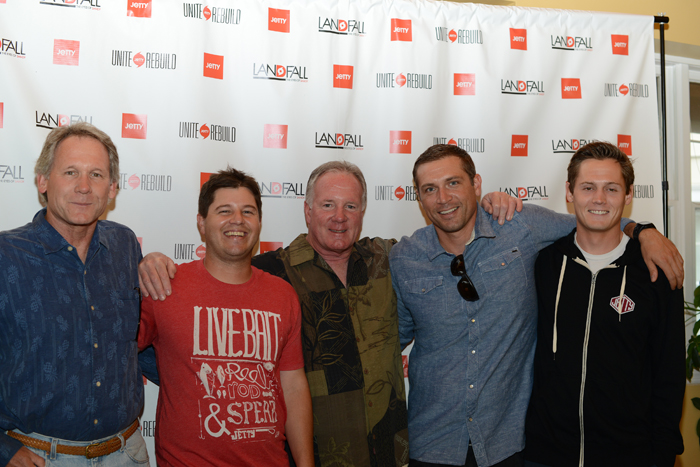 Craig Clifford, Jeremy DeFilippis, Paul Clifford, Cory Higgins & John Clifford - Jetty Partners, at the private screening premiere of Landfall: the Eyes of Sandy. Photo: Ann Coen & Eric Hance

Can you briefly break down the crew – who does what?
Our ownership has changed over the years leaving only two, original founding partners in myself & Cory Higgins. As Chief Executive Officer I oversees all operations, management, financials & marketing while Cory, the Chief Marketing Officer handles all domestic & international sales, Sales Marketing and takes part in Product Development. Paul & Craig Clifford (Directors/Partners) came on board in 2010 and play a supportive guiding role from the Board level due to their vast business experience. In 2011, John Clifford, our Chief Creative Officer / Partner jumped on board and has handled all of Jetty's branding, line design and product development. The team is rounded out by a production manager, production assistants, warehouse manager/ink sales director, brand sales representatives and an ever-evolving team of inspired interns (Jetty Urchins).
What can you share about building the company over the last ten years and how will you look to continue growing?
Well, it certainly has been a learning experience. We are lifelong surfers, but we had zero experience coming into the game as far as creating, marketing and selling a clothing line! We've come a long way in 10 years and have weathered maybe the worst financial atmosphere in the history of the US! We've had a lot of support from our friends and family, local artists, photogs, athletes & musicians and we're proud to have quite an extensive following at this point which we can call our family! We continue to learn from our mistakes, improve and diversify our products and most importantly make a positive social impact on our fans.
Can you share any challenges you have faced?
Cash flow comes to mind…! Since we are self-funded (literally threw $200 each into the pot to start this thing), having funds available to pay the bills is incredibly important. We've struggled a bit with A/R, but as we've grown, our retailer relationships have as well. Currently, learning the cut & sew game has been a huge hurdle and with that comes hitting our delivery dates. There are daily challenges in running a small business with such a small team. Another hurdle has been finding self-motivated, experienced sales representatives who we can trust to help build our brand in new regions. Setting goals, staying organized and finding great people to be a part of our team is ultimately what breeds success.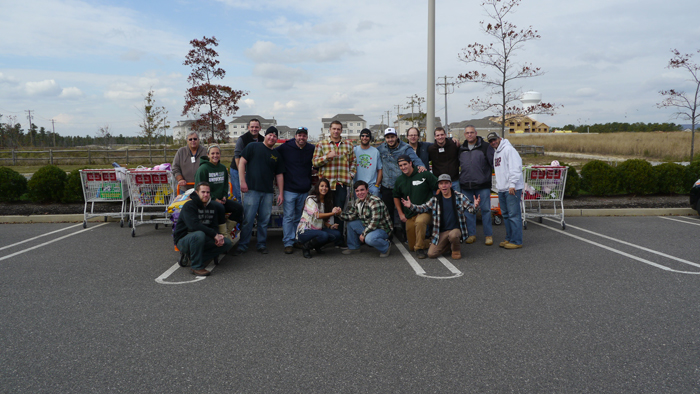 The Jetty crew days after Hurricane Sandy, purchasing supplies for food banks and shelters...

Where do you see Jetty in another ten years?
We've recently entered the European market which is exciting especially after so many people have said "you have to get into California"! The truth is that you do need to secure CA with it being the #1 surf/skate market. We're focusing on finding a few great sales representatives to help us build our presence in new markets like CA & FL. We think Jetty will continue to grow and inspire more people and we have plans to open a new warehouse with a retail store in the near future. Building the team and staying true to who we are and what the brand is will be the main focus over the next ten years.
What has been the most rewarding part of your life with Jetty?
We won't lie; it's cool to see people running around in Jetty gear who we do not know because in the early years there was seemingly some connection to us in every instance of a person wearing a Jetty product, "Hey look, its Cory's cousin's girlfriend rocking the Atomic Jellyfish"! Honestly though, the charitable aspect is the most rewarding part. Giving back to the community, its active members in need & beautifying the environment are such fulfilling life events for us and the brand. We recently formed The Jetty Rock Foundation to help continue our Sandy Relief efforts as well as accomplishing items like dune grass planting, scholarship giving, etc. We've become damn good fundraisers and we wanted to make sure that there was never any question about where the raised funds were going. We keep track of every penny donated:
Hurricane Sandy Relief - http://jettylife.com/community/sandy-relief-project/
Jetty Rock Foundation - http://jettylife.com/community/jetty-rock-foundation/
Any last words?
We're launching our Fall/winter line within weeks and it includes flannels, sherpas, pants and just a host of new Jetty items.
We also launched Jetty Hop Rock exclusively at the Black Whale Bar & Fish House. Pretty cool to have our own brew. We're testing out how that goes through this Summer.
Definitely looking for brand sales representatives in all regions as well as a sub-rep to work directly under Cory Higgins.
Definitely pursuing Westward expansion to California!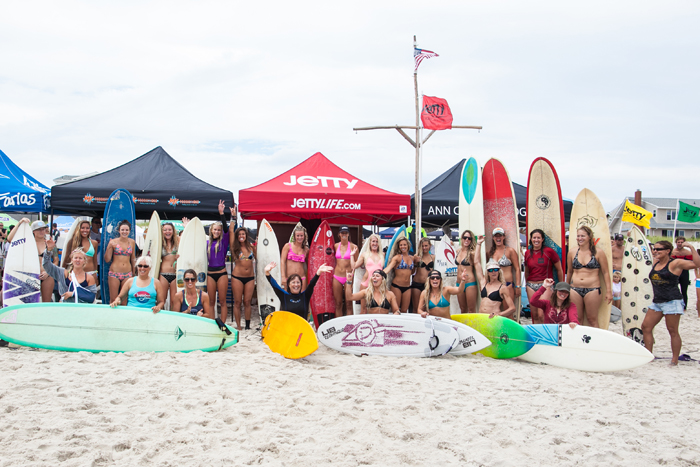 5th Annual Coquina Jam held on Saturday, August 3. Photo: Ann Coen Photography
Keep up with the latest and greatest from Jetty at jettylife.com and be sure to check them out on Facebook, Twitter and Instagram.
---