BACK TO NEWS
EVENT: Tom Curren to perform at Hurricane Sandy Relief concert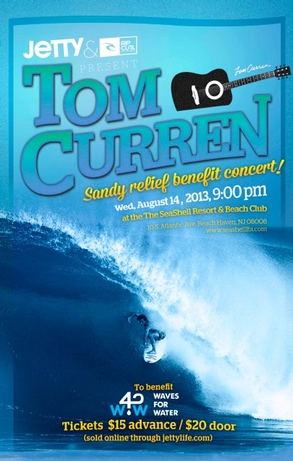 Tom Curren to perform at Hurricane Sandy Relief concert
Press Release from Rip Curl
Beach Haven, NJ - Rip Curl and Jetty are proud to announce a Hurricane Sandy Relief concert, featuring musician & pro-surfer Tom Curren. This exciting event is being held at the Seashell Resort & Beach Club (10 South Atlantic Avenue, in Beach Haven, NJ 08008) on August 14, 2013 at 9pm. Tickets are available for $15 advance purchase at jettylife.com, and will be available at the door for $20. All proceeds from this event will benefit Waves for Water Hurricane Sandy Relief Initiative.
Surf legend Tom Curren released his debut full-length album In Plain View on April 2, 2013 with Wolfbomb Productions. The album, produced by John Alagía (Dave Matthews Band, John Mayer, and Jason Mraz) at Village Studios in LA, features Tom's diverse style combining rock, blues, and folk influences in a style completely his own. A three-time world champion surfer who created the modern, powerful style, and who remains a major figure in the surf world, Curren has played and written music since his teens. His many fans, both of his surfing and his music, have been excitedly awaiting the release of his album. The release was anchored by a West Coast tour supporting Ben Howard, a PR campaign with early commitments from major press outlets including ESPN and Vanity Fair, and a Triple A radio show.
About RipCurl
What started in 1969 as a vision, or Search, of two surfers has evolved into a way of life for surfers and board sport enthusiasts worldwide. Rip Curl remains a private company committed to the mission of being regarded as The Ultimate Surfing Company.
Now designing, producing, and distributing a variety of highly innovative clothing, wetsuits, boardshorts, watches, mountainwear, footwear, eyewear, accessories, and other equipment for the range of board sports through more than 60 countries around the globe, Rip Curl prides itself on its world class roster of athletes and the simple objective to Live The Search.
About Jetty
Jetty is a grassroots company with a special touch of NJ garage must & dust. We print all of our own apparel in-house using an eco-friendly, water-based discharge ink system. Jetty currently sells in 50+ retailers primarily on the east coast. Jetty was formed with the intention of supporting athletes, motivating the next-generation & spreading positive energy. Creating our own personal paths so that travel, music & opportunity became more apparent…knowing that we have accomplished these things and motivated many of you to do the same is the energy of The Jetty Life™. Please feel free to contact Jetty for information about events, The Jetty Rock Foundation, or Eco- friendly screen printing services. Phone: 800.900.6435 or fax: 928.438.6825 or email: info@jettylife.com.
About Waves for Water
Waves for Water is a humanitarian aid organization founded by former professional surfer Jon Rose, focused on providing comprehensive disaster relief programs and access to clean water to communities in need around the world. Since 2009 the organization has collaborated with community leaders and strategic partners who take a "no-nonsense" approach towards creating global change. Working on the front lines to provide clean water and aid for every person that needs it, W4W has structured a coordinated response to every major disaster in recent years including; Pakistan, Haiti, Indonesia, Japan, and most recently Hurricane Sandy. Thanks to the organizations lean and nimble structure and their "DIY" volunteer program, Clean Water Couriers, Waves for Water has pioneered the concept of guerrilla humanitarianism by empowering everyday individuals to do what they love and help along the way. www.wavesforwater.org
---