BACK TO NEWS
B$Z: Skullcandy Partners with NRI for Fulfillment in Canada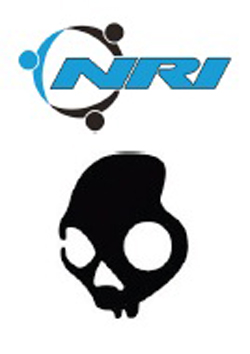 Skullcandy Partners with NRI for Fulfillment in Canada
Press Release from Skullcandy
Vancouver, BC – NRI Sales and Marketing Manager, Brian Jenkinson, announced today the fulfillment partnership with lifestyle audio brand Skullcandy. Beginning the Fall 2013 season, Skullcandy will be shipping from NRI's newest state-of-the-art facility in Surrey, BC.
"Its NRI's mission to partner with premium lifestyle brands and we have been fans of Skullcandy since 2003." Says Peter McKenna, Co-Founder and President of NRI. "We are excited to have the opportunity to help them develop their relationship with the Canadian market."
Adam Williston, Marketing Manager for Skullcandy Canada, commented on their new direct Canadian model and partnership with NRI by saying, "We are excited to be working with NRI and their team in Canada. Their reputation, service and technology will be a great benefit to our retail partners here. From the first step inside of NRI's new Surrey facility I knew they were best in class."
About Skullcandy
Skullcandy is a global designer, marketer and distributor of performance audio and gaming headphones and other accessory related products under the Skullcandy, Astro Gaming and 2XL by Skullcandy brands. Skullcandy became one of the world's most distinct audio brands by bringing color, character and performance to an otherwise monochromatic space; helping to revolutionize the audio arena by introducing headphones, earbuds and other audio and wireless lifestyle products that possess unmistakable style and exceptional performance. The Company's products are sold and distributed through a variety of channels in the U.S. and approximately 80 countries worldwide. Visit skullcandy.com, or join us on facebook, twitter or instagram: @skullcandy.
About NRI
Since 1997 NRI has been providing Boutique, Turn-Key Fulfillment services to the Apparel, Footwear, Action Sports, Outdoor and Lifestyle industries. Operating in the USA and Canada, NRI offers 3PL Pick and Pack services, Inventory Management, Vendor Compliance, Freight, Returns & Repair Management, EDI, Customer Service, and a variety of Brand Support Services. NRI's custom built 3PL Software Suite offers clients access to superior technology and seamless integrations. With years of experience and industry focus – over 50 leading brands of the Apparel, Footwear, Actions Sports, Outdoor and Lifestyle industries entrust their business to the team at NRI.
http://www.nri-distribution.com
---