BACK TO NEWS
Industrial Profile
8/9/2013
Jennifer McVey, The Save the World Tour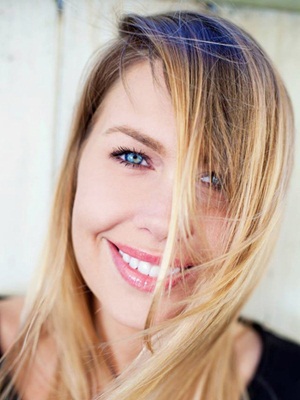 Jennifer McVey, The Save the World Tour
For the past six years, Jennifer McVey had been working in the action sports and fashion industries after moving from the east coast to California after college. She most recently served as the Retail/PR Director for B.Swim, until she quit that job earlier this summer to pursue her dream to volunteer across the world.
Jennifer is on a mission to save the world. As part of her mission, she's already volunteered 3 weeks in California. But her "Save the World Tour" really started on July 13th when she headed out to Ghana to begin a solo journey across Africa and Asia where she will plan to spend the rest of the year on the road volunteering in places like Kenya, Uganda, India, and Cambodia.
"Have you ever had that moment in life where you are overwhelmed by an intense rush of emotions? That is how I felt when I had children coming up to me barefoot and no where to call home." explained Jennifer via email. "I knew then that helping others in need was my true passion in life."
We spoke with Jennifer about her mission to save the world, how she utilized marketing and networking to reach her funding goal through gofundme.com, and why she feels anything is possible if you set your mind to it.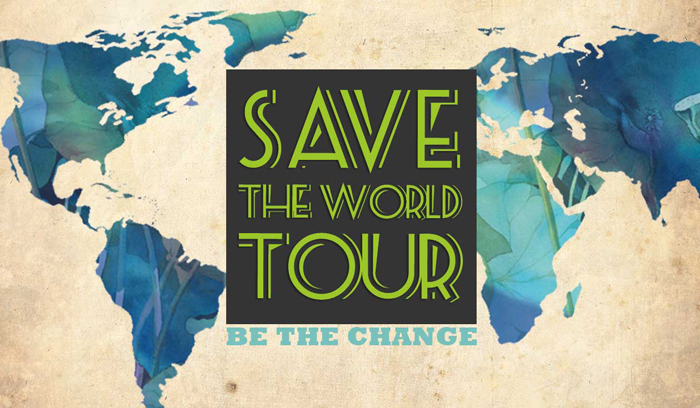 Can you briefly describe the itinerary for your upcoming 'Save the World Tour'?
My 'Save the World Tour' started in California and I have already completed my volunteer pledge of 1 week with Habitat for Humanity, 1 week with the Long Beach Ronald Mcdonald House, and 1 week with the Long Beach Rescue Mission. I am now volunteering for three weeks at an orphanage in Ghana. I will then spend one week doing volunteer research in Uganda, three weeks doing community development in Kenya, 10 days of silence with Vipassana, four weeks building schools and homes in India, one week of travel in Thailand, and four weeks volunteering with water conservation in Cambodia before returning to California at the end of the year.
How did you decide on where to go?
I have not been to any of the countries I will be visiting. Over a year of planning, I decided which countries to visit based on volunteer programs I found interesting, effective, and affordable. I then chose places in between each volunteer segment that I could rest, relax, and explore. When the idea of this trip first began, I took the whole world in consideration, as I feel that there are people in need of help everywhere.
What was your inspiration in going on this 6-month adventure?
I was inspired by the people I met during my travels overseas. Have you ever had that moment in life where you are overwhelmed by an intense rush of emotions? That is how I felt when I had children coming up to me barefoot and no where to call home. I knew then that helping others in need was my true passion in life. I'm inspired to spread love, hope, and create opportunities for others, like I have been so blessed to have experienced.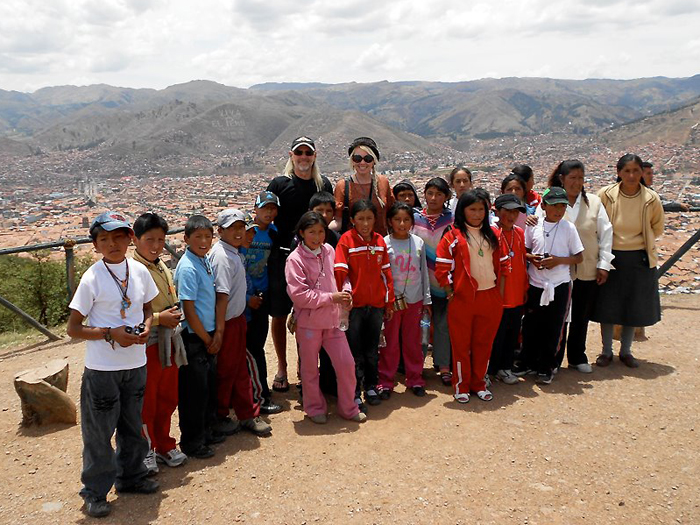 Jennifer and her dad in Peru.
What has life been like for you since deciding to make your dream a reality - how have you been preparing for the journey?
Life has been nothing short of a whirlwind of emotions, as it is about to dramatically change. I first dreamed of this a few years ago and really started saving and doing all the travel planning on my own over a year ago. It has taken a lot of discipline to save enough money to support myself for at least 6 months without a job, and I have spent a lot of time promoting the trip through my blog, Facebook, Instagram, and funding page. I'm a planner and have had my bag packed since January! I have read lots and lots of books, got my shots, sent my passport out 3 times for visas, bought lots of great survival gear, and made sure to soak in every moment with my loved ones before taking off.
What part of the trip are you most excited about?
I'm most excited about the three weeks that I will be volunteering at the orphanage in Ghana. I feel like this is going to be a huge eye opening experience since I do not have much experience with kids and it's my first leg of the trip. The orphanage I will be working at has 55 kids and is run by a man and his 6 children. The orphans all sleep in one enclosed porch connected to the family's home and there are no bathrooms or running water. My duties will be to tutor the children, bathe them, wash clothes, serve food, clean, and of course care for and entertain them. I really hope to make a positive impact in each of their lives.
And how about leaving your job at B.Swim - what was that experience like?
I broke out in tears the day I told my boss that I was leaving. There were a lot of mixed emotions, as I called my job at B.Swim my 'Dream Job' and became so close to everyone in the company. Over the three years I worked there, I had such an amazing time learning more about the industry, stepping up in retail public relations, and enjoying the perks of traveling to photo shoots and tradeshows. The family-run company was a place I called home, and the employees there were my California family. I was happy to be a part of the interview process for my position and we hired my best friend and past co-worker of Hot Tuna. It was exciting to work alongside my best friend my last two months there, and my last day was bitter sweet. Everyone has been very supportive of this new chapter in my life. I definitely will be staying in touch with all of them and visiting the office when I return.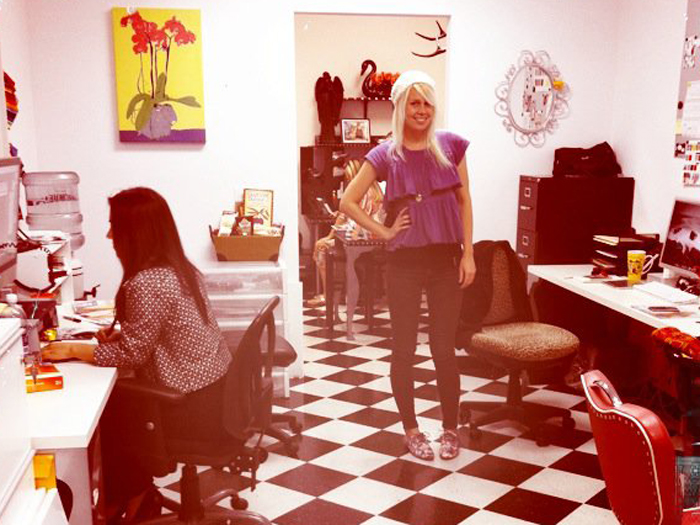 Jennifer at the B.Swim office.
What kind of stuff are you packing?
I am packing what I would consider a minimal amount of clothing options. I have had to rethink fashion in all aspects. I bought my first pair of cargo pants and a fleece jacket! Though it will be extremely hot, I will be fully covered from head to toe with pants, long sleeves, and scarves to keep safe and to fend off the mosquitoes. My survival kit includes a mosquito net, lantern, flashlights, compass, plug adaptors, dry shampoo by Lush, baby wipes, toilet paper, hand sanitizer, sunscreen, first aid kit, compact travel towels from REI, money belt, whistle, swim mask, work gloves, locks, and a door stop to keep me safe.
I am also bringing a large carryon bag of pens, notepads, and jewelry donated from 'Love, Fire', pens donated from 'Sunsets, Inc.', and stickers and games donated by friends. I cannot wait to see the expressions of the children's faces when I give out these gifts!
What challenges do you see coming up?
More like what challenges will I not face? With all the traveling and unique foods, there's no doubt I will experience some kind of sickness at some point. If that's the worst of it, that will be a blessing! Living without electricity, running water, showers, toilets, a vehicle, my laptop and phone are probably going to be the biggest challenges. It's something no one can really prepare for. I just know I need to go there open minded, relaxed and realize things may not go as planned. I will also have to face the challenges of being away from my family and friends. Let's not forget about the language barriers, different customs, and cultures I must adapt to as I embrace this journey alone.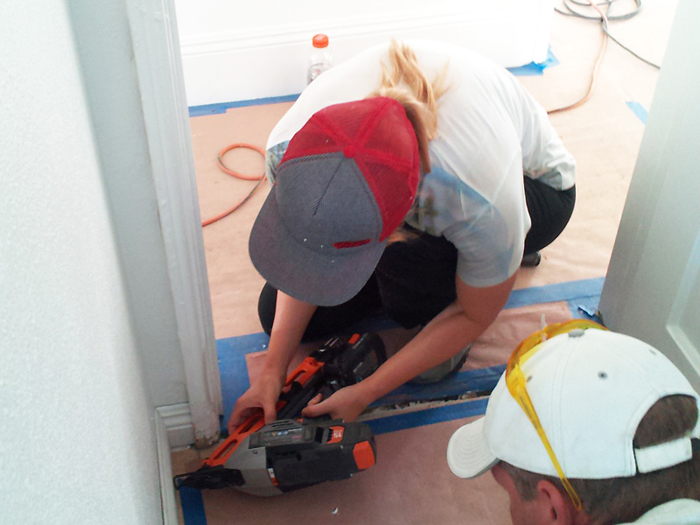 Jennifer volunteering for Habitat for Humanity.

Can you briefly describe your past travels?
I have traveled out of the country at least once a year for the past ten years. My international travels have included Puerto Rico, Bahamas, Mexico, Canada, Paris, Amsterdam, Brussels, London, Rome, Barcelona, Portugal, Indonesia, Japan, and Peru. Of all my travels, my trip to Indonesia in 2009 and to Peru in 2011 was really my first time face-to-face with poverty and what started this dream.
Can you talk about crowd-funding for the operation on gofundme.com - why did you decide to go this route and how was the process for you?
I must say I have been blown away by the generosity of people for my 'Save the World Tour'. This was the first time I've ever tried to raise money. Through some research online, I found that www.gofundme.com was the most user friendly and seemed great for my cause. I found that personal emails and Facebook are the best way to promote my trip and funding. I have been shocked by the amount of friends, friends of friends, and people from far off places donating to my cause. People have also been sharing my story on Facebook, Twitter, Instagram, their personal and business Blogs and Websites! I even have people sending me clothing to wear on the trip, which has allowed me to show my support and in return they get global marketing during my trip!
Do you look up to any current or past activists as a model for how you want to help 'save the world'?
I really love the organization 'Invisible Children', their mission to stop the LRA and the overall way they carry out their message. They are located in San Diego and Uganda and I plan on visiting both offices during my journey. I also love the story of how 'TOMS' shoes began and what they represent. I purchased my first pair of TOMS shoes for this trip! I think they have a great ways of spreading the word and I actually recruited a group of us to participate in their annual 'One Day Without Shoes' this past April. We all walked around the B.Swim office with no shoes for the entire day to raise awareness on health, education, and self esteem for the millions of children around the world who don't have shoes.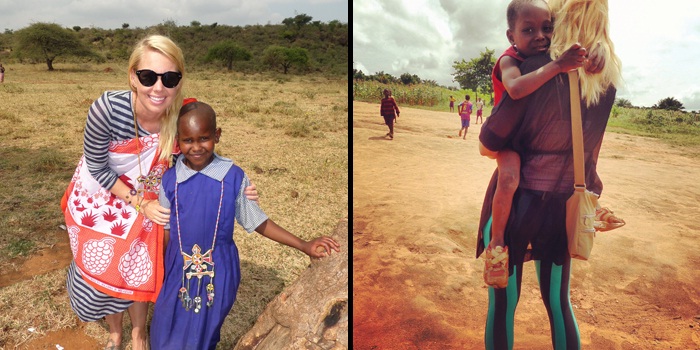 Some recent shots of Jennifer in Africa.
What are your plans or expectations for when the mission is complete?
I hope that throughout the six months I am able to dedicate my physical labor with compassion and positivity to everyone I meet. I hope that at each organization and each country I stay in, I will have made an impact on someone somehow. Taking a total 180 on my life and not knowing exactly which route to take, I chose to make this tour a broad range of volunteer work starting with a week of construction, a week working with kids, and a week working with the homeless in California. I then will go on to volunteer with four different organizations in four different countries making different contributions at each place. I did this so that I could see where I could make the biggest impact and what I felt most passionate about. Would I rather work with orphans? Would I rather put my Marketing skills to work and help with community development? Would I rather be hands on and do construction to build new schools and homes? Would I rather work on environmental issues? The opportunities that will arise during this trip are endless. I have already met so many great people while volunteering in California and have had opportunities come up, but only time and travels will tell. I hope to come back and share stories of lives changed and hope for future greatness around the world.
Care to add anything we may have missed?
People ask me if I'm ready for this trip. Honestly, I don't think I could ever really be ready for a mission like this. I just have to go out and do it! Don't let time pass you by. Make your dreams a reality!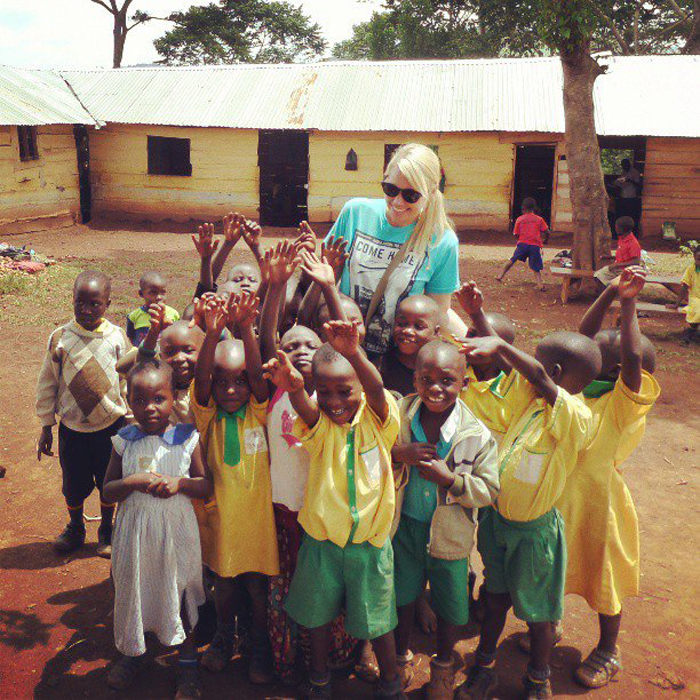 To learn more about Jennifer's trip, head to www.gofundme.com/savetheworldtour. You can follow Jennifer on her adventure to Save the World, check out the tour's blog, website and Instagram feed.
---