BACK TO NEWS
Industrial Profile
8/16/2013
Wesley van Eeden, Artist and Founder of Resoborg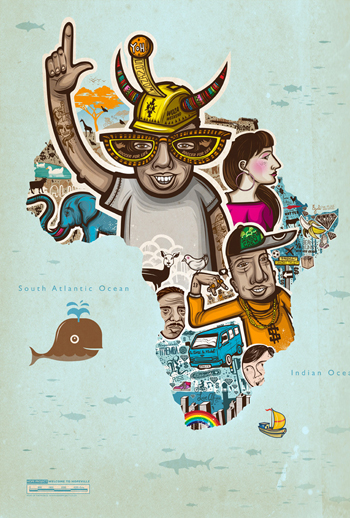 Wesley van Eeden, Artist and Founder of Resoborg
Durban, South Africa-based freelance artist, illustrator, graphic designer and painter Wesley van Eeden has nearly ten years of professional experience in apparel, accesories and skate deck design. Earlier this year he launched Resoborg.com, a platform where he can supply typography, graphic design, illustration, logos, corporate identity, packaging, art direction and general graphic problem-solving solutions to agencies and clients around the globe.
Skateboarding changed Wesley's life and he can still recall the day he got his first board at age 7. Wesley grew up skateboarding as a kid in Durban, and is now proud to include clients like Volcom and RVCA in his portfolio and he still dreams of moving to the States to work for a skateboard company to design boards like he's been doing since he was 13.
"To some success is about being able to have an SUV and a luxurious lifestyle," explains Wesley via email. "Success to me is a simple life and being able to be self sufficient , able to make ends meet, save enough money for my pension and hopefully be a positive impact in some way on society."
We spoke with Wesley about what life is life as an artist in South Africa, how he is able to service a global clientele, and why am artist residency in Finland changed his life.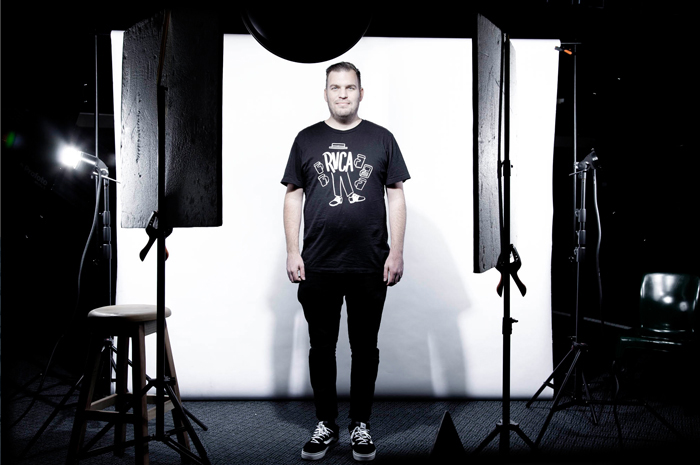 Wesley van Eeden is a Durban, South Africa based artist, illustrator, graphic designer and painter.
How did you get your start as a graphic designer, illustrator and artist working with many of the action sports industries' leading companies, like Volcom and RVCA?
I think it stems from my roots in Skateboarding in my early childhood. I got my first skateboard when I was 7 and I remember that day still to this day. It was one of those plastic boards that have recently become popular again. From about 13 I started customizing my own blank decks as I could not afford the pro models in my early teens. I still remember listening to punk rock mix tapes in my Dad's garage while varnishing my latest board knowing that I always wanted to be involved with Skateboarding or Surfing. There is always something honest and pure when a kid creates an artwork and I try and keep this in my head every day when I am working on something. Its been a long slog for me and getting recognized by Volcom a couple years ago to work on a selected signature series was super rad. I guess that was in about 2005 when I really started pushing my personal work and trying to get my work out there. I was lucky enough to have been selected to be part of the Artist Network Program for RVCA. Its opened a lot of doors for me and some exciting projects. The best was getting commissioned to paint a mural for one of the RVCA offices in December 2012 in J-Bay, South Africa. I think it was a matter of persistence and patience…the harder you work – the luckier you get and eventually you get noticed.
What are the pros and cons of being based in South Africa and working in the industry? Do you have any thoughts or plans of moving to the States in the future? Is there a need for you to move leave your home?
The pro's about being based in South Africa is that like many other industries there is not as much competition as there is in the States. Its easier to get your name or your brand out here but the cons is that there is a much smaller market and people have less disposable income. Everything is on a much smaller scale here which makes it difficult to grow your brand - especially if you trying to tap into a subculture or action sports market. Geographically I am removed from the scene that I'd love to be involved with. I was chatting to Logan Hicks (a New York artist) over email a coupler years ago and what he said really makes sense to me. "living in Europe or Canada makes it a lot easier to travel around to where things are happening". Its a lot harder and more expensive for me to jump on a plane to get to a trade show or do an exhibition in a place like New York or California as South Africa is looong flight away.
The positive side to it is that at least with the internet creatives such as myself can connect with companies anywhere in the world. Also growing up in South Africa I have a unique cultural experience, work ethic and hopefully this helps make me stand out a little to the rest of the pack.South Africa is a great place but I'd love to to check out the States at least for a couple years to see if I liked it. If the opportunity arises I would take it.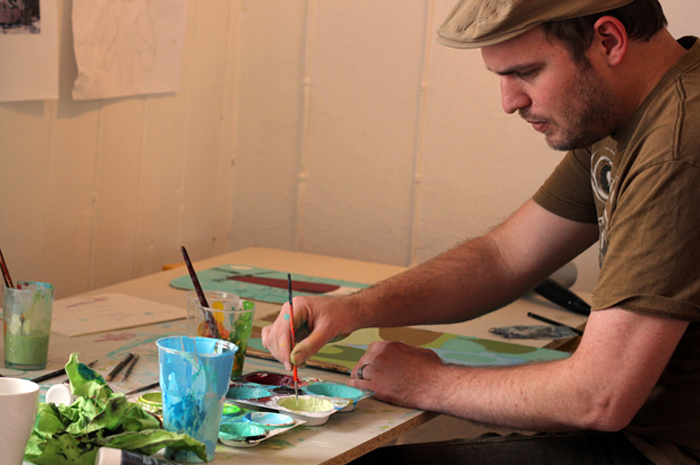 "In 2011, Wesley was selected to attend an artist residency in the district of Raseborg, Finland... In order for a unique name that Google would pick up, the created name of Resoborg came about from this cultural experience. Resoborg is a metaphor for a perfect piece of artwork, safe, clean but far out and unexpected much like Raseborg. 'Reso' stands for resource and 'borg' is the Swedish word for castle."
What is your educational and career history and when did you decide you wanted to pursue art as a career?
I don't think I came from an artistic family but there was one experience that will always stick in my head: When I was 10 years old my Dad saw me trying to draw something and I remember him sitting next to me and proceeded to show me how to draw a deep sea diver with muscles! This really amped me up on drawing and coupled with my fascination with skateboard graphics this really solidified my interest in pursing a creative life! When I got out of school I studied Graphic Design at a local university which gave me a solid understanding of design principles which I have learnt to apply in many areas of my work experience since.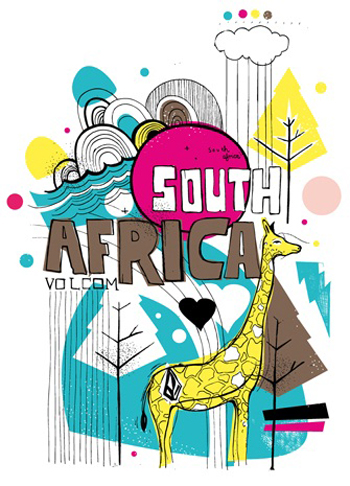 What is Resoborg and can you talk about your residency in Finland a few years back and how that experience inspired you?
I haven't had the luxury to travel too much in my life yet and I couple years ago I got married to my beautiful lady and we wanted to travel a bit. I was lucky enough to have been selected to attend an artist residency in Finland in 2011 and it was super inspiring. Finland firstly is geographically on the opposite end of the Earth to South Africa and secondly the culture and efficiency of the country compared to South Africa is different too. I think any place that is out of your comfort zone or the "norm" will inspire anyone. The biggest thing that inspired me was the art foundation, the friends we made and experiencing the harsh winter turning very quickly into a beautiful summer that resulted in the sun never setting at 12pm and rising one or two hours later. I remember we got invited to a friends place out in the country for a barbecue to celebrate midsummer. We were driving back at 12pm on a desolate road with the sun just peeking over the horizon…it was just sitting there. Nature really inspires me.
The district we lived in was called Raseborg and since coming home I thought a lot about a new name for my website - that comprises of my personal work, client work and small independent products that I sell online and at small boutique stores. After a lot of searching and googling I realized a made up name would be pretty cool. A: If its a unique name no one would have bought the domain or have that twitter account. B. A unique name makes you google friendly.
So I changed Raseborg to Resoborg as I have always been inspired by Scandinavian thinking as well. Reso is short for Resource and Borg is the swedish word for Castle which translates to a resource Castle or Resource Centre. The idea kind of represents that power that is in all of us..to be a man of his own resources.
What has enabled you to become a successful designer, illustrator and artist?
Its taken a lot of perseverance, dedication and whole lot of old fashioned work. Not to mention countless failures, disappointments, crappy jobs, crappy bosses and anything else that you can think of that could be negative ha ha. What defines success to me is never giving up on your dreams through all of the trials and errors. We are constantly learning and redefining ourselves and if we are not then that would be a boring existence. Success to me is a funny word. To some success is about being able to have an SUV and a luxurious lifestyle. Success to me is a simple life and being able to be self sufficient , able to make ends meet, save enough money for my pension and hopefully be a positive impact in some way on society.
What has been the biggest challenge for you as a professional artist?
The biggest challenge is finding those bigger clients - especially those that are in the industries that I'd like to be involved with like the skateboarding / surfing industry. Having a website really helps and a lot of my work just comes to me randomly. Some of the clients that approach me are rad and some of them not so rad…its super hard to try get out there and meet people that I would really like to do work for.
What is the most rewarding aspect of what you do?
There is a couple. Firstly if there is a client that approaches me which I feel is unethical or against my beliefs I can turn it down. Secondly, its really fun getting the diverse work that I get approached to do. Some days I am working on a mural for the city of Cape Town, a painting commission, a range of shirts for a surf brand, a magazine cover, logo design and maybe even some workshops with university students. I enjoy being creative.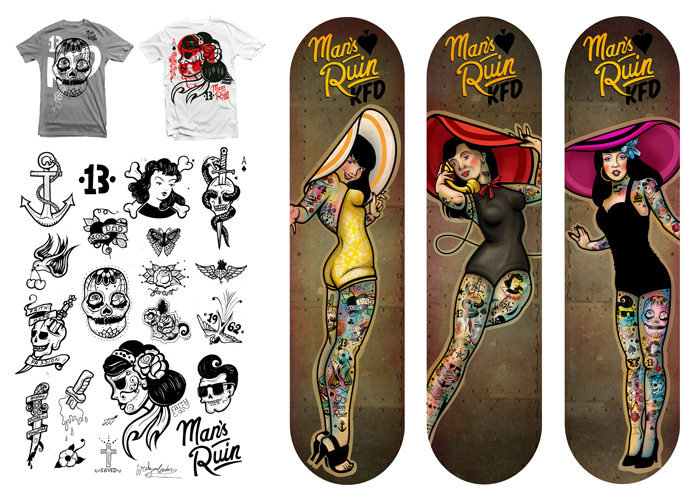 Wesley van Eeden designed the Man's Ruin series for KFD Skateboards.

What are some of your personal favorite designs from your portfolio?
Under These Skies Exhibition with Paul Senyol. This was one of my first bigger exhibitions with a now close friend of mine. We have been working on personal exhibitions for nearly 10 years now. I feel my personal work improved a lot when I produced this work and I got a great response from collectors. Doing these personal exhibitions really give me a chance to flex my drawing skills and hone my style. I also created some limited edition caps that came out super rad. Doing personal work always ends up enhancing the more creative projects.
The "Keep Hope Alive" Revolution Skateboard series. This was the first range for shirts, skateboards and postcards I got approached to do by this amazing brand in South Africa. I think I did these in 2004 and it was a dream come true to do a range of skateboards.
By The Action Of Trying to Change Something. A painting from an exhibition in 2011. I created a painting based on a conversation with Steve Kotze ( a local historian) and I really enjoyed how this painting turned out.
The King Blues "Music Saved My Life Series with Verb Skateboards. I was approached in 2011 to create a Skateboard, Poster and TShirt for the UK band The King Blues. It was really great working with this internationally recognized band.
Welcome to Hopeville Art Print. I really loved how this artwork came out that I did for a traveling exhibition. It got a fantastic response from the public which stoked me out.
6511 Miles Artist Residency in Finland. My artist residency in Finland was life changing and ultra inspiring.
Who are some artists and designers that you have drawn inspiration from?
Mostly American artists! In the early days I was inspired by Barry Mcgee, Margaret Killgallen, Mike Giant, Jeff Soto, Dave Kinsey, Johnny Cupcakes, Richard Hart, Ed Templeton, Rodney Mullen and Thomas Campell! Nowadays I am inspired more by the nature, environment and the things I experience as a human being. Oh but there is one artist that its on the top of my list still: Jacob Hashimoto is amazing.
Where do you hope to be in five years?
In five years I'd like to be living in the States or at least have travelled a bit more and experienced what its like on either the West or East Coast. If I can't get to work for a company in the States full time I'd love to have built up my networks where I am able to do personal exhibitions more often in Europe and in America as well as building up an international client list doing commercial design projects for them. That would be amazing.
What advice could you give to someone who is looking to start a career as an artist or designer?
Firstly I would say is ask yourself why do you want to be an artist or designer? If it makes you happy then I would say good answer. If its for money..well you in the wrong industry! Life is too short to do something you don' t love! If being creative is what makes you happy then you should go for it with all your might, draw as much as you can, get a good design education (it helps open doors) and be constantly hungry to learn more - all the time. Having a good understanding of business is a good idea too. Also try and see the bigger picture when you starting out. You might want to be a hot shot designer but remember it takes time and many many long nights doing jobs you might not like but always keep building your skills day by day and do it consistently. There are a lot of creatives out there..there is not as many who do it consistently and efficiently. Stay humble.
What are you currently working on? Can you share any exciting projects you are currently involved with or upcoming plans?
I have been selected to work on a huge digital graphic for a new bus station in Cape Town which I am really excited about it. Cape Town was voted Design Capital Of The Year 2014 so lots of creative stuff is building up to next year. I am working on some shirt designs for a couple indie clothing brands which should be fun, a bicycle bag design for Godspede and an editorial illustration for a New York Magazine. I am also currently in So things are busy.
Any last words?
I'd love to experience America next! If there are any companies out there that would be interested in either hiring me full time or commission me on freelance projects I would love to hear from you!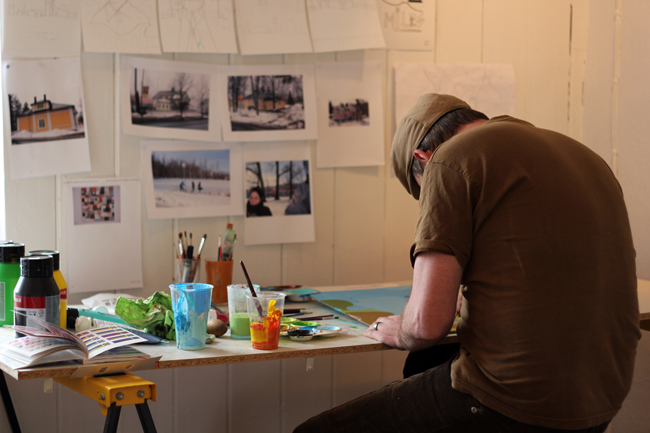 For more on Wesley van Eeden, head over his website at Resoborg.com or email him at wesley@resoborg.com. And be sure to check out Resoborg on Facebook and Twitter.
---